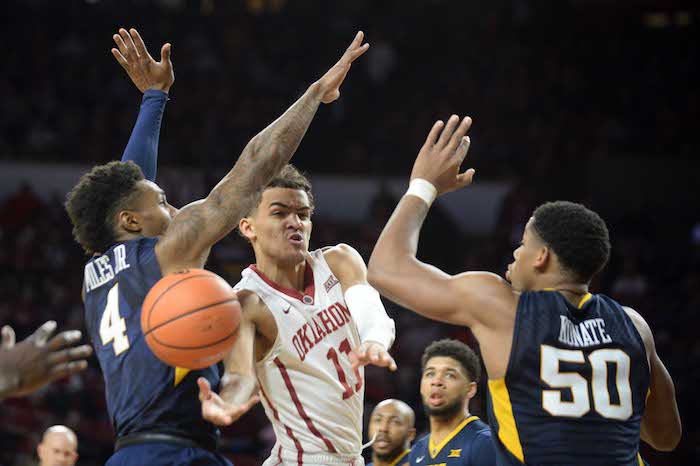 Record: 18-14 (8-10 Big 12)
Postseason
NCAA: lost to Rhode Island, 83-78 (OT) in the first round of the NCAA Tournament.
Seniors losing: F Khadeem Lattin (6.6 ppg, 5.9 rpg, 61 blocked shots, leaves OU as its all-time leading shot blocker).
Any NBA Bound?: It wouldn't surprise me to see Lattin receive an NBA Summer League invitation and a berth on a G-League team, the NBA's Developmental League.
Any One-and-dones or early entries?: G Trae Young (he has not announced his intentions to leave for the NBA).

Top players returning: G Trae Young (27.4 ppg, team-leading 274 assists, 3.9 rpg), G Christian James (11.9 ppg, 4.4 rpg), F Jamuni McNeace (6.8 ppg, 5.4 rpg), G Rashard Odomes (7.2 ppg, 3.5 rpg), G Kameron McGusty (8.0 ppg), F Krisitan Doolittle (2.8 ppg, 4.3 rpg), F d(10.2 ppg, 5.2 rpg).
The players you don't know about: G Jordan Shepherd. Practically forgotten about in the Trey Young hoopla, Shepherd logged 20 or more minutes in seven of his last nine Big 12 games as a freshman. He could re-emerge again as a legit guard option next season. At the least, OU needs to emerge as a heavier rotation player than he did in 2017-18 (just 11 minutes per game). C Hannes Polla. From Lahti, Finland, he barely played in 2017-18 but his size (6-foot-11) and international experience could come in handy next season. ESPN ranked Polla as a four-star recruit coming out of the Helsinki Basketball Academy.
Recruits already in the house: G Jamal Bieniemy, 6-foot-3, Katy, Texas (Tompkins HS). The Sooners recruited a huge freshman class last year and are only losing a senior, so at the moment Bieniemy is the only signed recruit for the 2018 class. But he's a good one, the No. 9 player in Texas and a Top 140 recruit as ranked by 247Sports.com.
Commitments yet to sign: 247Sports.com has 6-foot-9 forward Kur Kuath of Salt Lake Community College out of Salt Lake City, Utah, as a hard commit. Kuath is the No. 13 juco recruit in the nation according to jucorecruiting.com.
Summarizing the season: Young set the NCAA on its ear with his play in December and January of this season, bringing attention to OU it hadn't seen since Buddy Hield left (or perhaps more accurately, Blake Griffin). That attention was good for the Sooners and for the Big 12, but cracks emerged in this team that didn't have as much to do with Young as it did with the supporting cast, which was too young and too inexperienced to perform consistently. That eventually began to weigh on Young's play, which became more erratic and turnover-prone as Big 12 play continued. February became a lost month for OU, as it lost 9 of its last 11 games, including the first-round NCAA loss to Rhode Island in overtime. There was a school of thought that, based on OU's slide, they didn't deserve an NCAA nod. If the NCAAs had passed on the Sooners and they had ended up in the NIT, they would probably still be playing. That tells you everything about what the Sooners were as a whole this season.
Looking ahead to 2018-19: It all hinges on Young, of course. His father, Rayford said right after the NCAA Tournament that he hoped his son would consider a second year of college. That would be a fantastic development for OU, which won't have a large recruiting class this year, thanks to losing just one senior. Whatever Young decides to do (he's considered a Top 10 NBA prospect), head coach Lon Kruger and his staff have some serious player development to do this offseason. The Sooners need James, McNeace, Odomes, McGusty, Doolittle and Manek to all improve their games before next November. If Young returns, that makes the Sooners that much better. If Young goes to the NBA, then that's your starting lineup in 2018-19, and if this season was any indication, that group without Young really isn't that scary.