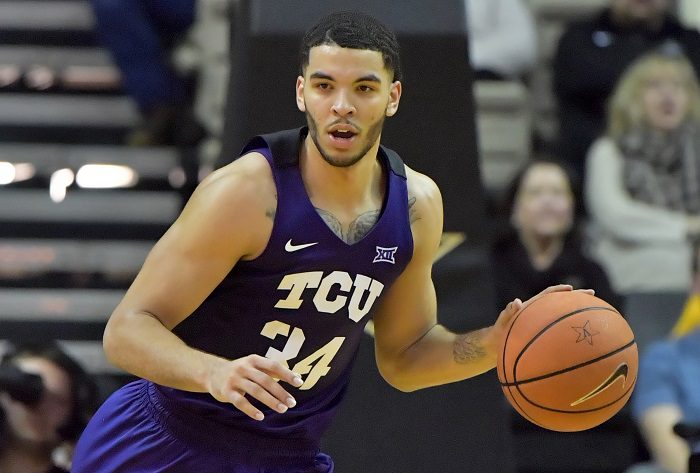 Record: 21-12 (9-2 Big 12)
Postseason
NCAA: lost to Syracuse, 57-52 (round of 64).
Seniors losing (2017-18 statistics): F Vladimir Brodziansky (15.0 ppg, 5.1 rpg), G Dalton Dry (1.4 ppg), Ahmed Hamdy (5.9 ppg, 3.0 rpg), F Clayton Crawford (six games played, no points), G Kenrich Williams (13.2 ppg, 9.3 rpg, 124 assists), F Austin Sottile (two games played, no points).
Any NBA Bound?: It's doubtful any Horned Frogs will get drafted, though Williams is a worthy second-round pick and has popped up on some NBA expert draft boards. At the least, Williams and Brodziansky should draw enough interest to earn spots on NBA summer league teams and a potential training camp invite.

Any One-and-dones or early entries?: None
Top players returning: G Jaylen Fisher (12.3 ppg, 1.5 rpg, 91 assists), G Desmond Bane (12.5 ppg, 4.1 rpg, team-leading 46.1 percent from 3-point line), F Kouat Noi (10.2 ppg, 3.9 rpg), F JD Miller (7.9 ppg, 3.8 rpg), G Alex Robinson (9.7 ppg, 3.0 rpg, team-leading 190 assists).
The player you don't know about: G RJ Nembhard. The 6-foot-4 freshman didn't play much, but the former four-star recruit from Keller (Texas) was a Top 15 player in Texas high school basketball and should figure to be a bigger part of TCU's plans next season after nursing knee and ankle injuries this season. He appeared in just six games.
Recruits already in the house: SF Kaden Archie, 6-foot-6, Midlothian, Texas; PG Kenrdric Davis, 5-foot-11, Houston, Texas (Sam Houston HS); C Russell Barlow, 6-foot-9, Richardson, Texas (Berkner HS). Archie is the top-ranked recruit in the class to this point, a four-star Top 100 national player as rated by 247Sports.com. Davis and Barlow are three-star recruits but ranked in the nation's Top 208.
Commitments yet to sign: C Yuat Alok, Marianna, Fla. (Chipola College). The lanky New Zealand product would bring a maturing game and a solid touch from the 3-point line to Fort Worth. He is the nation's No. 1 juco recruit, according to Jucorecruting.com.

Summarizing the season: TCU wanted to see progress after winning the NIT last season and I think they got it. The Horned Frogs won fewer games overall, but they improved by three wins in Big 12 action and scored a big-league win over West Virginia at home. They carried an undefeated record into Big 12 play and they were a play here or there from exacting early wins over Oklahoma and Kansas. Brodziansky and Williams led the way, but the Horned Frogs showed resilience after losing Fisher early in Big 12 action. Robinson rose to the occasion as the starting point guard, setting a program record for assists in a game. Noi's game grew quickly and Shawn Olden gave the Horned Frogs some nice minutes off the bench to help offset the loss of Fisher. The fact that TCU won four of its final five Big 12 games before the league tournament probably helped them solidify their trip to the NCAA Tournament. Given that TCU hadn't reached the NCAA's in 20 years, this season was a step up for the Horned Frogs.
Looking ahead to 2018-19: Now we see if head coach Jamie Dixon's recruiting starts to pay off on the court. In 2017 TCU has the No. 4 class in the Big 12 and Olden was the only freshman to play a role, thanks in part to the experienced players on TCU's roster. Lat Mayen, Kevin Samuel and Nembhard barely hit the court. Coming off that, Dixon's 2018 class features three Texas players, all ranked in the Top 20 in the state. If he can keep Alok from flipping at the last minute, he has two classes that could provide great depth and eventual starters to the roster. TCU will need it as Brodziansky, Hamdy and Williams are substantial losses for the Horned Frogs. The good news? Dixon has a starting lineup to work with in Fisher (he should be ready for next season), Robinson, Noi, Bane and Miller. It's an undersized group, so the hope is that the 6-foot-10 Alok and the 6-foot-11 Samuel can step into the roles that Hamdy and Brodziansky assumed inside. TCU figures to be an offensive juggernaut again, but the Horned Frogs' defense and ability to put away close games will help them take another step forward next year. Dixon is building a foundation in Fort Worth that is getting much harder to ignore.