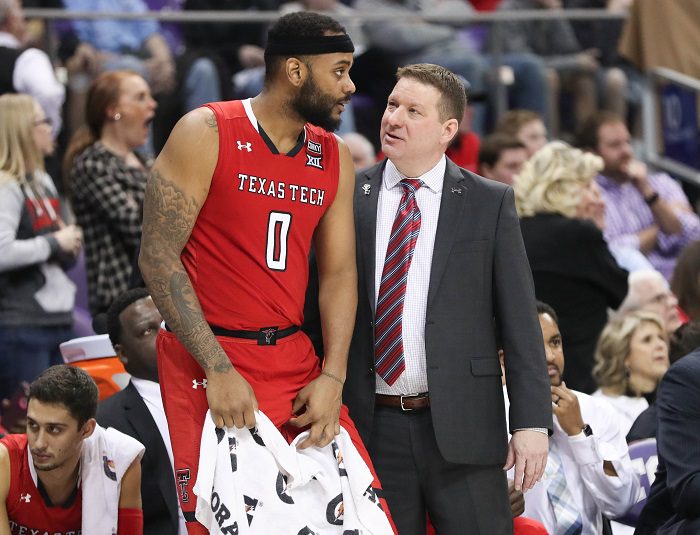 (3) Texas Tech (26-9) vs. (2) Purdue (30-6), Friday, 8:57 p.m Central, TBS
How they got here: Purdue and Texas Tech were both at-large bids into the NCAA Tournament
Tournament results: Texas Tech — def. Stephen F. Austin, 70-60 (round of 64), def. Florida, 69-66 (round of 32). Purdue — def. Cal-State Fullerton, 74-48 (round of 64), def. Butler, 76-73 (round of 32).
Expected starters and head coach
Texas Tech — G Keenan Evans (17.8 ppg, 3.1 rpg, 3.2 apg, 1.1 spg), G Justin Gray (4.9 ppg, 3.6 rpg, 1.1 apg), F Zhaire Smith (11.3 ppg, 4.9 rpg, 1.9 apg, 1.1 bpg), F Jarrett Culver (11.5 ppg, 4.9 rpg, 1.9 apg, 1.2 spg), C Norense Odiase (3.9 ppg, 4.5 rpg) Head coach — Chris Beard (140-53 overall, 44-23 at Tech).
Purdue — G Carsen Edwards (18.2 ppg, 3.9 rpg, 2.9 apg, 1.1 spg), G P.J. Thompson (7.4 ppg, 1.8 rpg, 1.7 apg), F Vincent Edwards (14.7 ppg, 7.2 rpg, 2.9 apg), G Dakota Mathias (12.3 ppg, 4.1 rpg, 4.0 apg), F Matt Haarms (4.8 ppg, 3.2 rpg). Head coach — Matt Painter (320-153 overall, 295-148 at Florida).
About Texas Tech: The Red Raiders have reached the Sweet 16 for the third time in the current tournament format. With Evans leading the charge, the Red Raiders have a chance to do some damage this weekend. Evans, who was limited late in the regular season due to a toe injury, is coming off back-to-back games in which he scored at least 20 points (23 against Stephen F. Austin and 22 against Florida). He's been particularly lethal driving to the basket in the second half. Both freshmen, Zhaire Smith and Jarrett Culver, had fine games against Florida after struggling a bit against SFA. Smith threw down the alley-oop slam to clinch the win over Florida, part of his 18 points and 9 rebounds in the game. Culver opened up his outside shot and came away with 11 points and 9 rebounds. Zach Smith is starting to get more playing time off the bench, taking the place of Norense Odiase, who starts. The Red Raiders remain a deep team with lock-down defense and solid shooting. Beard has the Red Raiders in a good head space right now, playing tough enough on both ends to overcome halftime deficits in both NCAA Tournament games.
About Purdue: Right now, the daily drama in West Lafayette, Indiana, is whether Isaac Haas will play. The problem is, there really is no drama. Haas has a fractured elbow and, despite the best efforts of the Boilermakers or the Purdue engineers that are working to create an NCAA-approved brace to allow Haas to play, he won't be a part of Friday's game. Head coach Matt Painter basically said that on Tuesday. He told reporters that he didn't expect Haas to play, brace or no brace, and that's consistent with what both he and Haas said last weekend (their hope was that Haas could play, just for a minute, with the brace on before the NCAA refused to approve his brace for safety reasons). This is a huge loss for Purdue, as the 7-foot-2 center averaged 14.7 points and 5.7 rebounds per game. But the Boilermakers have plenty of firepower, starting with scoring leader Carsen Edwards and rebounding leader Vincent Edwards. The problem is that Haarms becomes the likely starter in Haas' place, and the 7-foot-3 freshman isn't as skilled as Haas. Even without Haas the Boilermakers can go eight deep and they're No. 24 in scoring defense in Division I, allowing 65.4 points per game.
Prediction: Haas is a significant loss for the Boilermakers, but they still managed to beat Butler on Sunday. In that game Purdue was a second-half team, shooting 58.3 percent from the floor and 50 percent from the 3-point line, so they were able to shake off the shock of losing Haas. What will be interesting is how Purdue approaches adjustments from here. Haarms feels like he's there to do what he can to give the Boilermakers that inside presence Haas provided, and his 7 points and 6 rebounds vs. Butler contributed. But Carsen Edwards needs to have a better game for Purdue (just 4-17 from the floor vs. Butler). He's their outside catalyst, and whichever Red Raider ends up defending him (probably either Evans or Gray) will have their work cut out for them. With Purdue's height, this feels like a game where Odiase is going to have to play more, but Smith's role could expand too, as the Red Raiders may have to go small at times to push the pace and counteract that height. Purdue will focus on Evans, of course, so that means that Zhaire Smith and Culver need to have big games early to siphon off that pressure from Evans, which should open up more opportunities for Evans in the second half, where he's shined the past two games. This should be a slugfest. Tech takes it because they're at full strength and Purdue isn't.
Next up: The winner moves on to the Elite Eight against either Villanova or West Virginia.