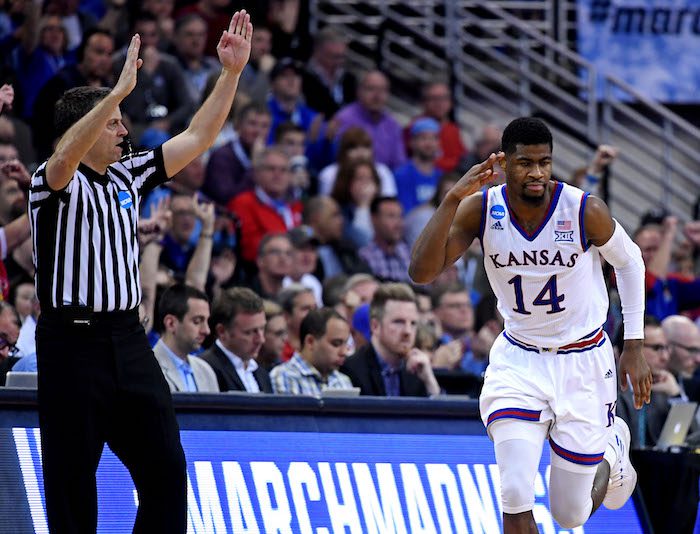 After Kansas beat Duke this past weekend, it's now time for the Jayhawks to face the Villanova Wildcats in the Final Four on Saturday night. There are several things to keep an eye on in what is clearly the more anticipated of the two games (Loyola Chicago vs. Michigan) in San Antonio. Here are five things that Jayhawks fans should be closely monitoring as the game tips off in the AlamoDome.
1. Devonte' Graham's defense against Jalen Brunson
Brunson is the catalyst to Villanova's offense. The savvy junior point guard can hit the three pointer, but is also the team's best post player. He's made a living backing down smaller players in the paint and hitting a beautiful 5-foot fadeaway jumper. Graham is a great player, but he's not known as a great defender. At 6'2", 185, he's not big or strong enough to overpower Brunson, either. So it'll be interesting to watch how Bill Self plans to defend Brunson. Does he use Legerald Vick, who at 6'5", provides more length against Brunson?
2. Udoka Azubuike vs. Omari Spellman
In theory, the two 6'10" players should spent most of the night on each other. But Spellman has continued to gain confidence from deep. The big fella has hit 9 of 19 three pointers in the NCAA Tournament, giving Villanova an additional weapon from three-point range. Azubuike is coming off a great defensive performance against Duke. But both Wendall Carter Jr. and Marvin Bagley were traditional post players. Spellman is not. Will Azubuike be asked to play man-to-man against Spellman? If so, it could create opportunities for Villanova's plethora of slashing guards in the lane. Or does Self turn to Svi Mykhailiuk, who proved himself against Duke's big men over the weekend, but has more athleticism to defend the perimeter when needed.
3. Stopping the three pointer
Villanova has the best scoring offense in America and much of that comes from three pointers. They hit 11.5 per game, which is third in the nation (behind Savannah State and The Citadel), and hit them at an impressive 40.0% clip. Kansas ranked second in the Big 12 in three-point percentage defense (32.7%) and will need to have one of its best performances defending the three to be in this game. But even that won't guarantee victory. If you told Texas Tech they'd hold Villanova to 4 of 24 from three-point range, they would've felt good about their chances of winning. However, the Red Raiders still lost by double digits.
The good news is this: Kansas is the best three-point shooting team in Final Four, hitting at a 40.3% clip, just slightly ahead of the Wildcats.
4. What does Mailk Newman have in store?
Can the rapidly-improving guard repeat his performance from Sunday against Duke? The sophomore scored all 13 Kansas points in overtime and dropped a career-high 32 points on the afternoon. We know Villanova can score, and if Kansas is going to keep up, the offensive firepower has to come from somewhere. Sure, Devonte' Graham could have himself a game, but that won't be enough. There needs to be a second (and third) option to keep pace with the Wildcats. Newman is the best bet to be that person.
5. Gotta have depth
Against Duke, Bill Self had four players log over 40 minutes of action. Sure, it went to overtime, but this team doesn't have the depth of previous KU squads. Villanova cycles top-notch guards in and out, which rarely gives the defense, or offense, a moment to breath. When Brunson comes out, in comes Donte DiVincenzo or Collin Gillespie. Or Phil Boothe can take over the point if need be. Villanova goes 8-deep, compared to 6-deep for Bill Self. Marcus Garrett would be 7-deep, but he has seen his minutes dwindle as the NCAA Tournament has progressed, playing just eight minutes against Duke on Sunday. Self will need some fresh legs against the Wildcats on Saturday night.