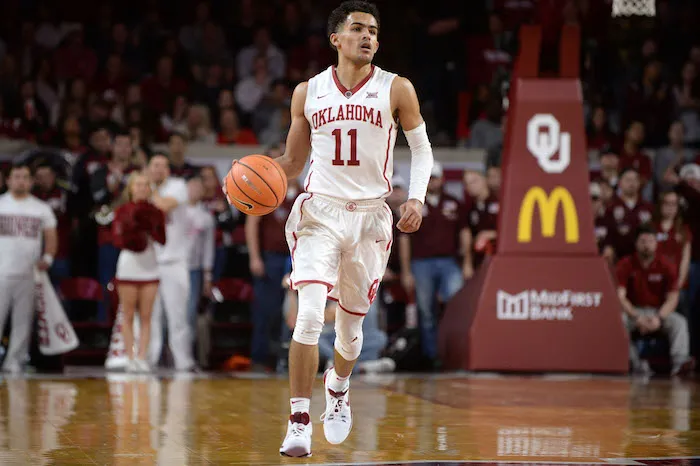 One and Done. Trae Young's college basketball career is over. The Oklahoma Sooners' freshman guard has declared his eligibility for the 2018 NBA draft, thus ending his young collegiate career at just four months old.
It has been a Cinderella run for Young and the Sooners. A year removed from an 11-20 season, Oklahoma opened the season at 14-2 and rose to as high as #3 in the national rankings in mid January. But after teams began to figure out Trae Young, the Sooners struggled and they finished the year by winning just two of their last 10 games. Still, they got the nod and went to the Big Dance for the first time since their 2016 Final Four run.
There was some controversy about Oklahoma making the NCAA tournament. But there certainly is nothing disputable about Trae Young turning pro. They say you strike when the iron is hot. And in Trae Young's case, boy that iron was so hot, even if their season ended in a first-round defeat to Rhode Island.
A Freshman Sensation
Young captured the imagination of an entire nation with his uncanny ability to shoot the ball from deep and his knack for delivering the right passes at the right time. He was a scoring machine, knocking down 40 or more points 4 times and posting 30 or more points 9 times in his freshman season.
With his shooting prowess and ball handling, Young led the NCAA in scoring ( 27.4 points per game ) and assists (8.7 assists per game), becoming the first player in NCAA Division 1 basketball to lead the nation in both statistical category. Young also set the record for most points scored by a Big 12 Player in a single season ( 826 points ).
For his achievements, Young was the unanimous choice for Big 12 Freshman of the Year and he was also selected to the All Big-12 First team. More importantly, Young was named as the USBWA National Freshman of the Year, taking home the award named after fellow Oklahoma Sooner Wayman Tisdale.
Young's father wanted him to consider coming back to Oklahoma and win the National Player of the Year award. But that was probably not meant to be. DeAndre Ayton, Marvin Bagley III, Devonte Graham and Jalen Brunson are the finalists for this year's Naismith College Player of the Year award. Brunson and Graham are from teams that are in the Final Four, with Brunson's Villanova Wildcats as the top favorites to win the NCAA title ( a +110 according to Betway odds as of March 27, 2018 ).
Ready For The Next Level?
Because of his collegiate exploits, Young is expected to be a lottery pick in this year's NBA Draft. Many Mock Drafts predict him to be taken at around the 7th to 10th pick. That's impressive, considering he wasn't on anybody's radar at the start of the season. But not everyone is impressed. His critics say that Trae Young is not yet NBA ready.
At a generous 6-2 and 180 pounds, Trae Young had trouble with the double team and with bigger and more physical defenders. That's when Oklahoma started to lose games. And that's why his detractors say that he may be too fragile to succeed at the NBA level. But wasn't that the same thing they said about Stephen Curry when he was drafted by Golden State? Look where Curry is right now and what he has achieved in his NBA career. He's won two MVP awards and two world titles for his Golden State Warriors.
Trae Young is no Stephen Curry, that is for sure. But at the collegiate level, Young is just about the same size and has the same set of skills, maybe even more polished. In the NBA, he has the chance to follow in Stephen Curry's footsteps. Success in the NBA is never a guarantee. Another year to work on his bulk and the grind of a season might not have been the worst thing for Trae Young, but it's time to cash in and roll the dice.
Will Trae Young be a solid NBA pro? I think he can be. His defense needs work and I think the 82-game schedule will get to him by the All-Star break, but in an NBA where more value than ever is being put on the three-point shot, Young will find a home and be given every opportunity to succeed. But when it comes to the Steph Curry comparisons, let's pump the breaks a bit.