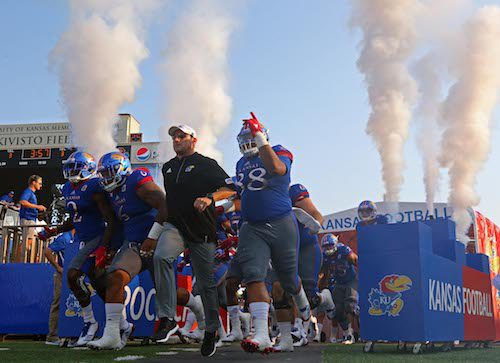 College basketball is heading down the home stretch, college baseball has started, but let's not forget (I know many of you aren't) that spring practice is already getting underway across the country. We will handle spring previews for every Big 12 football team and roll them out based on when their respective spring practices begin. Next up are the Kansas Jayhawks who will start up spring practice on Saturday, March 31st. 
Most Exciting Returnee: RB Khalil Herbert
Khalil Herbert is a really good running back who would be much more of a household name in a better program and system that caters more towards his position. There were two things working against KU last year: 1) Doug Meacham's system 2) Kansas always playing from behind. Unfortunately, I don't think either of these things will change drastically in 2018, but the more Herbert touches the ball, the better off KU's offense in. Whether in screen plays or whatever else he can handle, more Herbert is a good thing. I'll be curious to see if we get any insights into that this spring. 
Most Exciting Newcomer: QB Miles Kendrick
Kendrick was the 12th ranked dual-threat JUCO QB in the Class of 2018. He's small, at just 5'9", 193, but the three-star recruit has a chance to make an immediate impact for the Jayhawks. He started nine games for San Mateo as a freshman, tossing 18 touchdowns with nine interceptions. The QB threw for over 1900 yards with more than 400 rushing yards. He will have three years of eligibility remaining. After witnessing the struggles of Peyton Bender and Carter Stanley last season, there's no reason Kendrick shouldn't have just as much of an opportunity as the other two this spring and summer. 
Offensive Storylines
Offensive line
It's not sexy, but this offensive line was atrocious at times last season, allowing 29 sacks in 12 games, despite playing in an offense that has the QB unloading the ball practically as quickly as possible. A strength is Hakeem Adeniji, who made the move from right to left tackle during his freshman season in 2016 and has never looked back. He's the anchor that this line needs to be built around with the likes of Andru Tovi, Mesa Ribordy, Chris Hughes, Larry Hughes and Clyde McCauley. The pressure is on this unit and offensive line coach A.J. Ricker, who joins KU after spending last season with Oklahoma State as an offensive analyst. He spent 2016 at Houston and 2014-15 as the O-line coach at Missouri. 
Defensive Storylines
Secondary
The Jayhawks bring back most of their secondary from 2017. This can be a good thing or a bad thing. KU ranked last in the Big 12 in defensive pass efficiency last season. But does a year of experience for a young unit mean the growing pains are over? Or are these guys just not all that good? It remains to be seen, but I tend to like what KU has with Bryce Torneden, Mike Lee, Kyle Mayberry and Hasan Defense. Lee and Defense each had two interceptions last season and this group will look to build on what was started last season. Considering it's the Big 12, and KU's offense still has uncertainties at QB and O-Line, any help the secondary can provide will be welcomed.
Defensive line
You might think this doesn't make sense, since arguably the team's best player, Daniel Wise, is a defensive lineman. Wise was a First-Team All-Big 12 selection after finishing with 16 tackles for loss and seven sacks, both top 5 in the Big 12. But with Dorance Armstrong off to the NFL Draft, who steps up to be that second threat for offensive lines to focus on? Josh Ehambe is a solid player, with 6.5 TFL and 2 sacks last season, and he could really take off in his senior year. J.J. Holmes and Isaiah Bean are the other likely options. Seeing these three's progression this spring will be important to learning what the defensive line might look like next fall.