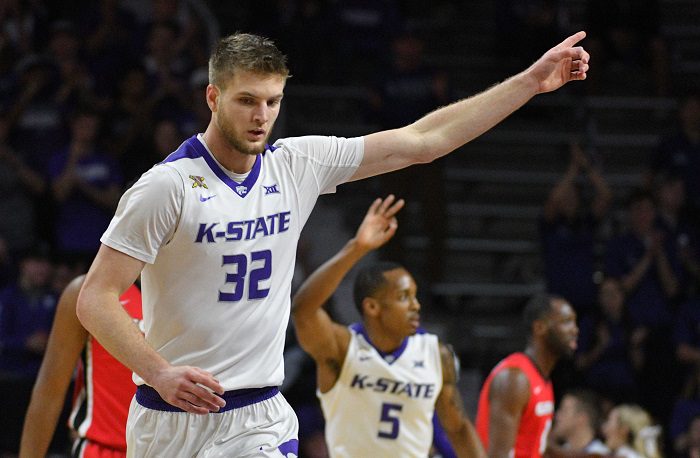 Record: 25-12 (10-8 Big 12)
Postseason
NCAA: def. Creighton, 69-59 (round of 64); def. UM-Baltimore County, 50-43 (round of 32); def. Kentucky, 61-58 (Sweet 16); lost to Loyola-Chicago, 78-62 (Elite 8).
Seniors losing: F Mawdo Sallah (1.8 ppg), G Mason Schoen (played 20 minutes in 13 games).
Any NBA Bound?: No.
Any One-and-dones or early entries?: None
Top players returning: G Barry Brown Jr. (15.9 ppg, team-leading 120 assists), F Dean Wade (16.2 ppg, 6.2 rpg), G Cartier Diarra (7.1 ppg, 73 assists), G Kamau Stokes (9.0 ppg, 103 assists), F Xavier Sneed (11.1 ppg, 5.1 rpg), C Makol Mawien (6.8 ppg, 3.4 rpg).

The player you don't know about: Amaad Wainwright is a guard who joined KSU last fall after finishing up at Trinity Valley Community College in Athens, Texas, where he led the Cardinals to a 57-9 record in two seasons (one of which was a redshirt season). He didn't play much for KSU due to their top six players, so he averaged about 2 points a game while averaging 13 minutes a game. He can score, though, as evidenced by his Juco experience (14.2 ppg) and his 3-point shooting at KSU (12-of-36 in the regular season). He could prove to be valuable depth as a senior next season.
Recruits already in the house: G Shaun Williams, 6-foot-1, Florissant Missouri (Hazelwood Central). Kansas State has the lowest-rated recruiting class in the Big 12, per 247Sports.com. But there are caveats. First, Williams is considered a four-star recruit and the No. 7 player in Missouri. Second, the Wildcats have so much coming back that also means they have so few scholarships to offer.   
Commitments yet to sign: 247Sports.com does not list any commits for KSU at the moment. Reportedly head coach Bruce Weber is hitting the recruiting trail hard to line up the 2020 class.    
Summarizing the season: The Wildcats were on a slow burn all season and came alive at the right time. Wade and Brown continues their impressive growth as players all season. Brown provided the rest of the league an early template on how to defend Oklahoma guard Trae Brown. Perhaps the biggest assist came when Stokes was hurt at midseason and Diarra moved into the starting lineup. Diarra proved quickly that he was more than a backup, and once Stokes was back the Wildcats settled into a six-player rotation that was hard to deal with for any Big 12 team. The NCAA Tournament run was a bit surprising and the Wildcats benefited from the early elimination of Virginia in their bracket. K-State's Sweet 16 win over Kentucky was one of its best wins of the season. Weber pulled the right strings to get the Wildcats into the Elite 8 and one step from reaching the Final Four.
Looking ahead to 2018-19: K-State is the only Big 12 team that isn't losing its starting lineup. In fact, the Wildcats lose just two players, neither of which played anything close to a prominent role in their 2017-18 season. That bodes well for the Wildcats, who proved that with this lineup they can be competitive with anyone in the league. K-State needs the most growth from Mawien, who could be a full-blown inside presence if his scoring and rebounding improved. The depth is what will determine how far the Wildcats can go next season. Mike McGuirl showed some flashes in the NCAA Tournament, and if he improves, along with fellow freshmen Nigel Shadd and Levi Stockard III, the Wildcats could potentially go eight or nine players deep next season. There is no reason the Wildcats can't challenge Kansas for the top of the Big 12 next season.