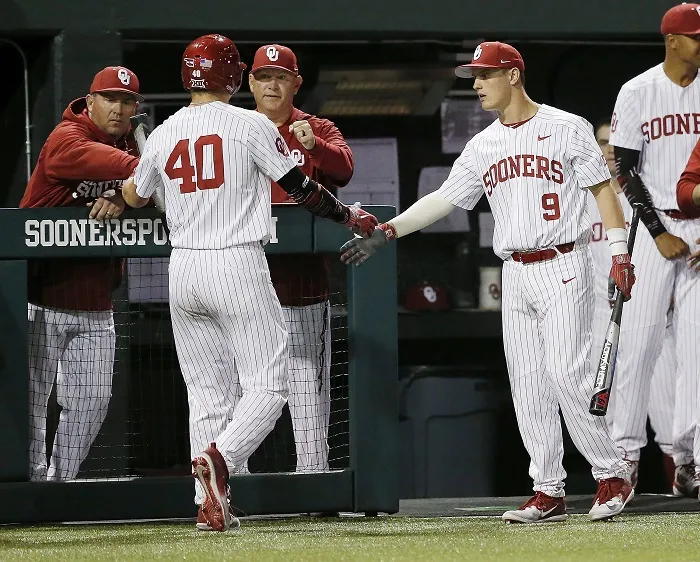 As Big 12 baseball conference play keeps getting underway, we take a look at this week's topsy-turvy Big 12 baseball power rankings.
1.Oklahoma Sooners (20-10, 6-0)
It's hard not to like the Sooners right now. They're undefeated in conference play under first-year manager Skip Johnson. Oklahoma started the year off on the wrong foot, but maybe they were just cold. Once March came around, so did the bats. Kyle Mendenhall, Steele Walker and Brandon Zaragoza were all hitting .228 or worse prior to March. Now they're all .299 and above. While Oklahoma finished March with a 16-5 record, April with see much tougher competition. The next three weekends feature road trips to TCU and Texas Tech, plus a home series against Texas.
2.Texas Tech Red Raiders (23-6, 3-3)
Surprisingly, Texas Tech has not jumped out to an early lead in the Big 12 Conference standings. They do have the nation's top RPI, which we give them credit for. It's a big reason why they are second in our power rankings. March saw the Red Raiders notch victories at Kentucky, at Louisville, at Baylor and a four-game sweep of a descent South Alabama team. Even without Steven Gingery, they are competing at a high level. Let's not forget about an offense that is third nationally in on-base percentage plus top 20 in most other categories. This week's task will be tough, but Tech should come out of Lawrence with the series victory.
3. Oklahoma State Cowboys (15-10-1, 4-2)
When they play defense, they tend to win. Oklahoma State's overall record could probably be a lot better, but they committed 23 errors in their first 18 games of the season. Despite this, they have seen strong results in conference play. They were able to steal a game in Austin against the Longhorns. Josh Holliday's squad followed that up with a sweep of TCU. Only two errors were committed by the Cowboys. Both of those came in the same game, and the offense offset it with 12 runs for the victory. Can the Cowboys keep up the momentum? They face the worst pitching staff in the Big 12 next weekend when they travel to Kansas State.
4. Kansas Jayhawks (17-11, 2-4)
This team experiences growing pains every now and then. They have one senior starting in the field: James Consentino. We provide them some leeway on their Texas series. The Longhorns were motivated after the passing of Augie Garrido. Texas was probably playing with 10 men on the field, if you include Garrido's angel. Since then, Texas has put up mediocre results. Meanwhile, Kansas won a road series at Baylor. That's something Texas Tech failed to do. The Jayhawks are second in team batting within the Big 12. Only Tech is better. Additionally, Kansas may have the best closer in the league in Zach Leban. He has 10 saves this season. The next closest to him is Baylor's Troy Montemayor with 6. Both, Ryan Zeferjahn and Taylor Turski are in the conference top 10 for strikeouts. Ryan Cyr has the second lowest ERA. It's not like this is an offense only team. They've got good pitching. If they can improve their fielding, they may be the sleeper team. They are dead last in the Big 12 with 44 errors.
5.Texas Longhorns (17-12, 6-3)
Texas is facing a scary trend right now. The Longhorns swept Kansas in their opening conference series. They won their home series against Oklahoma State. This week, they went to the Little Apple and managed just one victory. If this trend continues, Baylor will score a sweep in Austin this week. We don't think that will happen. Remember, they've won both of their home series. To be fair, this pitching staff is underperforming a bit. None of their pitchers are in the Top 10 for ERA. This despite Nolan Kingham throwing the only complete game out of all nine teams this season. He's also second in innings pitched. We are all just waiting for this team to start pitching like the 2017 Longhorns. If that happens, watch out.
6. Baylor Bears (13-12, 3-6)
This team has shown potential. They've taken a series against Texas Tech. They played well at UCLA. The Bears have shown promise at points. We admit the ranking is a bit generous. However, this team has done better than we expected. Their RPI is descent. Cody Bradford has proven to do well in the ace role. He tossed a complete game shutout against the conference's best offense earlier this year. This is certainly a team to keep an eye on.
7. TCU Horned Frogs (14-10, 3-3)
Underperforming is an understatement. This team was supposedly the only challenger to Texas Tech according to preseason prognostications. They still have Luken Baker, Jared Janczak and Nick Lodolo. This team was just swept by Oklahoma State. They've dropped a series hosting Minnesota. According to preseason prognostications, this was supposed to be the only team to challenge Texas Tech. It's baffling for a talented Jim Schlossnagle team to struggle so much.
8.Kansas State Wildcats (15-13, 2-4)
A big reason why TCU is ahead of Kansas State right now is because the Horned Frogs swept the Wildcats. If it weren't for that, we'd probably place Kansas State ahead of them. The Wildcats just took a series against a talented Texas team. Drew Mount is tied with Oklahoma State's Collin Simpson for the conference lead with eight home runs, and stands alone at the top of the leaderboard with 17 stolen bases. He's also second in RBIs, only behind Texas Tech's Josh Jung. Unfortunately for Kansas State, they have the worst pitching in the conference. It's really not even close. The opposing batting average is nine points below all other teams. Kansas State's ERA 18 points back of Oklahoma State and West Virginia. This weekend will feature a matchup of who can outslug each other when these Wildcats host Oklahoma State.
9.West Virginia Mountaineers (10-14, 1-5)
Randy Mazey is a stellar coach, and we're confident he'll get this season turned around. They did score a victory at Texas Tech this weekend, so that's a step in the right direction. West Virginia's next six games are in the Eastern Time Zone, so they'll get a break from conference play and have some of their own fans to root them on. Also, the next three conference series are all in Morgantown. We've seen this club get hot before. Will they do it again this year?