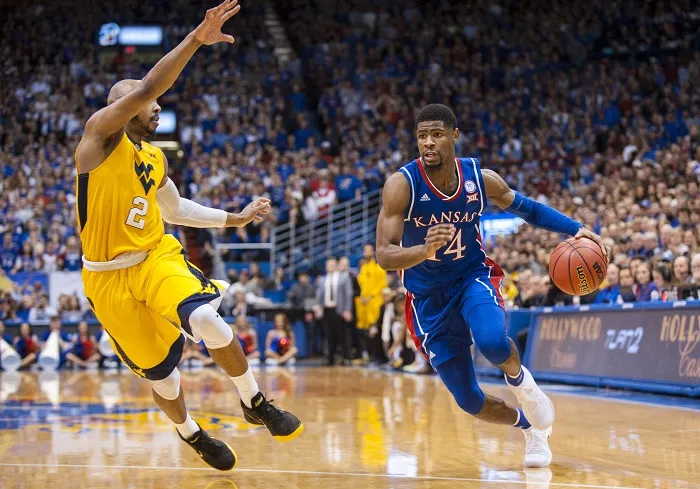 Kansas guard Malik Newman has decided to enter the NBA Draft. Newman will hire an agent, meaning he can't return to KU, the Jayhawks announced in a release Wednesday.
Newman had a fantastic NCAA Tournament, as he averaged more than 22 points during the postseason, including a career-high 32 in an overtime victory against Duke in the Region final in Omaha. Newman is a 6'3" sophomore who came to Lawrence after a year at Mississippi State. He struggled from the get go, but improved as the season went on.
For the season he averaged 14.2 PPG and 5.0 RPG, while shooting 46% from the floor and over 40% from three-point range.
"First off I want to thank God for the opportunity," Newman said. "I want to thank Coach Self and the coaching staff for giving me this opportunity to come to Kansas. I definitely want to thank my teammates. The journey with these guys has been nothing short of amazing. My two years here was everything that I asked for. My redshirt year, I had a chance to develop and Coach Self took me under his wing and really prepared me. This year I had a chance to come out and play and this was the plan, to try to put myself in position to chase my dream. I sat down and talked with Coach Self and my family and this is the best time to do it. With that being said, I'll forego my junior year at Kansas and I will put my name in the NBA Draft and plan on signing with an agent."
Head coach Bill Self said in a statement, "Malik has done everything that we had agreed to. He came to Kansas and knew after a redshirt year he would hopefully put himself into a position to be a professional basketball player after one year competing. He had a terrific season this year and was one of the best players in the NCAA tournament. I think this is good timing for Malik. We wish nothing but the best for him and appreciate all his efforts. We all know his best basketball is still ahead of him."