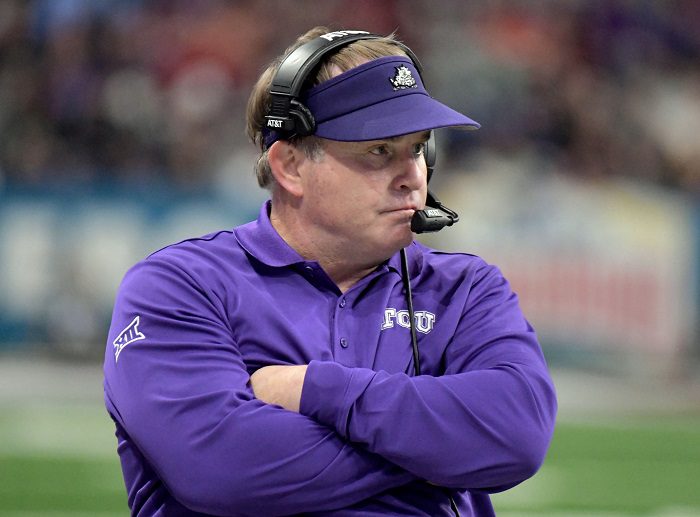 Big 12 spring games get underway this weekend! While the West Virginia Mountaineers cancelled their game, the TCU Horned Frogs hold a "scrimmage" of sorts, that will be attended by our own Matthew Postins. You can follow him on Twitter: @PostinsPostcard.
Here are some of the things to keep an eye on this weekend in Fort Worth, with the scrimmage underway at 1:00 C.T.
Quarterback duo
How does Shawn Robinson look? What about Justin Rogers? Robinson got some playing time last season when Kenny Hill was banged up. His most reps came in the game he started against Baylor in November. Robinson was much more comfortable running than passing, finishing with 10 carries and 84 rushing yards, compared to going 6/17 for 85 yards and one touchdown through the air. How has he improved as a passer? Is he more comfortable? These are all things to keep an eye on. Robinson was a highly-touted recruit from Bossier City, LA. He's actually the highest-rated recruit during the Gary Patterson era and chose TCU over LSU, Texas A&M, Tennessee and others. According to 247Sports he was the third-rated dual-threat QB in the Class of 2018. Getting a chance to hear from Matthew how comfortable Rogers looks in the offense and with the playbook, along with his teammates, will be very interesting. However, since he's been limited with a knee injury from high school, it remains to be seen, if, or how much, he will participate. But once again, just don't forget about Robinson, who was the sixth-ranked dual-threat QB in the country in the Class of 2017. A year learning the offense, playing in some games, and having a full spring, could do wonders for the sophomore.
Offensive line
It's only a scrimmage, not a true spring game, but we should get a little bit of a feel for what's going on. Three very solid senior starters are gone from last year's team with Joseph Noteboom, Matt Pryor and Austin Schlottmann. Who is stepping up or stepping in? A couple of redshirt sophomores should have first dibs in Kelton Hollins and Austin Myers, along with junior David Bolisomi. I'm also excited to see one of the early enrollees, offensive tackle Anthony McKinney out of Iowa Western C.C., who is a massive 6'8", 330 pounds. He was the No. 3 JUCO offensive tackle in the Class of 2018 and the No. 12 player nationally. Let's see what the big boy has. Protecting what is going to be a young quarterback will be imperative this season to beating teams like Oklahoma and Texas, who should have two of the stronger front sevens in the Big 12 conference.
Secondary
The secondary can be the difference maker in the Big 12, just as West Virginia and the difference in the past two seasons. In a scrimmage setting, we're more likely to get a feel from the secondary and skill positions than in the trenches. For the Horned Frogs, Nick Orr and Ranthony Texada are gone from a secondary that had the second-best pass defense efficiency in the Big 12 conference. There are no early enrollees in the secondary to watch, but some younger players who have paid their dues and worked their way through the program who will have a chance to flourish. Another offseason for Vernon Scott, La'Kendrick Van Zandt (who we interviewed before he signed with TCU), Jeff Gladney and others will be intriguing. But there's also the time for new leaders to develop such as rising seniors Ridwan Issahaku and Niko Small.