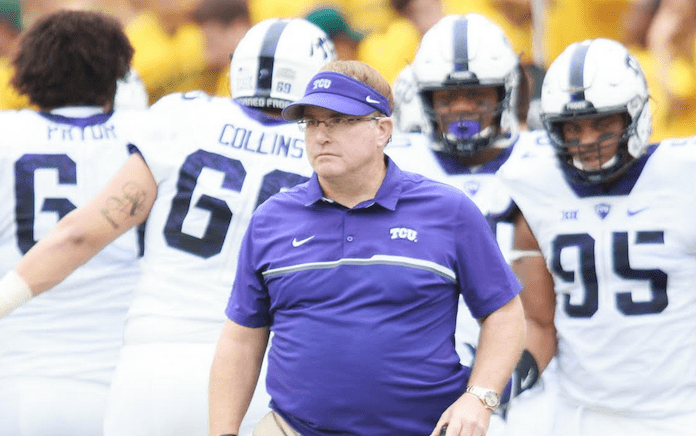 TCU head coach Gary Patterson had no intention of moving Saturday's spring game out of Amon G. Carter Stadium, despite temperatures near freezing and the Sammy Baugh Practice Center nearby. Patterson called is "Kansas spring weather." But there was a good football reason why he kept the Horned Frogs outside.
"It's good to get this," Patterson said. "You need to work out a little in the rain. Every time we go to West Virginia, it seems we're in sleet and cold, so you'd better get ready to play in it."
So, with an fairly thin roster Patterson and the Horned Frogs hit the field. Along with losing 35 seniors from last year's team, which reached the Big 12 title game, the Horned Frogs were also short approximately 20 players that will play prominent roles with TCU next season, including defensive end Ben Banogu, defensive tackle Ross Blacklock, cornerback Julian Lewis and linebacker Montrel Wilson, among others. Some were hurt while others were resting for TCU's final two practices of the spring, which come on Monday and Tuesday. In fact, the Horned Frogs played a second group on defense made up entirely of redshirt freshmen.
The cold didn't prevent Patterson from exiting the field early in the fourth quarter to start mingling with fans and taking photos before a post-game autograph session.
Our @PostinsPostcard is thawing our from a frigid #TCU Spring game where Head Coach Gary Patterson worked the crowd during the game. Yes, during the game. #GoFrogs #big12fb pic.twitter.com/eVT8904LKq

— Heartland College Sports (@Heartland_CS) April 7, 2018
On Friday our Pete Mundo previewed three things to watch on Saturday. Here's what I observed while standing on the sideline.
Quarterback
Sophomore Shawn Robinson started the game and alternated possessions with sophomore transfer Michael Collins, and Robinson ended up with more possessions overall than Collins. Senior Grayson Muehlstein snagged a couple of possessions while freshman Justin Rogers did not play as he is still rehabbing from a knee injury.
Robinson led the Horned Frogs right down the field on the first possession for a score. He looked comfortable in the offense, but his passes weren't always crisp. For instance, his first deep pass was completed, but it appeared to float. He showed good pocket presence and eluded the rush a couple of times to throw accurately on the run. Collins threw more often early in the game and, like Robinson, exhibited some inconsistency in accuracy. But I saw quality arm strength. Both of them threw interceptions but some of that could be blamed on the frigid conditions, which included some drizzle. But, based on what I saw, Robinson appears to be the leader in the clubhouse for the starting job.
"The quarterbacks have been OK (throughout camp)," Patterson said. "They threw too many picks today. I like this game situation in front of people because you still have to do your job. It's still OK to punt."
Offensive line. First, let's start with the depth chart. There is no official one until spring workouts end, but here is how the "first team" (the group that blocked for Robinson) and the "second team" (the group that blocked for Collins) sized up early in the contest."
Offensive Line
First team: C Kelton Hollins, OT Austin Myers, OG David Bolisomi, OG Cordel Iwuagwu and OT Lucas Niang.
Second team: Quazzel White, Nate Guyton, Bolisomi, Anthony McKinney, Coy McMillon
Patterson made the point after the game that the Horned Frogs are rebuilding four-fifths of their starting line, and that three of the departed linemen will probably be drafted and the fourth will probably made a team's training camp roster. Niang is the only returning starter, so the Horned Frogs did some mixing and matching on Saturday.
There was a difference between the first group and the second group, especially when it came to the run game. But Patterson said the entire group has made good progress since the start of the spring.
The interesting piece is that Patterson made it sound like Myers probably has a starting job in his sights, and that McKinney, the JUCO transfer from Iowa Western CC, has made enough strides this spring to be considered in the mix to start at tackle. But, along with Niang, that's three starting tackles. It's a good problem to have, especially if one of them can flex into guard.
"McKinney has been a big help at tackle," Patterson said. "He's gotten 15 practices in and he's going to be able to clear his mind. And then we start fall he'll know what he's doing. We needed a tackle and he's come along. Austin Myers is a guy who wasn't a factor last year and he's really improved and, obviously, Lucas Niang (coming back), those are going to be our three guys until the rest grow up. We have 4-5 more offensive linemen coming in."
Patterson also said that Hollins is "probably the guy" you want at center.
Secondary
The Horned Frogs absorbed some losses on the back line after last season and I saw some good potential replacements on Saturday. Safety Nico Small is one of the group's most experienced holdovers and set the tone early with a good stick on freshman wide receiver Taye Barber in the open field. At two different points in the game the Horned Frogs put these alignments on the back line:
Alignment 1: Sophomore safety La'Kendrick Van Zandt, redshirt freshman safety Michael Onyemaobi, junior cornerback Jeff Gladney, sophomore cornerback Devin Buckner, sophomore defensive back Kerry Johnson and linebacker Blake Patterson (Gary Patterson's son).
Alignment 2: Small, junior safety Innis Gaines, senior safety Markell Simmons, senior linebacker Arico Evans, Gladney, senior cornerback Tony James and senior linebacker Ty Summers.
Alignment 2 felt closer to a first-team alignment, especially when you include Wilson and Lewis in the mix. The group had a good day. James and Johnson both picked off Collins, while Robinson threw at least one interception. But Patterson hesitated to say that the defense was ahead of the offense at this point.
"No, I wouldn't say that," Patterson said. "They (the offense) went right down the field and scored the first drive. The key is they have to be able to handle the whole defense, offensively. One of the things that happens when you get out here that as a quarterback you just have to get out here and make the plays you're supposed to make. And the great plays take care of themselves. The first series (the offense) did what it needed to do. After that they wanted bigger plays and other stuff happened."
Other notes from the game:
Patterson said after the game that he spent his Friday night breaking down Ohio State's running game. The Horned Frogs face Ohio State on Sept. 15 at AT&T Stadium in Arlington, Texas.
"We have to get a lot better," Patterson said. "We have a tough schedule."
Patterson pointed out some young players who impressed him throughout the spring, including redshirt freshman defensive lineman Terrell Cooper, redshirt freshman defensive end Michael Collins, and true freshman wide receiver Trae Barber. He also saw a sack from senior defensive tackle L.J. Collier, and he wants to see more.
"Here's what L.J. has to learn," Patterson said. "He had about 15 plays per game last year. He has to get to where he's in shape to where he can play 40 plays a game. How do you get to where you play 40 plays? He's going to have to redefine his body a little bit and do some things (this offseason)."
Patterson's son, Blake, hit the field on Saturday and played mostly with what would be considered the second-team defense. The redshirt freshman isn't getting much in the way of preferential treatment.
"I'm not real happy with him right now," Patterson said. "Too many mistakes today. He's deep in alligators. He's my oldest. I figured if we've raised 500 kids (meaning his players) for the last 21 years it was good enough for my sons."
QB Justin Rogers did not play on Saturday as a result of his continued rehab from his knee ligament surgery. Patterson said that Rogers, a freshman, just needs more time for the injury to heal.
"It's been good," Patterson said. "He's not quite where he wants to be, and he's frustrated. He wants to be able to do everything, so we just have to keep going. Time is his friend. He just has to be patient."

Linebacker Garrett Wallow was another one of those defensive players who didn't play on Saturday, as he was sick. But Patterson had high praise for the sophomore.
"If you had 100 Garrett Wallows you'd win a lot of football games," Patterson said.