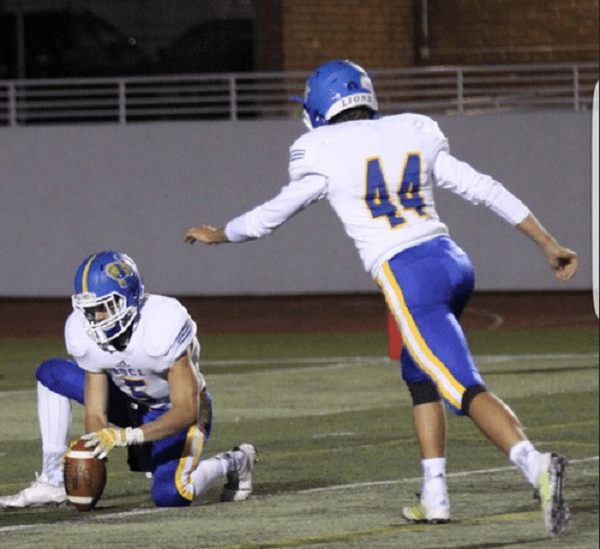 Being that I live in Ohio, whenever a top prospect from this state goes to a play somewhere besides Columbus it always peaks my interest. Gabe Brkic, one of the top recruits in the 2018 class in both kicking and punting did just that. Gabe chose the Sooners, a place about 16 hours from his home town.
"I formed a great relationship with Coach Riley, and Boulware last summer, and in November my interest in Oklahoma only grew! I love the facilities, and the way OU uses and prepares their kickers." Brkic added, "I really never had the same feeling with Ohio State, the Oklahoma staff made me feel more appreciated, and the warmer weather was also a factor."
While it is true, Gabe was always sold on Oklahoma, he did want to make sure he made the right choice, which came down really to the last three weeks of the process, and he chose to then walk-on with the Sooners. "I'm not going to lie man, it was stressful! Oklahoma staff offered to have me walk on at first, with a promised scholarship to come in January, then the choice became clear."
Brkic really exceled his senior season, maintaining his ranking as one of the top punting prospects while improving so drastically in kicking that he turned into the #2 kicker, and was nearly first! In an invitation-based competition, where the winner was given the opportunity to kick in the Under Armor All-American game, Gabe shined. He destroyed the competition in kick off yardage, by a dominating margin, and in the place kicking competition, he was edged out.
"I can't deny I was sort of disappointed that I didn't get the spot in the Under Armor All-America game, but at the same time I was proud of myself. It's tough to even get invited to this event, and I came in the top 2, out of about 500 other kickers from around the country. It came down to extra kicks, after the winner and I made 26 straight field goals each, including a few beyond 50 yards. I did end up getting to play in the Blue-Gray game, and I made two 48 yarders, and a 35 yarder in that game, so I am grateful for that opportunity!"
Gabe is extremely impressed with the current special teams do-it-all man Austin Seibert, saying he also plans to do all three jobs at Oklahoma, though he added starting at all three is not a must for him.
"I think its tough to do all three. It really takes a toll on your body. You have to balance taking enough reps to ensure you're effective, while also not taking too many and wearing yourself out for gameday, it's a tough balance, and what Austin is doing is pretty impressive. I do have a goal, to one day make it to the NFL, so personally I value having experience in all three, but I believe my future is as a kick off specialist, as well as a place kicker more than punting."
When you take a close look at Brkic's stats in high school you may notice a drastic increase in field goal, and PAT percentage from his junior and senior seasons.
He explained the improvement, saying, "I worked really hard. I added on another 25 pounds and just put in more time as a kicker, while I do think my numbers from junior year were skewed some because I had several kicks blocked, I did make seven over 40 yards that season too, but there is no question I have improved significantly from my junior season. I worked a lot with coach Jaime from Kohl's kicking camp, and that really paid dividends."
The University of Oklahoma is not just an NFL factory, and there is always a possibility of a future without football, and Gabe takes his studies seriously as well.
"After football I want to work with my dad in his machine shop; basically, it's a robotics company. It's pretty cool stuff and I definitely have an interest in it after football, NFL or not. So, while I'm at OU I will be studying engineering and business. I haven't decided which will be my major, or minor just yet, but I do think both are key."
Gabe Brkic has what it takes to be a top-notch kicker at the collegiate level. Tthe Sooners always seem to do pretty well for themselves at this position, and it appears Brkic is no exception to this rule. Plus with the hire of Shane Beamer, you would have to think the Sooners special teams will only get better, and it doesn't hurt when you nab the #2 kicker in the nation.
**We now have FREE Big 12 Forums here at Heartland College Sports. Go sign up here and join our conversation! **