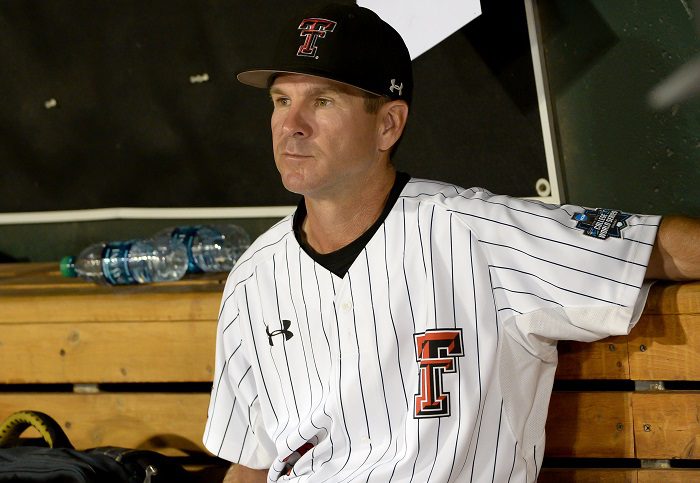 The 2018 Big 12 baseball season has been absolutely unpredictable. While there seems to be plenty of parity, we also seem to see a dropoff. Where is that dropoff? Is it after the five spot? The six spot? Could it even go past the seven spot? We may actually find out just how steep that slope is this weekend when Kansas plays TCU. Also, can anyone catch Oklahoma right now? Who's the hottest team? Who is the biggest disappointment so far? We also give you the RPI rankings (as of Monday night when this was written). What do the RPI rankings mean? Who is looking at an NCAA Regional berth? Who is having a season to forget? We break it all down and answer these questions in this week's power rankings.
1.Oklahoma Sooners (23-11, 8-1) RPI: 34 (Last week: 1)
The Sooners finally suffered their first defeat. Sure, there is disappointment to see the final unbeaten go down. This team has been phenomonal though, and they proved they can win at more places than L. Dale Mitchell Park. Oklahoma went into Fort Worth and took two out of three against this year's biggest disappointment in TCU. In each of the two victories, Kyler Murray and Steele Walker had multi-hit games and the Sooners did not commit an error. In game one of the Sunday doubleheader, Oklahoma produced 12 hits. This week they'll return to the friendly confines for five games, including a three-game set against the rival Longhorns.
2.Texas Tech Red Raiders (26-7, 5-4) RPI: 2 (Last week: 2)
Okay, so Tech lost their No.1 RPI ranking. Big whoopdy do (Stanford is now in the No.1 spot). Three of the Red Raiders seven losses have come during play in the state Kentucky. The last time I checked, Louisville and Kentucky are College World Series caliber teams. They blasted Kansas on the road in each of their first two games this past weekend. Tech has scored at least 10 runs 12 times or more this season. As if that wasn't impressive, they've notched at least 10 hits in more than half of the games they've played this year. The Jayhawks returned the favor Sunday, but Tech already claimed the series by that time. We're still not certain what took place in Waco, and we'll be scratching our heads even more if Tech drops one game to Kansas State. At the rate Oklahoma's going, Tech can't afford any more head scratching losses. This team is good, but they have some catching up to do. They need to do that catching up this weekend in Lubbock.
3. Oklahoma State Cowboys (18-11-1, 7-2) RPI: 40 (Last week: 3)
Oklahoma State is to baseball what West Virginia is to football. All offense and no defense. Yet, somehow it seems to be working. The Cowboys committed five errors in the Little Apple this weekend. Despite this, Oklahoma State still swept Kansas State. Pistol Pete's favorite team outscored Kansas State 25-12 this weekend. Trevor Boone broke out with six hits, including two home runs and five RBIs. Another notable performance came Saturday when Carson Teel tossed a complete game. It should've been a shutout, but one of those five errors allowed Kansas State to score its only run. Teel's fantastic performance saw him strikeout nine Wildcats. Don't blow on the pistols just yet. They're still firing, and could continue for the next two weeks heading to West Virginia before hosting Kansas. After that, we'll see just how serious of a contender Oklahoma State is during the Bedlam Series.
4. Texas Longhorns (22-12, 9-3) RPI: 31 (Last week: 5)
I mentioned the downhill trend Texas was on last week. That trend is officially bucked. Texas made it a point to sweep Baylor at home. However, this wasn't as easy as the first look will give you. Nolan Kingham is losing draft stock by the day. He lasted only two innings during Friday night's 9-5 victory. In fact, Baylor took an early 4-0 lead. Duke Ellis got the Horns going that night with a 4-hit game. After his first hit, D.J. Petrinsky blasted a home run, and the Longhorns never looked back the entire weekend.
While Texas has a league-leading nine victories right now, they've got a tough road to the Big 12 Regular Season Championship. Already having three losses, Texas will travel to Norman this weekend where a scorching Oklahoma team awaits them. Additionally, they have to travel to Lubbock this season. Considering this team dropped a road series to Kansas State, it wouldn't be surprising to see those two squads sweep Texas.
5. Kansas Jayhawks (18-13, 3-6) RPI: 78 (Last week: 4)
Kansas managed to salvage the weekend with an impressive 17-3 run-rule of Texas Tech on Sunday. However, Texas Tech destroyed Kansas each of the first two days and would have run-ruled the Jayhawks Friday had the mercy rule been in place. This is still a solid team, and they've played solid Big 12 competition. Remember, they've beaten the team they were supposed to beat and they did that on the road. Now, they have a golden chance to establish themselves over TCU. Is this Kansas team truly deserving of a regional spot? Their RPI is low. Their strength of schedule is weak. If they take care of business against TCU, it will be a major step towards being one of the 64 teams to gain a regional berth. Let's not forget, TCU was picked to finish second in the Big 12 preseason poll with four of the nine first place votes. Kansas was picked for a sixth place tie alongside Oklahoma State. It's time for the Jayhawks to prove the doubters wrong.
6. TCU Horned Frogs (15-13, 4-5) RPI: 85 (Last week: 7)
Forget about conference championships. This team is now desperate to just make an NCAA Regional. It's a talented team with a legendary coach. There is absolutely no reason TCU should have a losing record in conference play right now. The Horned Frogs now get the pleasure of hitting the road to play a youthful, experienced Kansas team. What is wrong with TCU is the same thing as Nolan Kingham, only on a team scale. A talented pitching rotation with MLB caliber arms that is simply not producing results. The Horned Frogs need to start with the positives. First off, they have snapped the six-game losing streak. Secondly, they have a winning overall record. Thirdly, this team has four regular starters hitting over .300 and two of those have five home runs or more.
7. West Virginia Mountaineers (13-15, 1-5) RPI: 23 (Last week: 9)
One week ago, this was the worst team in our power rankings. That was weird considering they have one of the strongest schedules in the nation. In fact, that schedule is so strong, they're a top 30 RPI team with a losing record and just one conference victory. This squad had a rough Friday against UNLV, but somehow pulled a comeback out of their ass to take game two of a doubleheader. Against one of the nation's leading offenses, they committed eight errors and still pulled off a series win. Is that the spark the Mountaineers need? A hot Oklahoma State team travels up to Morgantown this week. Kansas State and Texas will follow suit in the coming weekends. How important is Monongolia County Ballpark to this team? Can they rack up enough wins at home to score them an NCAA Regional berth? It seems their RPI is placing them in the picture. Remember, to earn an at-large berth to the NCAA Regionals, a team must have over a .500 record.
8. Kansas State Wildcats (15-17, 2-7) RPI: 102 (Last week: 8)
Is Texas just that bad of a road team? Is Oklahoma State that hot? Kansas State is an interesting team, and that's not in a good way. This team features the worst pitching staff in the Big 12 Conference. That must change if the Wildcats are going to make any more noise this season. It doesn't look like it will happen this week. Although, Baylor did take two of three from Texas Tech. Will Kansas State pull off a Baylor? It's doubtful, If Kansas State can score one victory against the Red Raiders this weekend, that would be huge. It just doesn't seem possible with one of the nation's best offenses facing the league's worst pitching staff. To quote  Arben Bajraktaraj in the movie Taken, "Good luck".
9. Baylor Bears (14-16, 3-9) RPI: 65 (Last week: 6)
Sorry Baylor fans. This season has been so forgettable for the Bears, I nearly forgot to put them in my rankings. Good thing I revised my rankings. Baylor has been swept in both conference road series. It's also dropped a home series against Kansas. The Bears can hang their hat on some memorable pitching performances by Cody Bradford, and of course the series victory over Texas Tech. I always mention the fact that I love Steve Rodriguez. He always places a major focus on community service. This is a rebuilding year though. To help the Big 12 Conference out, everyone is a Baylor fan this week. Tuesday features a road matchup against Sam Houston State, and then the Bears will play three games at Memphis. By the time Baylor takes on TCU, they should have a winning record.