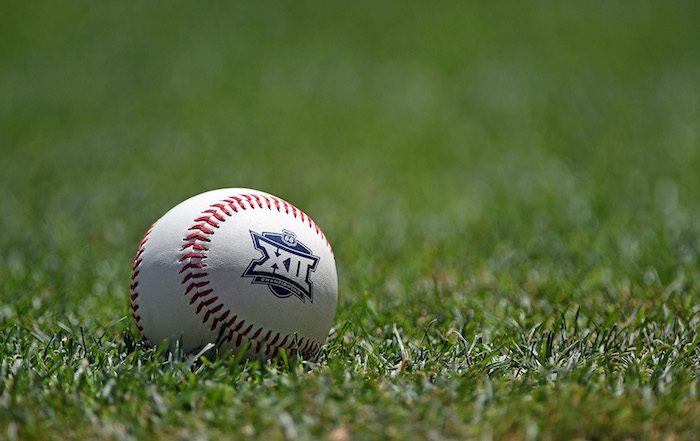 Another weekend of Big 12 baseball is upon us, and we've got four series of conference play on tap. Baylor has been provided the duties of representing the Big 12 Conference on the national landscape with a three-game set at Memphis. The Big 12 Championship race is in full swing, and it goes through the Red River Rivalry. Is Texas a pretender or a contender? Oklahoma State will take its stellar start to conference play into the eastern time zone. They'll take on a West Virginia team who might catch fire with a lengthy home stand. Can TCU turn its season around this weekend? Will Kansas get a key player back from injury? Look at the television/radio listings and watch the magic unfold.
Texas (22-13, 9-3) at No.16 Oklahoma (25-11, 8-1)
Game 1: 6:30 p.m. CT on soonersports.com ($ub$cription)
Game 2: 8 p.m. CT on ESPNU
Game 3: 1 p.m. CT on ESPN2
Away Radio: 104.9 The Horn in Austin
Home Radio: 99.3 KREF-FM in Norman, 1400 AM, TuneIn Radio App search KREF (FREE)
The Big 12 Regular Season Championship will be on the line when Texas travels up I-35 to L. Dale Mitchell Park this weekend. While the Longhorns currently lead the conference in wins, Oklahoma leads in winning percentage.
Oklahoma's offense is scorching right now, scoring at least five runs in eight of its last nine games. The entire Sooners lineup has to be feeling confident after putting up 33 runs in two midweek games earlier this week. Steele Walker is currently carrying a boomstick with him, belting six home runs in his last seven games.
While the Sooner bats are on fire, the Texas rotation is struggling this season. It starts with ace Nolan Kingham, who has been pulled after just two innings in each of his last two starts. While the rest of the rotation did fine during the Baylor home series, Texas has continued its road woes from 2017. The Longhorns were outdueled by the Big 12's worst pitching staff during a three-game set at Kansas State.
The good news for Texas is the offense is firing on all cylinders. Freshman Zach Zubia was named Big 12 Newcomer of the Week and Kody Clemens was announced as a Midseason All-American on multiple lists. Although Texas is 4-7 on the road, Tate Shaw has a .459 average with four doubles, a triple and seven RBIs in true road games this season. Considering the rotation has not been reliable, it will be important for this offense to force Skip Johnson to go to his bullpen early and often.
While most statistics point to the Sooners winning this series, history tells a completely different story. Texas has completely owned Oklahoma with a 148-58-2 series lead.
The road to the Big 12 Regular Season Championship goes through Norman. If Texas wants to change that, they must win this series.
*Texas sophomore outfielder Austin Todd will miss the series opener Friday after being ejected for arguing balls and strikes in the seventh inning at Texas A&M Tuesday. He drew a line in the dirt where he felt strike three was while on his way back to the dugout, resulting in an immediate ejection.
Texas players to watch: Kody Clemens (.383 avg., 4 HR, 7 doubles, triple, 14 runs, 11 RBIs); Tate Shaw (.318 avg., 3 doubles, 3 triples, 7 runs, 11 RBIs); Zach Zubia (.275 avg., 5 HR, 5 doubles, triple, 13 runs, 25 RBIs); Zach Zubia (.325 avg., 2 HR, 3 doubles, 7 runs, 6 RBIs)
Oklahoma Players to watch: Steele Walker (.379 avg., 3 HR, 10 RBIs, 10 runs, 8 BB stolen base) Cade Harris (.316 avg., 3 doubles, 2 HR, 9 runs, 6 RBIs); Kyler Murray (.355 avg., 2 doubles, 2 HR, 8 runs, 7 RBIs, 9 BB, 2 HBP, 3 stolen bases)
Probable Matchups:
Friday: RHP Nolan Kingham, Jr. (4-2, 3.14 ERA) vs. RHP Jake Irvin, Jr. (5-0, 2.77 ERA)
Saturday: RHP Chase Shugart, Jr. (3-2, 4.86 ERA) vs. RHP Devon Perez, Sr. (4-0, 2.61 ERA)
Sunday: RHP Blair Henley, So. (5-3, 2.92 ERA) vs. RHP Nathan Wiles, (1-1, 4.04 ERA)
Closer: Saves by Committee vs. RHP Connor Berry, Jr. (7 saves, 1.91 ERA, 1-1)
TCU (16-13, 4-5) at Kansas (19-14, 3-6)
Game 1: 3 p.m. CT
Game 2: 2 p.m. CT
Game 3: 1 p.m. CT
Video: ESPN3, Watch ESPN app
Away Radio: KTCU 88.7 FM in the Dallas/Fort Worth Metroplex
Home Radio: Jayhawk Radio Network, Kansas Jayhawks app (FREE)
There are a lot of questions going into this series. Perhaps the first question should be, do you see the glass half full or half empty? As TCU fans stare at the probable pitching matchups, you can't help but see the glass half empty. It seems that TCU may not be using ace pitcher Jared Janczak due to neck stiffness. He was originally slated for a Sunday start one week ago. Instead, the usual Friday ace was scratched and Charles King got the starting nod This is the second straight year he's been hit by the injury bug, and you can bet it hurts his draft stock. It's been a miserable season for the Horned Frogs, who were picked second in the Big 12 Conference Preseason Poll with four of the nine first-place votes. TCU has not even come close to living up to the high expectations, and its losing conference record wreaks of frustration. As if Janczak's neck stiffness didn't hurt enough, Sean Wymer and Nick Lodolo have been a mirror image of TCU's missed expectations.
On the other side, Kansas may be getting its ace Jackson Goddard back. Taylor Turski has been pushed up to the Friday spot where normal reliever Tyler Davis has been filling in. This young Kansas squad is trying to score a berth in an NCAA Regional, and winning this series should be a major step towards that goal. While Kansas has a talented lineup and could be getting its ace back, it must clean up its defense. They still have the most errors in the conference with 47. If Kansas limits the mistakes and scores a series victory, Jayhawks fans have to be feeling optimistic looking at its schedule for the next month.
TCU Players to watch: Conner Shepherd (.394 avg., 2 HR, 3 doubles, 6 runs, 3 RBIs, 6 BB, 3 stolen bases); Luken Baker (.333 avg., 3 HR, 7 runs, 5 RBIs, 7 BB, stolen base); A.J. Balta (.333 avg., HR, 5 doubles, 7 runs, 8 RBIs, 7 BB, 6 stolen bases)
Kansas Players to watch: Jaxx Groshans (.394, 4 doubles, 5 RBis, 6 runs) Devin Foyle (.300 avg., HR, double, triple, 7 RBIs, 8 runs, stolen base); Rudy Karre (.324 avg., HR, triple, 6 runs, 4 RBIs, 6 BB)
Probable Matchups:
Friday:. LHP Nick Lodolo, So. (4-2, 5.09 ERA) vs. LHP Taylor Turski , Sr.(1-5, 6.91 ERA)
Saturday: RHP Sean Wymer, Jr. (1-2, 4.93 ERA) vs. TBA
Sunday: TBA vs. RHP Ryan Zeferjahn, So. (6-1, 2.70 ERA)
Closer:  RHP Durbin Feltmann, Jr. (4 saves, 0.00 ERA, 0-0) vs. RHP Zack Leban, Jr. (10 saves, 3.68 ERA, 2-0)
Oklahoma State (18-12-1, 7-2) at West Virginia (15-15, 1-5)
Game 1: 6:30 p.m. CT Saturday
Game 2: 4 p.m. CT Sunday
Game 3: 1 p.m. CT Monday
Video: WVUsports.com and WVU Gameday App (FREE)
Away Radio: KSPI 93.7 FM in Stillwater, Oklahoma
Home Radio: Mountaineer Sports Network from IMG; TuneIn Radio App (FREE)
If there is one team that may be hotter than Oklahoma right now, it's Oklahoma State. After some March struggles, the Cowboys have swept two consecutive conference series. It is clear that they are the sleeper team and are currently one game behind the Sooners for the conference lead. In each of the past two series, one Cowboys hitter has stepped up for a monstrous series. Jon Littell earned NCBWA National Player of the Week after a strong series performance during the sweep of TCU. Trevor Boone blasted two home runs and produced six hits against Kansas State. Who will step up this week? Take your pick.
While Oklahoma State looks like they're just going to walk in and sweep a West Virginia team that has struggled in conference play, we hesitate to believe this. The Cowboys are the first Big 12 team this season to make flight into Pittsburgh and the hour and 20 minute bus drive down to Morgantown this season. The Mountaineers are 6-2 at Monongalia County Ballpark this season. Randy Mazey's team will enter the series on a four-game win streak after winning the series against an high octane UNLV offense one week ago.
Mazey is keeping the entire conference on their toes right now. No one really knows too much about this West Virginia squad. All regular starters are hitting between .203 and .299. The rotation is a complete guessing game. One week ago, Alek Menoah was the Friday starter but lasted just one inning. The week prior, Isaiah Kearns got the Friday nod. Kearns started Wednesday's 12-1 victory against Pitt. B.J. Myers has started on some Fridays, but he's been a reliever lately. We can assume Menoah and Kade Strowd will likely be starting this weekend. When is up in the air. The third starter is anyone's guess. Mazey might just go ahead and pull someone out of the student section.
Expect just one thing out of this series: the unexpected.
Oklahoma State Players to watch: Jon Littell (.472 avg., HR, 4 doubles, 2 triples, 12 runs, 8 RBIs, 6 BB, 2 stolen bases); Colin Simpson (.263 avg., 3 home runs, 10 RBIs, 9 runs); Trevor Boone (.400 avg., 3 HR, 2 doubles, triple, 12 RBIs, 4 runs, stolen base); Michael Neustifter (.368 avg., 5 doubles, 11 RBIs, 7 runs, 4 BB)
West Virginia Players to watch: Darius Hill (.346 avg., 4 doubles, 2 RBIs, 5 runs); Brandon White (.304 avg., double, 3 RBIs, run, 2 stolen bases); Kyle Gray (.250 avg., 5 BB, 2 doubles, 4 runs)
Probable Matchups:
Friday: RHP Joe Lienhard, Jr. (3-1, 4.33 ERA) vs. TBA
Saturday: LHP Carson Teel, Jr. (4-1, 2.49 ERA) vs. TBA
Sunday: RHP Jonathan Heasley, So. (2-3, 7.49 ERA) vs. TBA
Closers: Saves by Committee vs. Shane Ennis (3 saves, 2.30 ERA, 4-2)
Kansas State (15-18, 2-7) at Texas Tech (26-8, 5-4)
Game 1: 6:30 p.m. CT Friday on Fox Sports Southwest Plus
Game 2: 2 p.m. CT Saturday on Texas Tech TV ($ub$cription)
Game 3: 1 p.m. CT Sunday on Fox Sports Southwest
Away Radio: KMAN 93.3 FM/1350 AM in Manhattan
Home Radio: 97.3 FM, TuneIn Radio (FREE, search Texas Tech)
Warning. Viewer discretion is advised.
Texas Tech head coach Tim Tadlock and outfielder Cody Masters will serve a one-game suspension Friday after both were ejected for arguing balls and strikes during a 6-5 loss at Dallas Baptist Tuesday. If Kansas State can figure out how to get a few more Red Raiders tossed, they might have a chance. Those suspensions are about the only thing going for the Wildcats this series.
This series will place the best offense in the Big 12 Conference up against the worst pitching staff. Tech enters this series with a .305 team average, having racked up 271 runs and belting 41 homers. This high-octane offense will face a pitching staff that has surrendered 36 home runs and sports a 5.59 ERA. Kansas State's opponents have a batting average of .291. Their best starter this week has an ERA over four.
As if the above paragraph didn't tell enough of the story, there's more. Tech is 16-1 in Lubbock this year while Kansas State is 3-6 in true road games. The last time Kansas State won in Lubbock, Dan Spencer was Tech's head coach. That was 2012.
Texas Tech should sweep Kansas State easily. However, if this Big 12 Conference season has taught us anything, it's that these games aren't played on paper. Remember, Tech dropped two out of three against Baylor. Kansas State also took two out of three against Texas.
Kansas State Players to watch: TK McWhertor (.323 avg., 2 doubles, 4 runs, 3 RBIs); Drew Mount (.265 avg., HR, 3 doubles, 3 triples, 2 runs, 2 RBIs, 6 BB); Cameron Thompson (.385 avg., HR, double, triple, 8 RBIs, 6 runs, 6 stolen bases)
Texas Tech Players to watch: Grant Little (.406 avg., HR, 6 doubles, 5 runs, 8 RBIs, 5 BB); Gabe Holt (.313 avg., 9 runs, 8 RBIs, 3 doubles, HR, 3 stolen bases); Josh Jung (.306 avg., 4 runs, 2 doubles, 7 RBIs); Zach Rheams (.345 avg., 2 HR, 2 doubles, 6 RBIs, 7 runs)
Probable Mathcups:
Friday: RHP Justin Heskett, Sr. (2-4, 5.23 ERA) vs. RHP Davis Martin, Jr. (5-2, 2.63 ERA)
Saturday: RHP Caleb Littlejim, So. (2-0, 5.97 ERA) vs. RHP Caleb Kilian, So. (4-1, 0.89 ERA)
Sunday: RHP Kasey Ford, So. (4-2, 4.20 ERA) vs. RHP John McMillon, So. (4-1, 2.97 ERA)
Staffs: Kansas State (5 saves, 5.59 ERA) Texas Tech (9 saves, 3.55 ERA)
Baylor (15-16) at Memphis (11-23)
Game 1: 4:30 p.m. CT Friday
Game 2: 2 p.m. CT Saturday
Game 3: 1 p.m. CT Sunday
Video: GoTigersGo.com ($ub$cription)
Baylor Radio: ESPN 1660 AM in Waco
Most Big 12 fans will not just be cheering for Baylor this week, they'll be agonizing. Why? Because the conference currently has the No.2 RPI, and some teams really need an RPI boost. Two fanbases who may secretly don green and gold underneath their respective favorite team's gear this weekend are TCU (RPI No. 76) and Kansas (RPI No. 75). As of Thursday night, Memphis' RPI is 214. The kicker here is that Baylor is playing three road games. Win all three, and that should boost Baylor's RPI a bit. Not only that, but it helps the Bears inch closer to clinching a winning record. An NCAA Regional is not out of reach for Baylor, but the first criteria for an at-large berth is a winning record. The schedule down the stretch favors Baylor. The Bears should be 20-16 when they welcome TCU to Baylor Ballpark next weekend.
Baylor players to watch: Andy Thomas (.343 avg., HR, 4 doubles, 14 runs, 11 RBIs, 24 BB, 3 stolen bases); Davis Wendzel (.273 avg., 3 HR, 9 doubles, 20 runs, 22 BB, 13 RBIs); Shea Langeliers (.220 avg., 7 HR, 8 doubles, triple, 23 runs, 23 RBIs)
Memphis players to watch: Tyler Webb (.310 avg., HR, triple, 14 doubles, 20 runs, 16 RBIs, 6 stolen bases); Kyle Ouellette (.279 avg., 3 HR, 5 doubles, 21 RBIs, 12 runs); Cale Hennemann (.286 avg., 2 triples, 5 doubles, 16 runs, 10 RBIs, 17 BB)
Probable Matchups:
Friday: RHP Hayden Kettler, So. (3-3, 3.21 ERA) vs. RHP Riley Cabral (4-4, 3.63 ERA)
Saturday: LHP Cody Bradford (3-3, 2.76 ERA) vs. RHP Jonathan Bowlan (0-5, 2.76 ERA)
Sunday: TBA vs. Alex Hicks (2-5, 6.63 ERA)
Closers: RHP Troy Montemayor, Sr. (7 saves, 2.57 ERA, 1-1) vs. Saves by Committee