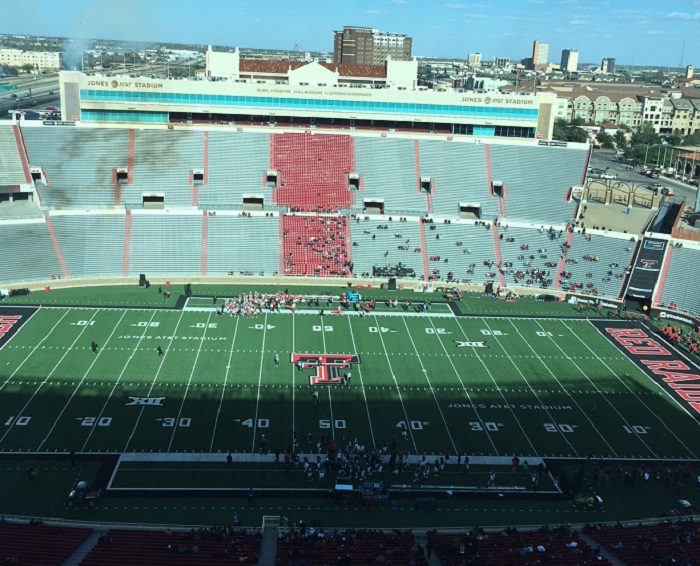 A few weeks ago, I was asked if I could only go to one Big 12 spring game this year, which one would it be? Without hesitation, I said Texas Tech because of the intriguing quarterback battle. Apparently, I must be alone on that take because it appeared that Texas Tech fans weren't too interested in watching a spring game on a Saturday evening. Whether the fans or students were partying, studying or playing fortnite, the atmosphere inside of Jones AT&T Stadium felt more like a library except there may have been more people in a library than in the stands. The defense (black team) ended up beating the offense (red team) 40-27 after the final whistle. Anyhow, let's get to the important thing and that's my takeaways from the Texas Tech spring game on Saturday night.

Quarterbacks
Jett Duffey
Jett finished the day going 11 of 15 for 89 yards and threw one interception. The pick he threw was on a screen play and instead of throwing it away, he threw a pass up for grabs off his backfoot. His first two series resulted in three and outs before marching down the field in his third drive which resulted in a 2-yard TD run by Da'Leon Ward. In the fourth series came the bad interception I mentioned earlier, but then Jett recovered a bit leading a drive that should have resulted in a touchdown pass but ended up as a fumble in the end zone by WR JoJo Robinson. He then finished off his day with a three and out in the second half of play. Overall, I thought too many times he didn't have control of the offense. I didn't see a ton of down the field throws like I am used to when I watch Texas Tech play. To me this was Jett's job to lose and it appears that we may have a serious QB battle in Lubbock heading into the fall.
McLane Carter
Stat wise, McLane finished the day as the leader of this group. He went 11 of 19 for 139 yards and a touchdown pass. His first drive was looking good until RB Tre King fumbled after a big hit by Thomas Leggett. The second series ended up with another missed opportunity as McLane made some nice throws but WR TJ Vasher dropped what would have been a TD pass. The next 3 series are where things got rocky as Carter went three and out on 3 consecutive drives. However, he did throw the only TD pass in the game on his last series hitting WR De'Quan Bowman for a 28-yard TD strike. Overall, consistency was McLane's issue on Saturday, but he did look more comfortable running the offense. Afterwards, McLane said that "Accuracy was the biggest thing that coach wanted him to work on over the summer."
Alan Bowman
Coming into spring, I really thought that true freshman Alan Bowman had a chance to win this job, but I am afraid that I was wrong on that one. He only played in 3 series in this game but 2 of them resulted in points. In his first drive, he drove the offense down the field and RB Tre King capped it off with a 6-yard TD run. His last 2 series started in the red zone, but he didn't really move the offense much as both drives only ended up with 3 points on the board. It was obvious to me that Alan is still in the process of learning this offense. Until he can truly get a full grasp on the playbook, he may be on the sidelines this fall.
After the game, Kliff Kingsbury had this to say about the quarterbacks "At some points this spring, we were on our heels and letting the defense dictate what we do, and that's not how we play that position here. And so, we've got to get more comfortable in the system, work through the summer, work through fall camp and we'll get there." This is a group that is a work in progress.
Running Backs
Tre King and Da'Leon Ward are going to be the 2 guys for Texas Tech to carry the rock. Tre averaged 3.5 yards per carry while Da'Leon rushed for 3.8 yards per carry and both had one rushing score apiece. They combined for 27 carries and it appears that Kliff is trying to use the ground game more this season to try and take some off the pressure of his quarterbacks. Both guys seem capable of starting, but hopefully one of them can be a difference maker.
Wide Receiver
I've been on the record saying that freshman WR Myller Royals is my favorite freshman WR in the Big 12 and it seems like he will have a role in the offense come fall. He was targeted 6 times (Mostly from McLane Carter) which tied for second on the team Saturday. Also, to my surprise, senior WR JoJo Robinson appears to be a go to target for both quarterbacks and I can see why. Besides the end zone fumble, JoJo lead the offense with 79 receiving yards and looked like the best WR on the field. Two other guys I want to mention are Donta Thompson and TJ Vasher. Kliff said that "Thompson was the most improved player on offense during the spring." As for TJ Vasher, it wasn't his best day as he had a few drops including one for a TD. Apparently, the drops have been an issue for him during spring and that's concerning especially when I thought he could have a breakout year for Texas Tech.
Defense
One thing that I came away with is that this defense will be even better than last year's. With pretty much the entire defense coming back, it's expected but it's no guarantee that it will happen. Overall the defense forced five 3 and outs as well as forcing 3 turnovers. Rushing the passer was a big issue with this defense last year but DE Kolin Hill really impressed me in this game with 2 sacks and pressured the quarterback a few different times. As for the most improved player on this side of the ball, Kliff Kingsbury said that "CB Octavious Morgan has been the guy that comes to mind." That should certainly help because the Red Raiders struggled at times in the secondary. Overall, I understand it's just a spring game but give credit to DC David Gibbs. After 2016, I thought he would be gone after the 2017 but he proved me wrong. Now, it appears that 2018 will be even better for him and maybe this program has some solid ground to build upon defensively as long as he is in Lubbock.