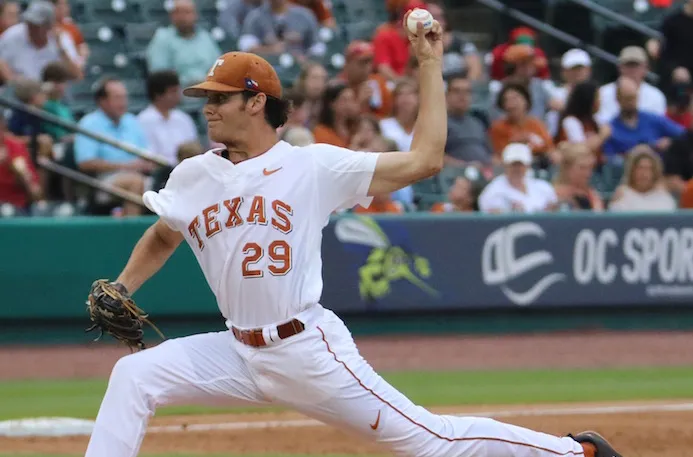 And then there were five. The Big 12 Championship race is on, and there is a solid seperation at the halfway mark of the season. The top five teams all have over .500 conference records while the bottom four are at least five games under .500. Oklahoma left the title race gates wide open. After sprinting out to an 8-0 start, the Sooners have since dropped three games while winning just one. The Sooners had a golden opportunity to all but eliminate a Texas team who struggles on the road. Instead, Texas claimed the series and will now likely finish ahead of Oklahoma. TCU and Oklahoma State have favorable schedules and could make a run in this final month. Meanwhile, the two-time defending champions have the toughest remaining schedule in the conference. We have a new leader at the top of the rankings and a complete change all around. Will we also have a new champion? Put your drinks down. Stop eating. Don't get yourself choked up. We are in for an unbelievable, intriguing, eye-brow raising final month of the season. Prepare to be surprised.
1.Texas Longhorns (24-14, 11-4) RPI: 23
The great Ric Flair always said, "To be the man, you've got to beat the man." That's exactly what Texas did, and they did it on the road. The fact that it came on the road makes the Longhorns look all the more impressive as that is where they have struggled under second year skipper David Pierce. Zach Zubia earned Newcomer of the Week honors after blasting two clutch homers. His Friday homer was the beginning of a rally that saw Texas come from behind to steal game one from the Sooners. His two-run shot Saturday would end up winning the game and clinching the series for Texas. Zubia and Kody Clemens, both, hit two home runs during the series.
If that wasn't scary enough, Texas ace Nolan Kingham might be returning to form. David Pierce did not allow Kingham to make his normal Friday start as a disciplinary measure. We're not certain what he was disciplined for, but Kingham was provided the privilege to pitch in relief Saturday. It was beautiful. Kingham finished off the game by tossing four shutout innings. He walked one batter and surrendered just three hits. In the process, he struck out six Sooners. The old form of Nolan Kingham was on display. The rest of the conference better take notice.
2.Texas Tech Red Raiders (29-8, 8-4) RPI: 3
The real season starts this weekend. Texas Tech has, by far, the toughest remaining schedule of the five teams remaining in the Big 12 race. Their weekend schedule is as follows: vs. Oklahoma, at TCU, vs. Texas, at Oklahoma State. This is the only team who has to face all four of the other Big 12 contenders during the remainder of the schedule. If there is one team who can run the gauntlet, it's Tech. I like the Red Raider's chances against Oklahoma this weekend. If Tech focuses on one game at a time, they could very well defend their conference championship. The worst thing this Tech team can do is look ahead.
3. Oklahoma State Cowboys (20-13-1, 9-3) RPI: 32
Who saw this coming a month ago? We're 12 games in and Oklahoma State is right in the thick of the regular season championship race. They own series victories over two of the other four teams in the race, and have arguably the easiest schedule remaining. Oklahoma State only committed one error this weekend, and seem to have cleaned up their defense. The one pitcher who had a miserable performance against West Virginia, was the least likely candidate in Carsen Teel. Oklahoma State can completely separate themselves from their in-state rival in the next two weeks. While Oklahoma travels to Tech before facing the Cowboys, the pokes host a struggling Kansas team. Add in the fact that Oklahoma State recently announced a new stadium coming in 2020, and it is an absolutely fantastic time to be an Oklahoma State fan right now.
4. Oklahoma Sooners (26-13, 9-3) RPI: 34
This was the major disappointment of the weekend. Oklahoma hosted its arch-nemesis at home, with a chance to pretty much eliminate Texas from the Big 12 title race. Instead, the Sooners left the gate wide open and now we have a five-team race for the regular season championship. To make matters worse for Oklahoma, they now have to go on the road against a Texas Tech offense that just scored 56 runs in a three-day span. As if that wasn't troublesome enough, the Red Raiders are 19-1 in Lubbock this season. After Texas Tech, in-state rival Oklahoma State awaits the Sooners at Allie P. Reynolds stadium. My, how the tides have turned. If Oklahoma doesn't win either of those series, kiss their regular season title hopes goodbye.
5. TCU Horned Frogs (18-13, 6-5) RPI: 56
Have a day Luken Baker. Perhaps the best hitter in the NCAA, Baker belted two home runs Saturday. The first one went to dead center field and over the batter's eye. The second one still hasn't landed. It's currently on course to hit North Korea, and may cause a nuclear war. The future MLB slugger finished the weekend 4-for-9 with a walk, three runs scored, and seven runs batted in.
TCU's pitching staff also finally lived up to its potential. Sean Wymer pitched a beautiful gem Saturday. He struck out six while surrendering two earned runs on four hits and two walks through eight innings. Nick Lodolo also earned a quality start with a six-inning performance. He allowed just one earned run on two hits and a walk. If the Horned Frogs have the lead late in the ball game, they are almost guaranteed a win. Closer Durbin Feltman now has five saves, and still owns a 0.00 ERA. He pitched more than an inning in Friday's victory.
Could this be the turning point in TCU's season? They have College World Series caliber talent. Coach Jim Schlossnagle is one of the greatest college skippers of all-time. It's been a frustrating year, but they aren't out of the race yet. TCU fans can thank Texas for the favor, and the schedule sets up well for TCU. Here are the remaining weekend series: at Baylor, vs. Texas Tech, vs. Lamar, vs. West Virginia, at Texas. If TCU gets hot in May, the rest of the nation is in deep trouble.
6. Kansas Jayhawks (19-16, 3-8) RPI: 91
Kansas is struggling right now. They've dropped four of their last five games against conference opponents and have been outscored 42-11 in those four losses. Mother Nature may have spared them a three-game sweep at the hands of a struggling TCU squad. Future MLB slugger Luken Baker completely annihilated the Jayhawk pitching staff. It is clear that Kansas is still a year away from being a contender in this league. An NCAA Regional berth isn't out of reach, but they're going to need win at least three of their next four weekend series to have a chance. Winning those midweek games would certainly help too.
7. West Virginia Mountaineers (16-17, 2-7) RPI: 30
Don't even try to guess Randy Mazey's starting rotation. He gave the nod to his saves leader Friday night. It did not go as well as the skipper would have hoped. Shane Ennis lasted just three innings in his first start since 2015. He walked four and surrendered three hits en route to giving up four earned runs. B.J. Myers was stellar in five innings of relief, but one pitching mishap turned into a grand slam as soon as he came in. This came after an error, and that was the difference in Friday's matchup. The Mountaineers also blew a lead Sunday, but they can take solace in Saturday's victory. They are officially out of the cellar, and that victory snapped an Oklahoma State seven-game conference win streak. The current team in the cellar, Kansas State, will come to Morgantown this weekend. A series victory could be the turning point in the Mountaineer's season.
8. Baylor Bears (17-17, 3-9) RPI: 63
The Bears will take the .500 record, but they certainly cannot be content with a 2-1 record against a Memphis team which entered the weekend with an RPI ranking of 214. The surprising factor about their lone loss was it came during a Cody Bradford start. In probably Bradford's worst start of the year, he gave up six earned runs on 10 hits and one walk over 5.2 innings pitched. If Baylor wants to have any shot at a regional, they must win easy games over Texas Southern and Arkansas-Pine Bluff Tuesday and Wednesday. It would certainly help their case to avoid the sweep when they host TCU this weekend.
9. Kansas State Wildcats (15-21, 2-10) RPI: 118
I said "Warning. Viewer discretion is advised" during my weekend preview last week. I knew it could be ugly, but I didn't think Texas Tech would score more than 50 runs on the weekend. Here are some stats of just how ugly the weekend for Kansas State was: Outscored 56-16, and it was 47-10 before Sunday's game; outhit 52-26; six errors committed by the Wildcat defense; 10 home runs surrendered by Wildcat pitching; 13:25 strikeout-to-walk ratio; 37 strikeouts by the Wildcats hitters.
Kansas State has now dropped seven straight Big 12 games. Luckily for Kansas State, they now face the two teams just ahead of them. If they can't win at least one series, they will likely be sitting at home during the Big 12 Championship for the second straight season and the third time in the past five years. That might just be the final straw for head coach Brad Hill, who has had a fantastic 15-year run. Remember, Hill led the Wildcats to their first conference title in 80 years back in 2013. That year also saw the Wildcats advance past the NCAA Regionals for the first time ever (a Super Regional appearance).