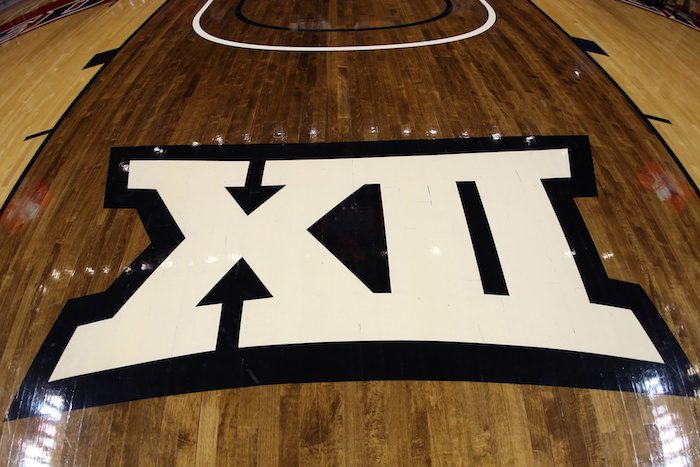 The next wave of player signings are rolling in for Big 12 basketball. So, each Tuesday we'll run down who's signed where and other Big 12-hoops related news you need to know.
Baylor
Florent Thamba and Ibby Ali signed letters-of-intent with the Bears last week. Thamba, out of Mountain Mission School in Grundy, Virginia, gives the Bears a Top 10 player in the state of Virginia and a Top 300 national recruit, according to 247Sports.com. Thamba, 6-foot-9, played center. Ali, a 6-foot-9 power forward, comes to Baylor from Southwest Christian Academy in Little Rock, Arkansas.
Thamba and Ali are now part of a five-player recruiting class for the Bears, with 27Sports.com top 100 recruit Matthew Mayer (6-foot-7 small forward, Austin, Texas/Westlake HS) the centerpiece. The Bears also have juco transfer guard Darius Allen (Melbourne, Fla./Palm Beach State) and graduate transfer guard Makai Mason (Greenfield, Mass./Yale).
The Bears will also have two additional transfers ready for 2018-19 in Mario Kegler (formerly of Mississippi State) and Freddie Gillespie (formerly of Division III Carleton).
Finally, guard Tyson Jolly informed the Bears after the season that he was transferring.
Kansas
The Jayhawks signed the Kansas City Star All-Metro Player of the Year, Ochai Agbaii, late last week. The 6-foot-5 guard played for Oak Park High School in Kansas City, Missouri, and is ranked as the No. 10 player in Missouri by 24Sports.com. Agbaji joins a class that includes three players listed as the Top 2 in their respective states — G Quentin Grimes (The Woodlands, TX/College Park), G Devon Dotson (Charlotte, NC/Providence Day School) and C David McCormack (Mouth of Wilson, VA/Oak Hill Academy). The Jayhawks have the top class in the Big 12.
The Jayhawks are also reportedly in pursuit of one of the nation's best recruits in Romeo Langford, the nation's No. 5 recruit per 247Sports.com.
Since the season ended, both guard Malik Newman and guard Lagerald Vick declared for the NBA Draft.
Kansas State
The Wildcats signed Wabash Valley College forward Austin Trice late last week. The 6-foot-7 forward was a juco All-American in 2017-18 and was fourth in the nation in rebounding with 12.1 per game.
The Wildcats also signed Shaun Williams (St. Louis, Mo./Hazelwood Central) during the early signing period, and Amaad Wainwright announced he would transfer from K-State after being suspended from the team after the season.
Oklahoma
There has been quite a bit of turnover at Oklahoma since the offseason began. The signing of junior college All-American Kur Kuath last week helped re-fill some of the coffers. The 6-foot-9 forward spent two seasons at Salt Lake Community College, where he averaged 10.7 points, 6.9 rebounds and 3.3 blocks while shooting .611 from the field.
Oklahoma also has Jamal Bieniemy (Katy, Texas/Tompkins) and graduate transfer Miles Reynolds from Pacific in their 2018-19 class. Reynolds averaged 13.3 points, 2.8 assists, 2.6 rebounds and 1.0 steals this past season while shooting 37.7 percent from 3-point range.
The Sooners lost Trae Young to the NBA after the season, while Kameron McGusty and Jordan Shepherd announced they would transfer.
Oklahoma State
The Cowboys signed Kentrevious Jones, a 6-foot-10 center from Quality Education Prep (NC), late last week. Considered the No. 35 center in the nation according to 247Sports.com, the Macon, Georgia, product is a Top 10 player in the state of Georgia.
Since the season ended guard Brandon Averette announced he would transfer.
TCU
The Horned Frogs signed the nation's No. 1 juco player, forward Yuat Alok, as part of their 2018-19 recruiting class.
Alok he averaged 12.3 points, 7.0 rebounds and 1.5 blocks per game at Chipola CC (Florida) last season. He shot 55 percent from the field, including 48 percent from 3-point range, and 81.6 percent from the free throw line.
Alok is part of a robust recruiting class for the Horned Frogs, which includes early signees Kaden Archie (Midlothian, Texas), Russell Barlow (Richardson, Texas), Kendric Davis (Houston) and Angus McWilliam (Christchurch, New Zealand). Meanwhile, Lat Mayen (Adelaide, Australia) and Kevin Samuel (Codrington Village, Barbuda) will play for the first time next season as redshirt freshmen.
Texas Tech
The Red Raiders snagged a graduate transfer, Tariq Owens, for next season. Owens, a 6-foot-11 forward, played at St. John's last season and averaged 8.4 points, 5.9 rebounds and 2.8 blocks per game.
The Red Raiders signed Kyler Edwards (Henderson, NV/Findlay Prep) and Deshawn Corprew (Levelland, TX/South Plains College) in the early period. Corprew is one of the top juco recruits in the nation.
After the season Zhaire Smith declared his intention to test the NBA Draft waters, but did not sign an agent, which means he can return to Tech next season.