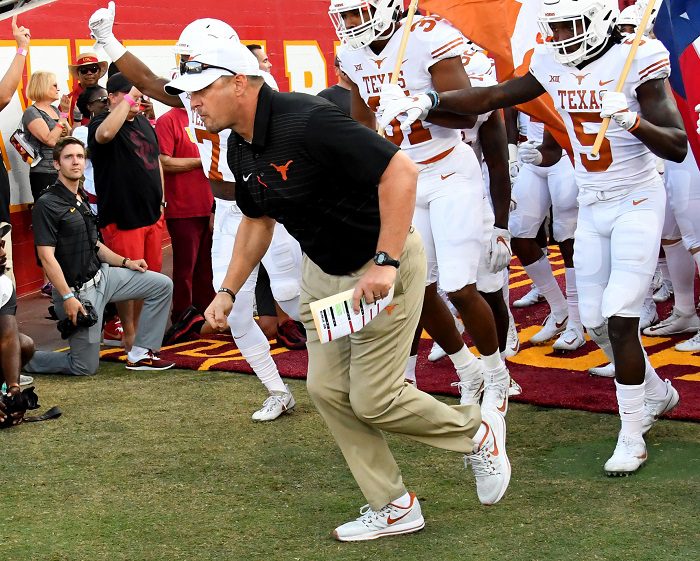 We are back in full swing across the Big 12 as teams are finishing up spring practice and wrapping it up with their spring game. Several teams have already finished up their spring games and we even had two cancellations due to weather. But you're in luck as two more Big 12 schools will host their spring games this weekend including the Texas Longhorns. It's year two in the Tom Herman era and after a 7-6 season, Texas still has plenty of things to work on. Texas is about to put the final bow on their spring with the spring game on Saturday but before they do, here are the three things to watch during the game.
QB Sam Ehlinger
There will be a ton of eyeballs on Sam Ehlinger this year and it is easy to see why. Sam led the team in passing yards, passing touchdowns and even rushing yards last season believe it or not. To sum it up, he was pretty much the Texas offense in 2017. He averaged 212 passing yards per contest along with 11 touchdowns and 7 interceptions in 9 games. Sam also completed his 57.4% of his passes which is something that needs to be improved heading into the 2018 season. The biggest question is can Sam Ehlinger take the next step needed to get this program back where it needs to be.
Offensive Line
This was, without a doubt the worst position group for Texas last season. Texas ranked 7th in rushing offense last year in the Big 12 and averaged 3.6 yards per carry. Believe it or not, Texas Tech who runs an air raid offense, rushed for more yards last season than Texas did. That is truly mind boggling along with giving up 34 sacks in 2017 which ranked 9th in the conference. I will say that the Longhorns were absolutely decimated with an injury plague last season with this group. With so many new faces and lineups, their struggles weren't all that surprising. The 2018 starting lineup should look something like LT Calvin Anderson (Rice Grad Transfer) who was the biggest grad transfer target out there, LG Patrick Vahe (31 career starts), C Zach Shackelford (17 career starts), RG Patrick Hudson and RT Derek Kerstetter (10 career starts). This lineup is by no means set in stone. The RG and RT positions are most likely going to be an open competition that should play out. Other guys to keep an eye on are Mikey Grandy, J.P. Urquidez and Elijah Rodriguez.
Replacing Poona Ford
Coming up with a defensive watch point for Texas was about as difficult as deciding between your two favorite BBQ joints to chow down at. While DT Poona Ford didn't fill up the stat sheet like a superstar, he meant a TON to this defense last season especially against the run. Poona ate up double teams and clogged running lanes all year long doing the dirty work for Texas. Between Chris Nelson, D'Andre Christmas and Jamari Chisholm, somebody will have to step up. I do want to mention that DT Keondre Coburn won't arrive until the summer so some of the veterans are going to get plenty of work.