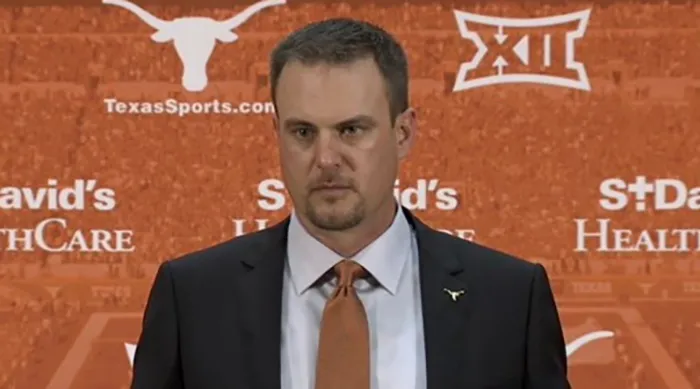 Let's all say this together. "It's … only … the … spring … game." Now, let's all breathe a sigh of relief together.
That message apparently needed to be passed on to the Texas Longhorns beat reporters, who got themselves all worked up over play calling and lack of execution in a goal line package during Saturday night's spring game on Austin.
Sure, the Texas play calling really sucked at times in 2017, many thanks to Tim Beck. But the offensive line is also a massive work in progress for the Longhorns and that should be a factor here as well. Oh yeah, and it's the freakin' SPRING GAME.
Rightfully so, Tom Herman shot back and in a semi-polite manner pointed out the insanity of the entire thing, saying, "Do we really think those three plays are indicative of what we can and can't do on offense? … that three plays in a spring game with a split team is indicative of what we can and can't do?"
You can hear the back and forth in our video below. Try not to fall out of your chair.
Miss it? Tom Herman lays into Texas reporters who are questioning goal line play calling during a freakin' spring game. I know it's been a tough run of late in Austin, but really?? pic.twitter.com/eERV9KQX42

— Heartland College Sports (@Heartland_CS) April 22, 2018