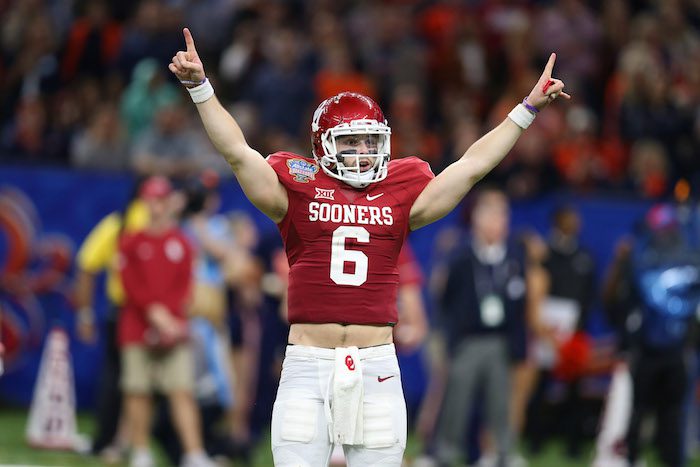 Baker Mayfield has plenty of critics as he prepares for a likely high selection in this week's NFL Draft, but Broadway Joe is not one of them. Pro Football Hall of Famer Joe Namath sat down with ESPN's Rich Cimini and had an interesting take on Mayfield.
The legendary QB said about this 2018 quarterback class, "I haven't met them, but I've watched them and the most outrageous, so to speak, that I've seen has been Mayfield."
Namath said he was blown away by Mayfield in the Rose Bowl loss to Georgia adding that he, "wouldn't want to play against that guy [Mayfield], let me put it that way."
As for an actual assessment of his game, Namath said he's been watching Mayfield on and off for a couple of years, commenting, "When I see his quick feet and I see him throwing every which way, I see the accuracy, I see the intensity, his hustle. Hey, I tell you, I wouldn't want to play against him. I didn't want Alabama to play against him."
Of course, Mayfield has been linked to Namath's former team, the Jets, who hold the No. 3 pick in the draft.
The Heisman winner threw for 4,600 yards, along with 43 touchdowns to six interceptions during the 2017 season in helping lead the Sooners to the College Football Playoff.
As you would expect, Mayfield has been one of the most polarizing, if not the most polarizing player, in the 2018 NFL Draft. Shocker? Not the least bit. But we will find out for sure on Thursday what certain NFL personnel folks think about him.