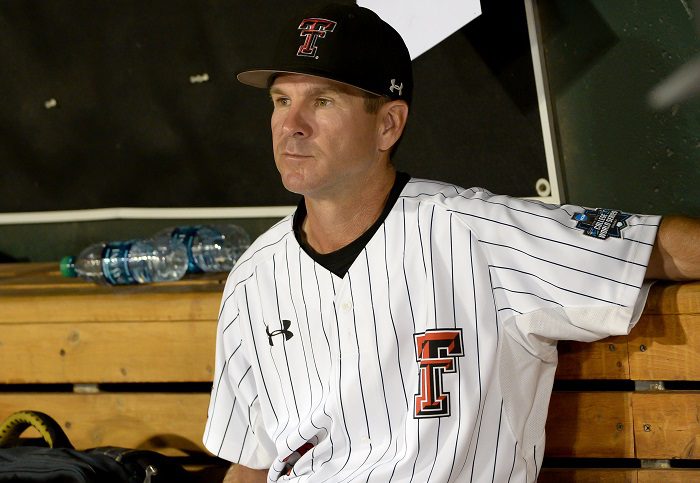 We are down to the Final Four. Oklahoma State is the team currently out in front, but how long can they slug their way towards the title? They still have to play Oklahoma and Texas Tech. Speaking of those two, what an interesting series that was. Friday's game went to extra innings and ended on a balk. There was certainly no shortage of runs, and Nathan Wiles has established himself as one of the quickest rising stars in the NCAA with two fantastic outings against elite programs in a premiere conference.
Oklahoma's not completely out yet. Texas Tech fans certainly ripped into me on Facebook this past week. I get into depth on that in the Texas paragraph. By the way, those same Red Raiders fans should be super happy this week. I'll make sure to stay in my Pepper stance in case they continue to throw shade though.
The Longhorns are the fourth team in the race. Oklahoma State now has the better win percentage, but Texas had other issues this weekend. One particular pitcher has continuously underperformed this season, and that may have an effect that lingers into the postseason.
Baylor and West Virginia have rising stock this week as they take baby steps towards a regional. We also hold a funeral for TCU's season. Astros fans may understand exactly what I'm talking about. Additionally, we let you know who the best team in the State of Kansas is. It may shock you. All of this and more on our weekly power rankings with the RPI as of Monday night.
1.Texas Tech Red Raiders (32-9, 10-5) RPI: 3, Previous Week: 2
The third time is the charm for these Red Raiders. For much of the year, Texas Tech has been crowned as the champion prior to the results. There is still a solid chance they do not defend their championship again. However, they've placed themselves in a solid spot for the three-peat.
This offense is explosive. They lit up one of the best pitching staffs in the conference for 22 runs. Let's not forget they scored 76 runs in the four games prior to the series against the Sooners. And prior to that showing, they scored 28 in one weekend on the road against Kansas. There is no doubt this team has the caliber of going to Omaha for the third time in five seasons. To make a deep run when they get there might be a stretch though. Their pitching has fallen down. They've given up at least four runs in their last nine games. With Steven Gingery, Tech is a national championship contender. He's done for the season though, and they're not going to just slug their way in Omaha. Even in baseball, defense wins championships.
2.Oklahoma State Cowboys (23-14-1, 12-3) RPI: 36, Previous Week: 3
As a Big 12 Championship contender, Oklahoma State is for real. As an Omaha contender, they're just not deep enough in the starting rotation. They've won 11 of their last 12 conference games. This week, they'll have a solid test against in-state rival Oklahoma. Game one will be at Allie P. Reynolds Stadium. It should be a raucous crowd. Games two and three will be in Tulsa. The bats are alive and well. Christian Funk was named Newcomer of the Week after belting two home runs and racking up eight RBIs. He finished the weekend 5-for-11 with a 1.091 slugging percentage. One of those bombs was a grand slam.
Adding to the bats is Colin Simpson, who is second in the Big 12 for home runs with 12. Only Kody Clemens has more. Senior outfielder Jon Littell is hitting .362 in conference play. Sophomore Carson McCusker is also making quite a name for himself, leading the team in average during conference play at .375.
The problem with Oklahoma State is their inconsistent pitching. Starters Carson Teel (5.22) and Jonathan Heasley (7.77) have ERAs in the stratosphere. They don't have a true closer. Teel, who is a starter, has the most saves during conference play. There are three others with one each. Add on the fact, that if it weren't for errors early in the season, this team may be hosting a regional. There is still that chance, but they'll likely have to win the series against Tech. That's not going to be easy considering Tech has the league's top offense by far, and its pitching is consistent enough to prevent Oklahoma State from keeping pace.
3. Texas Longhorns (28-15, 11-4) RPI: 33, Previous Week: 1
It was a short stay at No.1 for the Longhorns. Tech fans cried bloody murder over it on Facebook, and the Longhorns proved them right. If you had compared the conference results before the weekend, the Longhorns clearly had better results against better teams. Tech had lost at home to the team in last place (West Virginia), and dropped two of three against a team Texas swept. Additionally, Tech had yet to face any of the contenders while Texas had claimed series' against both Oklahoma schools. Texas clearly had better results in conference play. Tell me more about how you put up 56 runs against the league's worst pitching staff will ya, Tech fans? How'd you fare against Baylor?
Welp, then Texas plays like crap against a New Orleans team that has a losing record. They had to come from behind to claim wins in each of the first two games. The Privateers finally took care of business Sunday, winning 4-1. It was a disgraceful weekend for Texas. They should be humiliated. Luckily, for the rest of the conference, Texas won the series. Prior to Monday's RPI rankings, New Orleans was No.203. Their Sunday win against Texas launched them up to 193. Give me a break.
Let's pour it on some more, why don't we? Let's go full Mad Dog. Nolan Kingham? Are you kidding me? What is going on with Nolan Kingham? He pitches an amazing four innings of relief against Oklahoma to help this team to a series clinching win. He comes back Friday to face New Orleans, and gives up three runs in the first inning. He finished after allowing six earned runs on nine hits and a walk. Does this guy still have it? Send him back to the bullpen. He's not a starter anymore. He can't handle it. He lasted two innings against Baylor and Kansas State. His draft stock continues to plummet with every start he makes. Nolan Kingham is not a starter, and could be the difference between Texas becoming a Super Regional team vs. a Regional team. Keep him in the pen.
4. Oklahoma Sooners (27-15, 10-5) RPI: 28, Previous Week: 4
These guys have now lost five of their last seven conference games. When it came to the top tier of Big 12 baseball, the Sooners caved in. They've lost a couple of close ones. Okay, the Sooners can compete. You still have to be able to close the games out. They failed to do so on back-to-back Fridays against Texas and Texas Tech. Against Texas, the Longhorns scored three runs in the top of the ninth. Against Tech, the bullpen blows the save with a bases-loaded walk in the ninth inning. Oklahoma's offense puts the Sooners ahead 4-3 going to the tenth. Not only did they blow the save again, but they give up the game altogether on a walk-off balk. That is correct. Cade Cavalli comes on to pitch. Josh Jung is on third. Jung shows the fake steal causing Cavalli to balk. Thus, Jung goes home and Tech wins.
Despite this, Oklahoma's road to the Big 12 Regular Season Championship isn't finished quite yet. They still have to play both of the Kansas schools, both of which have struggled throughout April. However, they have to face Oklahoma State this weekend. As Ric Flair said, "To be the man, you've got to beat the man." Oklahoma State is the team currently at the top of the Big 12 standings. They've won 11 of 12. Nathan Wiles has been absolutely stellar this season. My projected starting probables show Wiles vs. Heasley. Give me Oklahoma 10 times out of 10 when those two face each other. Wiles is 3-1 with a 2.61 ERA, and the only reason it's that high is because Tech scored four garbage runs off him in the seventh inning of a blowout game. This guy is just a sophomore. He's something special. If you haven't seen Wiles, you need to get a glimpse of this guy.
5. Baylor Bears (22-17, 6-9) RPI: 50
Watch out ladies and gentlemen. Here come the Bears! Baylor took full advantage of an injury-plagued TCU squad and swept them at home. If this team takes care of business and beats the teams they are supposed to beat, they might make that late run and sneak into a regional. That would be quite an accomplishment during a rebuilding year. It's still unlikely as they have to travel twice and host Oklahoma State. Then again, as we point out every week, they beat Texas Tech two-out-of-three. Cody Bradford tossed a one-hitter Friday. There was exactly one walk, so he wouldn't have had a perfect game. That is about all you can ask for though. The great news for Baylor fans is Bradford is just a sophomore, so he's locked in for another season.
It will be an interesting series against Kansas State this week. Baylor has the league's best pitching staff with a 3.44 ERA. Kansas State is the league's worst with a 6.20 ERA. On the flip side, Kansas State is a team that can hit. Drew Mount has nine home runs and leads the league in triples. Will Brennan is in the top 10 for overall batting. Cameron Thompson has a dangerous bat as well. They are third in the Big 12 for hitting. Baylor is eighth overall, and that's mainly because Oklahoma State played so pathetic during the pre-conference schedule. We all know the Cowboys have slugged heir way to first place during conference play.
It will be Baylor's pitching staff vs. Kansas State's bats. Who will win?
6. West Virginia Mountaineers (19-18, 4-8) RPI: 32, Previous Week: 7
West Virginia has the easiest schedule of anyone in the league. They host Texas before facing Kansas, TCU and Baylor. The Mountaineers have also slowly built up some momentum. They took a series against a solid UNLV team, won three midweek games, defeated frontrunner Oklahoma State and now have claimed their first conference series victory. West Virginia is 10-5 at home, and if they can claim the series against Texas, it will be huge for their already solid RPI ranking. Making a regional would do wonders for this program. Every season West Virginia makes it to a regional is another recruiting weapon Randy Mazey has in his arsenal. That's currently the goal for this Mountaineer team.
7.TCU Horned Frogs (19-17, 6-8) RPI: 86, Previous Week: 5
I feel absolute pain for TCU fans right now. For the second straight season, down goes Jared Janczak, down goes Luken Baker. I can't think of a more frustrating season for any one single ball club. This was a team that took four of the nine first-place votes in the preseason poll. Seven of their games have been postponed. Two of their games have been cancelled. Adding to the frustration that they can't control, the pitching rotation has lost its control. Nick Lodolo and Sean Wymer haven't lived up to expectations all season long. Durbin Feltman hasn't been able to get the amount of save opportunities he'd like to. To say it's been a rough go is an understatement. It's been a remarkable run of four consecutive College World Series appearances. Congratulations, TCU and Jim Schlossnagle! I don't know if anyone will ever duplicate that.
R.I.P. TCU's Season. February 16, 2018-April 22, 2018.
8.Kansas Jayhawks (19-20, 3-11) RPI: 102, Previous Week: 6
There are three Division 1 schools in the State of Kansas. Two of them are in the Big 12. One has a winning record. The best team in Kansas is Wichita State out of the American Athletic Conference. Go ahead and just put your palms on your face right now. Unless the Jayhawks defeat Wichita State Tuesday, Kansas will match Kansas State for the longest losing streak in the Big 12 Conference this season at nine games. Since their week away from conference play, the Jayhawks are 1-8 against Big 12 foes. Prior to the break, they were 2-4 with a series victory over Baylor. The Jayhawks are in a free fall. The good news? They have another break from conference play this week. After Wichita State, they play an NAIA team before playing a three-game series against a Cincinnati team that is No.152 in the RPI rankings. Could this turn around the Jayhawks season?
9.Kansas State Wildcats (17-23, 3-12) RPI: 121, Previous Week: 9
You could sense the pot boiling over while watching Kansas State play at West Virginia. Hitting coach Mitch Gaspard was ejected from the first game. Skipper Brad Hill had a couple of tense conversations with the umpires up there. The Wildcats did snap their nine-game skid at Nebraska Tuesday. They also snapped a nine-game conference skid Sunday at West Virginia. Kansas State has Baylor this weekend. The frustration is mounting, and the heat is definitely up on Hill's seat. This season's not over yet, and they play six winnable home conference games against Baylor and Kansas. I'd say Hill probably needs to do two things to keep his job: A) Qualify for the Big 12 Championship and B) Achieve a winning record. Hill is K-State's most successful coach in program history. This is doable. It must start this week though.