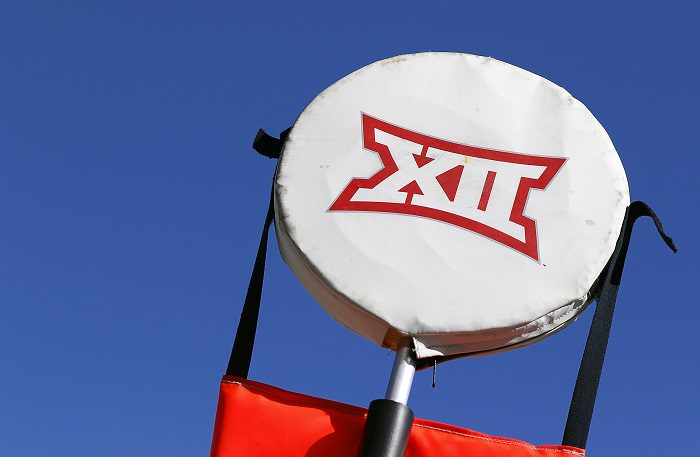 It's that time of year where spring games are coming to an end across Big 12 country. If you're like me, you need a football fix and quick. This mailbag is for all you football junkies out there who root for a Big 12 school who not only have questions about your team, but other teams in the conference as well. So, join me, grab a cold brew and relax as I answer all your Big 12 questions in my first ever mailbag. For those interested, I will send out a tweet (@Derekduke25) every Monday at noon until last call (No, not 2 AM) at 8 PM CT for you to send in your questions to be answered every Tuesday right here at Heartland College Sports. I want to thank each and everyone of you who submitted a question this week and for those reading, I am glad you could join me. Let's get this party started!
@DougsgotMOXY asks: How do you think the Sooners handle the Rodney Anderson and Trey Sermon snap counts?
Duke: I am going to be blatantly honest with you, I have no idea what the actual snap counts will look like this season and I wasn't able to find a stat citing a specific snap count for Oklahoma. What I can tell you is how the carries will most likely be split up this season. I see no reason why Rodney Anderson can't have over 200 carries this season. He is going to be the leading rusher for Oklahoma and maybe even the entire Big 12. As for Trey Sermon, the transfer of Abdul Adams should help his numbers but don't forget about highly touted incoming freshman T.J. Pledger and redshirt freshman Kennedy Brooks who showed flashes in the spring game. With that being said, expect Trey to get over 100 carries or so much like last season. A lot of this will depend on what they decide to do with T.J. Pledger.
@LongHornFrenzy asks: Give us your way too early Big 12 predictions (Final Conference Standings).
Duke: Way to put me on the spot here. No matter what I say here, some fan bases will be upset so I am going to take a shot at this the best I can as of right now. We are a looooong way until football kicks off but here we go. 1. Oklahoma 2. Texas 3. TCU 4. WVU 5. ISU 6. KSU 7. OSU 8. Texas Tech 9. Baylor 10. Kansas. Just a quick recap of my thoughts here: 1. Until someone knocks off OU, I'm picking them to win the Big 12. 2. Texas has all the parts to make a run, especially defensively. Offensive line and QB play still need some work but I like them here now. 3. Gary freaking Patterson is still coaching, and the defense will be nasty once again. Offensive line and Shawn Robinson still make me unsure of how high this team can go. 4. WVU probably has the best offense in the Big 12 but that defense is going to be the downfall of this team. 5. Iowa State will lean on RB David Montgomery and play some defense. I have a hard time seeing Kyle Kempt go out and win a game with his arm especially without Allen Lazard (Even thought I like the WRs there). 6. KSU has an intriguing QB battle going on but consistency has been an issue there. 7. OSU lost a ton of production and will lean heavily on RB Justice Hill. Hill is a great player but who will be the QB? Spencer Sanders or Dru Brown? Neither are on campus right now. Still have plenty of defensive concerns for the Cowboys. 8. I really like how Texas Tech is progressing defensively. Seriously, they can be good on defense this year, but I have so many questions about their QB situation. 9. Baylor lacks depth, but they will win more than 1 game this year. Still another year away from a bowl game in my opinion. 10. It's Kansas, what do you expect here? David Beaty will likely be gone after this season.
@TristyMC asks: Teams you believe will improve on last season? Any surprises?
Duke: I think there are 3 teams that come to mind that will improve in the win column from last season.
Texas- Texas is back folks! If I had a quarter for every time I heard that, I'd be a millionaire by now but seriously, this team will win more than 6 regular season games. Everything surrounding the QB and offensive line position are set, and the defense will most likely be the best in the Big 12. Sam Ehlinger has a year under his belt and should be better than he was last season. I keep going back to the offensive line for Texas. That group was banged up last season and played downright awful at times. If they can improve from last year (I think they will) they have a legitimate chance to make it to the Big 12 title game in December.
WVU- They will win more than 7 games this season. If Will Grier can stay healthy that will happen, if not, this team will drop faster than the 2008 stock market. Like I mentioned earlier, they will likely have the best offense in the Big 12 but that defense is about as shaky as me trying to kick a 40-yard FG.
Baylor- They will at least double their win total from last season. 1 game? That's not going to be that hard to beat. Enough said here.
@ThatGuy_Seabass asks: Who do you think will be the starter week 1 for the Longhorns? Elhinger or Buechele?
Duke: If you have read any of my Texas work, you know I prefer Ehlinger out of the two. The offense is much better suited for Ehlinger's skillset even though Shane is the more polished passer. Sam led the team in rushing and passing last season which isn't ideal, but it shows you what he is capable of in this offense. I think barring injury, the quarterback for Texas is Sam Ehlinger.
@allenallcorn asks: Who has the most returning talent on offense and defense?
Duke: Damn good question here. Offensively, I probably would have to say West Virginia. As I mentioned earlier, this offense has a chance to be special, especially through the air. Losing RB Justin Crawford hurts but I really like RB Kennedy McKoy and what he brings carrying and catching the football. Don't sleep on Oklahoma either. Sure, they replace Heisman winner Baker Mayfield, but almost that entire offense comes back. If Kyler Murray or Austin Kendall can be productive, watch out. Defensively I would have to say either Texas or TCU. TCU has the best defensive front in the Big 12 but overall, I may have to give the edge to Texas top to bottom on that side of the ball. Both defenses will be the top 2 in this conference without a doubt in my mind.
@bendewalt7 asks: Who wins the Oklahoma State QB job and what do you see at the ceiling for the team with Cornelius, Brown and Sanders?
Duke: Had to crack open another beer for this one. Out of all the QB battles in the Big 12, this one may be the most puzzling. I have a hard time seeing Taylor Cornelius win the job outright. He will be third string if I had to guess but that will depend on the performance of freshman Spencer Sanders when he arrives in the summer. As of now, I haven't really gotten a close look at these guys because besides Dru Brown, there isn't really any college tape to go off for Taylor and Spencer Sanders is still in high school.  In the end, I see Hawaii grad transfer Dru Brown winning the job and Spencer Sanders possibly taking over if the season starts going south to get some experience much like in 2014 with Mason Rudolph. In a perfect world, Dru Brown and Taylor Cornelius are top two on the depth chart and Spencer Sanders redshirts but it's so hard to tell at this exact moment especially when Dru Brown and Spencer Sanders won't be on campus until summer. As far as the ceiling for the 2018 Oklahoma State Cowboys, a bowl game would be ideal. I am not too high on the Cowboys this season. I think this will be a rebuilding year for Mike Gundy whether he leaves his shirt on or off.