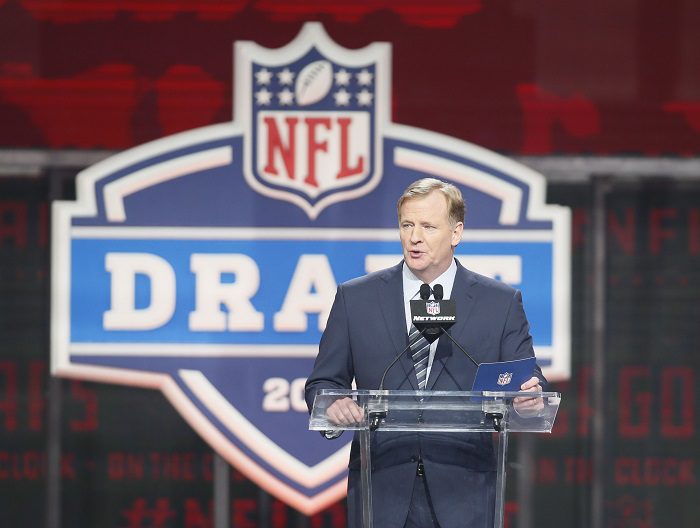 After Friday's second and third rounds came to a conclusion, we told you that the Big 12 conference was trailing the rest of the Power 5 conferences on number of draft picks. It was also last place in terms of picks per team in each conference. Well once all seven rounds of the 2018 NFL Draft came to a conclusion on Saturday, the Big 12 finished fifth of the Power 5 teams with 20 draft picks.
SEC: 53
ACC: 46
Big Ten: 32
Pac-12: 30
Big 12: 20

It's the 12th-consecutive year the SEC led the country with number of draft picks. Alabama had the most with 12 of those 53.
Now in terms of picks per team in each conference, here was the break down (Note: The SEC, ACC & Big Ten have 14 teams each, while the Pac-12 has 12, and of course the Big 12 has ten):
SEC: 3.8
ACC: 3.3
Pac-12: 2.5
Big Ten: 2.3
Big 12: 2.0
So the conference certainly has some catching up to do. It has recruited significantly better the past two recruiting cycles, but that will not start paying dividends in the NFL Draft until 2019 at the earliest, but my hunch is more like 2020-21. Lincoln Riley has actually recruited at a higher level than his predecessor Bob Stoops, Tom Herman is coming off an excellent 2018 recruiting class, while some of the new faces in the conference like Matt Campbell and Matt Rhule are showing lots of promise on the recruiting trail, and Gary Patterson has turned TCU into a consistent top 20 recruiting program. I'd be buying Big 12 stock and expecting this gap to shrink in the coming years.
Of course, if there is any other consolation in this, the Big 12 did have the overall No. 1 pick with Baker Mayfield being drafted by the Cleveland Browns. With the pick, the Sooners became the only program this millennium with two quarterbacks selected No. 1 overall, joining Sam Bradford (St. Louis Rams).
The 20 picks is also a jump from last year, when the conference only saw 14 players picked over the seven rounds.