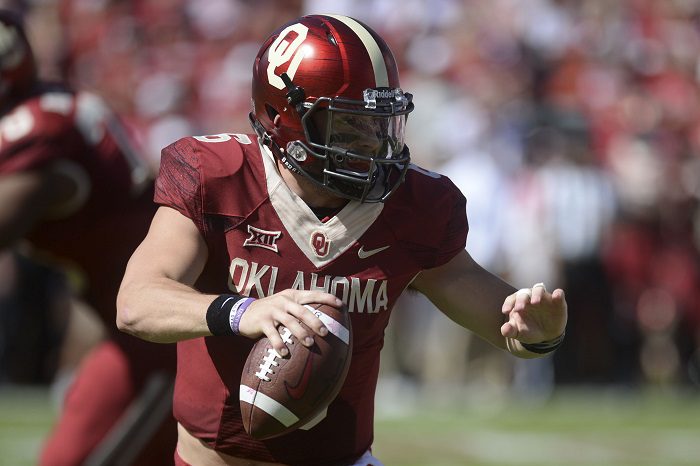 The news started breaking 24-48 hours before the draft that the Browns could end up taking Baker Mayfield with the No. 1 pick. That ended up happening, but apparently, Cleveland wasn't the only franchise to want Mayfield for their top pick in the draft.
Mary Kay Cabot of Cleveland.com, a very well-respected reporter, said that there were several teams who had Mayfield as No. 1 on their draft boards.
Cabot cites a half-dozen teams that would've taken Mayfield with their top pick, with one source  tellling her, "The kid has great swagger. I've never been around a guy that attracts people like that … the shotgun thing is not going to hurt him. The level of competition and height are real, but he'll do fine if he gets the ball out on time."
Cabot also wrote, "Of the 12 teams I've heard back from so far, four had Baker as their QB1, and two more gave me a strong indication that he was. Another league source named two other teams that he believes had him No. 1."
Mayfield joins Sam Bradford as Oklahoma Sooners quarterbacks to be taken No. 1 overall this decade alone.
Haters might say this is an indictment on the other quarterbacks not showing as much potential or promise as some anticipated over the past few weeks and months, but I don't believe that to be the case.
Also, a lot of the quotes confirm what many of us knew about Mayfield. He sure has the skills to succeed in the NFL, including a better arm than people realize, but his intangibles are incredibly valuable and cannot be understated. I've often said I think he will be a success in the NFL and the Johnny Manziel comparisons are short-sighted and lazy, but time will tell as to whether or not he reaches the potential and expectations of a No. 1 pick.