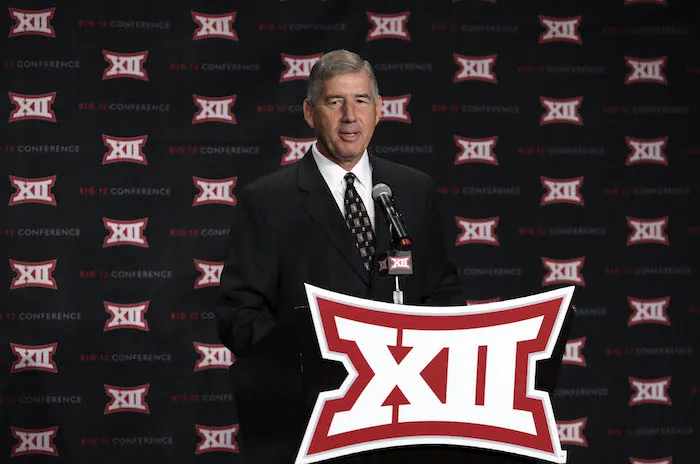 It pays to be a Power 5 Conference commissioner. A new report from USA Today shared the latest tax releases for three of the Power 5 conferences, and Big 12 commissioner Bob Bowlsby received $3.1 million in total compensation in 2016. His net pay for the year was $2.9 million, since $200,000 was deferred compensation.
We are still waiting for numbers from the ACC and Big Ten, but here's where the Power 5 conferences rank.
Larry Scott, Pac-12: $4.8 million
Bob Bowlsby, Big 12: $3.1 million
Greg Sankey, SEC: $1.9 million

Larry Scott is running, by far, the weakest of the Power 5 conferences, but you sure can't tell that by his paycheck!
I expect for Big Ten commissioner Jim Delany to be between Bowlsby and Scott. The last report for Delany had him in the $3+ million range. ACC commissioner John Swofford will probably rank between Sankey and Bowlsby, since his latest report had him north of $2 million.
2016 was Sankey's first as SEC commissioner, so he's likely to see a rapid rise in his salary in years to come. As for Bowlsby, he's done a fantastic job navigating the Big 12 out of the basement of the Power 5 by uniting Presidents, Athletic Directors, coaches and fans. For that he deserves some kudos.
Here's another amazing tidbit from USA Today: Lydia Murphy-Stephens, then the Pac-12 Networks' president, was credited with more than $1.2 million in total compensation, including $322,250 in bonus pay.
A seven-figure salary for a president of a TV network nobody watches?! Where can I sign up????
The life of college athletics! (At least at the Power 5 level).