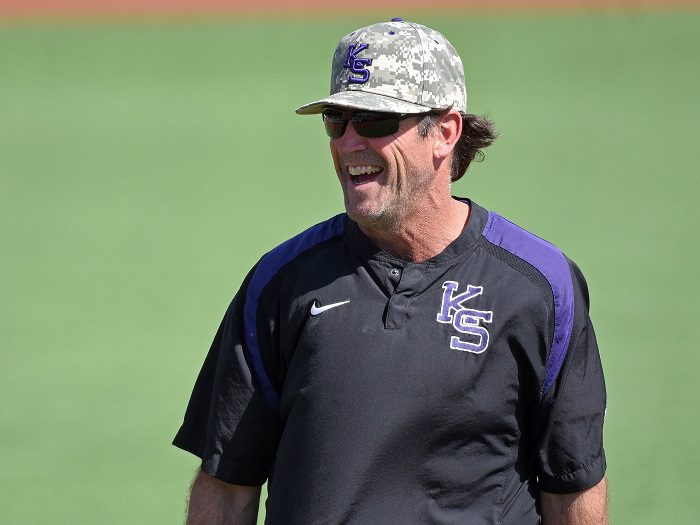 After 15 seasons at the helm of the Kansas State baseball program, Brad Hill will be stepping down at the end of the season. Kansas State athletic director Gene Taylor made the announcement on Tuesday.
In a statement Hill said, "With the best interest of the program in mind, I have decided to step aside after 15 seasons. It's come time for the program to move in a new direction and regain the energy it once had, and with the new facility on the horizon, now is the perfect time. My family and I will forever be grateful for the opportunity to be a part of such a special place and we now look forward to the next chapter in our lives."
Hill is the program's all-time winningest coach and two-time Big 12 Coach of the Year, along with four NCAA Tournament appearances, one Super Regional and a Big 12 championship, but the Kansas State Wildcats had struggled this season.
The Wildcats nearly reached the College World Series in 2013 and Hill received a five-year extension, but it's been mostly downhill since then. K-State is currently 18-29 and 3-18 in the Big 12, which is last place in the conference.
Gene Taylor said in a statement, "Coach Hill has provided an unwavering commitment to our baseball program for 15 years and advanced it to an unprecedented level with our first-ever conference championship and multiple NCAA Regional appearances," Taylor said. "He has given so much to K-State, building our program to a championship level in a first-class manner with the utmost integrity. I admire and appreciate all he and his family have done for K-State and wish them nothing but the best. We look forward to honoring him the remainder of the season and finishing strong starting this weekend against the Jayhawks."
During his tenure, Hill helped 46 K-State players get selected in the Major League Baseball Draft.