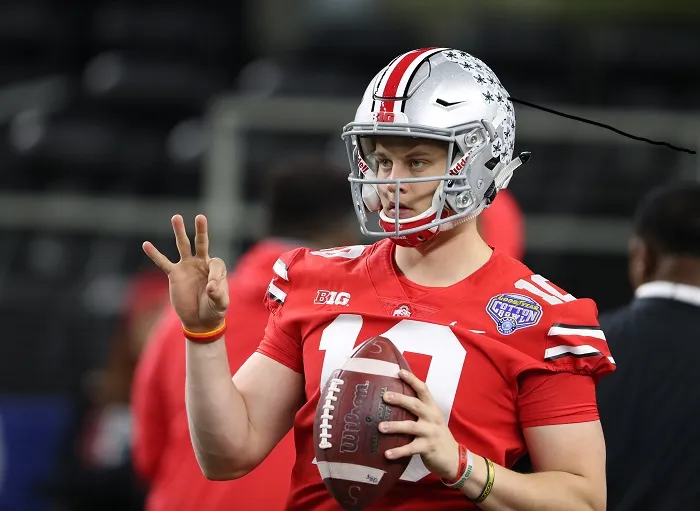 Texas Tech and Iowa State were programs being floated out there for Ohio State quarterback Joe Burrow, who had previously announced he would be transferring from the program. But on Friday night, Burrow announced he would be heading to LSU.
Excited to be playing in Death Valley next season. Ready to get to work.

— Joey Burrow (@Joe_Burrow10) May 19, 2018
First off, I guess Burrow really wants to tank his career. I kid, somewhat. But LSU is basically where quarterbacks go to die, so I'm not sure why Burrow will be any different than the other four and five-star recruits who fail to meet expectations in Baton Rouge.
This is a disappointing outcome for Texas Tech, which wasn't in the final two, according to reports, but was considered a strong contender for Burrow. Ultimately, the QB's decision reportedly came down to LSU or Cincinnati.
Breaking: #OhioState transfer QB Joe Burrow has picked LSU, according to highly-placed #UC source. Had narrowed it to LSU and #Bearcats.

— Tom Groeschen (@TomGroeschen) May 18, 2018
But considering Texas Tech is heading into a must-win season for Kliff Kingsbury, and it's not very apparent who is next quarterback is, bringing in a grad transfer like Burrow, who has two years of eligibility left, would have been enormous. However, it's hard to blame him for not seriously considering West Texas when the staff he's playing for in 2018 might not be his staff on 2019. That's the tough predicament Texas Tech has Kingsbury in. Burrow becomes the latest transfer to spurn the Red Raiders, who just last week missed out on Cal running back transfer Tre Watson. 
Iowa State was never one of the teams that was seriously mentioned for Burrow, but it sure would've been a nice option for Matt Campbell and his coaching staff to have for this season to compete against Kyle Kempt, and then certainly heading into the 2019 campaign.