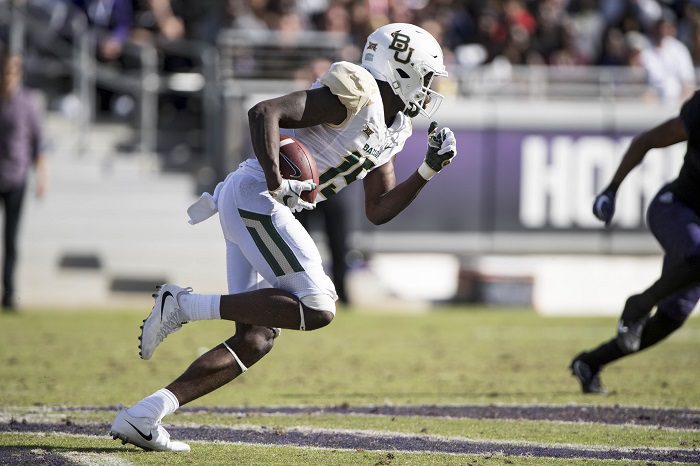 The 2018 season is slowly inching closer and it's time for fans to start dreaming about the crisp, fall air and watching their favorite teams on the gridiron in the Big 12 Conference. Teams have turned over and have plenty of fresh faces. For some programs that's a good thing, for others, not so much. But that's part of the beauty of college football.
Let's take a look at the Baylor Bears schedule. Matt Rhule heads into Year 2 trying to improve on a 1-win season. That should not be hard to do. If it is, he will have some major problems in Waco come next offseason.
Saturday, September 1st vs. Abilene Christian
Just like last season, the Bears open up the season with a cakewalk. Oh wait (Liberty). But really this time. ACU went 2-9 last season and lost its non-conference games to New Mexico and Colorado State by a combined score of 76-24. Baylor should have little trouble matching last year's win total on the first day of September.
Saturday, September 8th @ UTSA
This game will be bring horrible memories for Baylor fans, as they watched their Bears lose to the Roadrunners at home last season 17-10. But UTSA is losing dual-threat QB Dalton Sturm, plus star defensive end Marcus Davenport, who left for the NFL. Also, unlike last season, Baylor will not be taking this team for granted and also, hopefully, unlike last season, the Bears will not have played 15 true freshman through the first two weeks of the season.
Saturday, September 15th vs. Duke
These two teams meet for a second-straight season and, once again, it's the Bears looking for revenge. Baylor will be happy to know that Shaun Wilson, who ran all over the Bears for 176 yards at 9.8 yards per carry, has graduated, but QB Daniel Jones is only going to be a year improved.
Saturday, September 22nd vs. Kansas
Death, Taxes, and nine Big 12 teams (mostly) guaranteeing themselves a win over the Kansas Jayhawks. Baylor has won eight-straight games in this series, and if Matt Rhule wants to feel good about his program and keep fans off his back, he has to be 3-1, at worst-after the first four games on the season.
Saturday, September 29th @ Oklahoma
The Bears actually gave OU a scare last season, pushing the Sooners to the brink before falling 49-41. Oklahoma has won three in a row in the series, but prior to that, it was Baylor who won three of four. If Baylor wants to make a big early-season statement, this would be a helluva way to do it. And there will be no Baker Mayfield taunting Baylor players before the game about how he will be spanking them.
Saturday, October 6th vs. Kansas State
This will be Baylor's third home game in four weeks against the Wildcats, which will be a defining stretch for Matt Rhule's team if it wants to be bowl eligible this fall. Last year, the Wildcats ran all over the Bears for 225 yards. The Baylor run defense needs to have a big afternoon to keep a likely explosive K-State offense in check. Last season, the Bears were ranked 9th in the Big 12 allowing 190 rushing yards per game.
Saturday, October 13th @ Texas
Speaking of stopping the run, here's another team that Baylor will need to do just that against. Last year, I was at this game and many Baylor fans thought this could be the team's first win of the season. Alas, it wasn't meant to be in a 38-7 loss to the Longhorns in Waco. Baring that rare seniors on the roster, this current crop of Baylor players hasn't beaten UT, who has won three-straight over the Bears.
Thursday, October 25th @ West Virginia
The Bears don't have a true bye week, so they get two "half byes" with this Thursday night match up in Morgantown. Baylor had a near-classic comeback against West Virginia last year. It was Charlie Brewer's "coming out" party as he replaced Zach Smith and helped the Bears score 23-unanswered points in the fourth quarter before coming up short in a 38-36 loss.
Saturday, November 3rd vs. Oklahoma State
After two-straight games on the road and another 10-day mini bye week, Baylor welcomes in the Oklahoma State. The Bears never stood a chance last season against the Cowboys, who smoked them 59-16. Oklahoma State set a school-record with 757 total yards. The win snapped a three-game winning streak for Baylor against Oklahoma State.
Saturday, November 10th @ Iowa State
Baylor closes out the season with two road games in three games, including a trip to Ames. Baylor could find itself in a position at, say, 4-5, needing to win two of three to reach a bowl game in Matt Rhule's second season. Last year it was Iowa State winning 23-13, snapping a three-game losing streak to the Bears. Baylor had another rough afternoon with the run defense as David Montgomery hammered BU for 144 rushing yards.
Saturday, November 17th vs. TCU
It's become one of the best rivalries in the conference, as the two former SWC teams and private schools have no love lost between each other. Baylor held its own last year against TCU, at least for a half. The Horned Frogs had a two-point lead at halftime before pulling away for a 45-22 win.
Saturday, November 24th @ Texas Tech (Arlington, TX)
This game will be played at Jerry's World and will wrap up the season following Thanksgiving. Both teams could have plenty at stake here. Kliff Kingsbury could be coaching for a bowl berth and his job, while Matt Rhule could find himself trying to get Baylor into a bowl game in Year 2. It's unlikely to have any affect on the Big 12 race, but there will be plenty for each program to fight for. Baylor will look to improve on this game from last season when it had four turnovers and was stopped on a fourth-and-goal from the one-yard line.