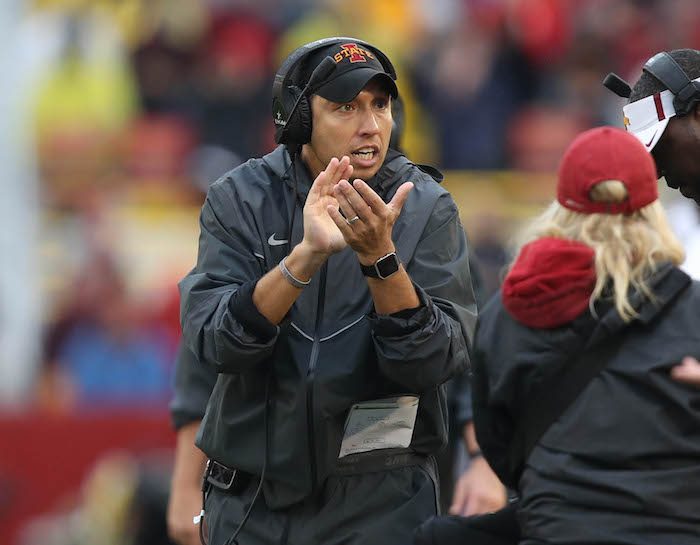 The 2018 season is slowly inching closer and it's time for fans to start dreaming about the crisp, fall air and watching their favorite teams on the gridiron in the Big 12 Conference. Teams have turned over and have plenty of fresh faces. For some programs that's a good thing, for others, not so much. But that's part of the beauty of college football.
Let's take a look at the Iowa State Cyclones, who are trying to build off their impressive 2017 season that saw the program go 8-5.
Saturday, September 1st vs. South Dakota State
It's been 10 years since these two programs played each other. Iowa State won the game 44-17 in the season opener that year, which ISU fans try to forget as they started off 2-0 and finished 2-10. That kind of season is highly unlikely to be duplicated in 2018. But the Cyclones shouldn't overlook the Jackrabbits who were a top 3 team in the country at the FCS level last season.
Saturday, September 8th @ Iowa
Last season's game was a heartbreaker that Matt Campbell probably desperately wants back. Iowa State lost last season 44-41 and the Hawkeyes have won three in a row and four of five. If Campbell can start getting his team to win their match up against their in-state rival, it would do wonders to help lift this program to the next level. And another Big 12 win over a Big Ten team never hurts the conference's image.
Saturday, September 15th vs. Oklahoma
There's very little phase-in period for Iowa State. Even their supposed "easy" game is against a top FCS team, then it's their in-state rival and then the three-time defending Big 12 champs coming to town. Oh, and a team they shocked on the road in Norman last season. Sure, Baker Mayfield is gone, but there are enough guys in the Crimson and Cream who will be looking for some sweet revenge this time around. Can Kyle Kempt pull it off again?
Saturday, September 22nd vs. Akron
The Cyclones took care of business in this game last season 41-14. It remains one of the easier games on their schedule and will be much welcomed after their previous two-game stretch. Akron did win the MAC last season at 6-2, but the Cyclones should not have much trouble with the Zips.
Saturday, September 29th @ TCU
It's back to the Big 12 grind for the Cyclones, who travel to Fort Worth to play the Horned Frogs. Coincidentally this is another Big 12 team looking for revenge. It's quite ironic that Iowa State's first two conference games are against teams who were ranked in the top 5 last season when they stunningly beat them. ISU played a fantastic defensive game in last year's 14-7 win. TCU loses a lot of seniors, but similar to Oklahoma, plenty of players haven't forgotten.
Saturday, October 6th @ Oklahoma State
It was a shootout when these two hooked up in 2017, with the Cowboys pulling off the 49-42 win. But all the big name offensive faces are gone and Iowa State would love to try and slow this game down and not have to be a part of a track meet. The last three times these teams have met they've been decided by a total of 18 points, but ISU hasn't beaten Oklahoma State since the legendary Friday night game in 2011 when Oklahoma State went to Ames undefeated and saw its National Championship aspirations go up in smoke.
Saturday, October 13th vs. West Virginia
Iowa State nearly pulled off an incredible comeback in this game last season. The Cyclones trailed 20-0 in the fourth quarter before losing 20-16. This is another team that has had ISU's number. Since joining the Big 12, Iowa State has one win over the Mountaineers, a 52-44 victory in 2013. Will Grier against the Iowa State defense will be one of the better match ups to watch in the Big 12 conference this fall. Plus, could it be a game that determines who goes into the second half of the Big 12 schedule with an edge to make the conference championship game?
Saturday, October 27th vs. Texas Tech
Last season wasn't quite the 66-10 embarrassment ISU handed TTU two years ago, but it was still a convincing 31-13 victory. Kyle Kempt torched Texas Tech with three touchdowns, and this is one of those tweener games that Kliff Kingsbury likely has to win to keep his job into 2019. Tech holds the all-time edge by an 11-5 margin, but with this game in Ames, and with the recent results, Iowa State will go into the game as a heavy favorite, especially considering they will be home, coming off a bye week and not having left the state in three weeks.
Saturday, November 3rd @ Kansas
Didn't the Cyclones just have a bye week? Just kidding, sort of. But when one of your conference road games involves going to Lawrence, those are gifts that Iowa State must take advantage of. Think about it: From October 7th (day after @ OSU) through November 16th (day before Texas game), Iowa State will travel outside of Ames once and it will be to play Kansas. That's a great advantage for any team in the middle of the season.
Saturday, November 10th vs. Baylor
Iowa State snapped a four-game losing streak to the Bears last season, who only won a single Big 12 conference game. Baylor is still in rebuild mode, but should be much improved. Charlie Brewer should give several Big 12 defenses fits this fall and seeing the Baylor weapons against the ISU secondary will be a fun match up to keep an eye on.
Saturday, November 17th @ Texas
Could this end up being a game that has Big 12 championship game implications? It would not shock me! In a wide-open season in the Big 12, why not Iowa State or Texas? These could end up being the best two defenses in the Big 12 conference, so that alone will give this game intrigue. Last year's 17-7 Texas win on a Thursday night was a good one, and I would not be surprised by a similar result in this game.
Saturday, November 24th vs. Kansas State
Farmageddon. Which has been dominated by Kansas State in recent years. The Wildcats have beaten the Cyclones in ten-straight games dating back to 2008. The last four seasons this game has been determined by 1, 5, 3 and 4 points. In fact, over this 10-year winning streak, only one of the games have been decided by more than eight points. Put this game Thanksgiving weekend and expect something wild to happen. I love it.