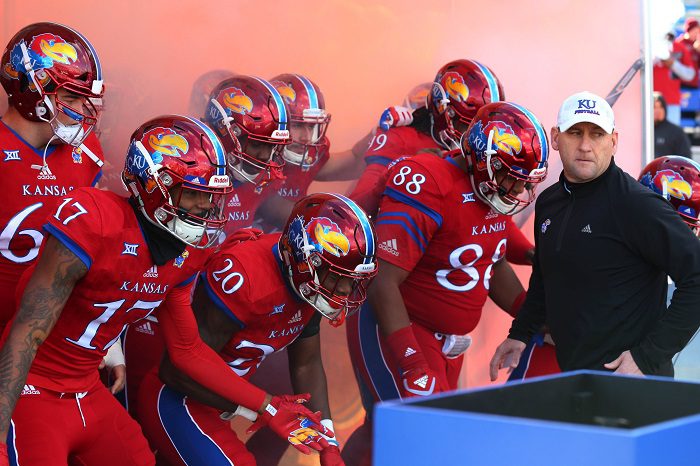 The 2018 season is slowly inching closer and it's time for fans to start dreaming about the crisp, fall air and watching their favorite teams on the gridiron in the Big 12 Conference. Teams have turned over and have plenty of fresh faces. For some programs that's a good thing, for others, not so much. But that's part of the beauty of college football.
Let's take a look at the Kansas Jayhawks, who are desperate to turn around a dormant program under David Beaty, who is likely on thin ice with a new Athletic Director coming in soon.
Saturday, September 1st vs. Nicholls State
Well, it's an FCS opponent to open the season. Can Kansas pick up a win? This is their best hope for a victory. These games have not been cakewalks in recent seasons for the Jayhawks, so if there is any chance in hell for David Beaty to stay employed beyond 2018, get the year started off on the right note with a win here.
Saturday, September 8th @ Central Michigan
After a 45-27 loss last season, the Jayhawks are looking for revenge, but this time on the road. KU is 2-1 all time against the Chippewas, beating them in 2007 and 2014. Central Michigan is a solid MAC program, but another double-digit loss in this game in 2018 will be a disappointing sign of things to come when conference play rolls around.
Saturday, September 15th vs. vs. Rutgers
Most people enjoy seeing Rutgers on the schedule, but for KU, shivers start kicking in as it's the first Power 5 opponent of the 2018 season. These two teams hooked up in 2015, when the Scarlet Knights won 27-14. Most folks feel that Rutgers is a program trending in an upward, albeit slowly, direction under Chris Ash. Kansas? Not so much. A win would be a welcomed surprise. If KU is 2-1 after their first three games, Jayhawks fans will be thrilled.
Saturday, September 22nd @ Baylor
Baylor is going to be much improved over 2017, if for no other reason than they can't possibly be as banged up, with as little depth as they had last season. But this is still likely to be one of KU's best chances at a win in Big 12 play. The Bears will be young and still working out some of their early-season kinks. If Beaty and his boys can slip into town and pull off a surprise, woof. However, the offense showing up would be a good start. KU has scored a total of 23 points in its last three games against Baylor.
Saturday, September 29th vs. Oklahoma State
It's been ten years since KU beat Oklahoma State (ah, the Mangino days). However the last three seasons, Oklahoma State has rolled KU by an average of nearly 35 points per game. Oklahoma State's offense will be a work in progress early in the season with so many big names gone, including a new quarterback. It's also a good time to try and catch the Pokes off guard, and it's at home.
Saturday, October 6th @ West Virginia
Since the Mountaineers joined the Big 12 conference, WVU is 5-1 against the Jayhawks. Last season's game in Lawrence was actually close for the first half, as Khalil Herbert racked up nearly 300 yards rushing against a swiss cheese WVU run defense. That would be welcomed again this season, as keeping Will Grier and the offense off the field will be more than half the battle for Kansas to have a chance in Morgantown.
Saturday, October 20th @ Texas Tech
This has been a trend of this specific schedule analysis, but guess when the last KU win over Texas Tech came? 2001. Yikes. The last two seasons, Tech has won this game by 36 and 46 points, respectively. Plus, considering Tech hasn't exactly been lighting the Big 12 on fire in recent seasons, this is even more disappointing. In theory, it's a winnable game for KU, or one of the more winnable on their schedule, but based on recent results, what would back up that statement?
Saturday, October 27th vs. TCU
Prior to last season, TCU has only beaten Kansas by a combined 11 points in the previous three match ups. Well last season made up for some lost time as TCU curb stomped Kansas 43-0, as KU had a grand total of 21 yards of offense. There is an infamous picture of Doug Meacham after this game looking like a beaten man. With TCU turning things over to a younger group of players, along with the game being at home, maybe they can find that magic from their near-upset two seasons ago in Lawrence.
Saturday, November 3rd vs. Iowa State
It used to be a match up of the two bottom feeders in the Big 12. No longer. Iowa State is turning the program around under Matt Campbell, including last season's 45-0 win over KU. The Cyclones have beaten the Jayhawks in seven of their last eight meetings, including the last three. Kansas' run defense was the second worst in the Big 12 last season, so expect David Montgomery to have his way.
Saturday, November 10th @ Kansas State
The Sunflower Showdown hasn't been much of a "Showdown" in recent seasons. Kansas State has won this game nine-straight times, and a win this fall would make KSU one game shy of tying it's longest winning streak ever against KU of 11 in a row (1993-2003). KU somewhat held its own last season in a 30-20 loss, and at this point in the season a win over an in-state rival might help David Beaty save his job.
Saturday, November 17th @ Oklahoma
Most of the players, if not all the players in this game, were not alive the last time Kansas beat Oklahoma. That would've been 1997 when John Blake was coaching OU and Terry Allen was leading the Jayhawks. And since then, KU hasn't even had a loss that it kept to single digits. In what is likely going to be a long season for the Jayhawks, the schedule makers did them no favors ending with the two blue bloods in the Big 12.
Saturday, November 24th vs. Texas
All that being said, never forget 2016! The game that arguably got Charlie Strong fired. A loss by the Longhorns in Lawrence. Can Beaty reclaim that magic? Or will this be his final game as head coach of the Jayhawks? Time will tell…