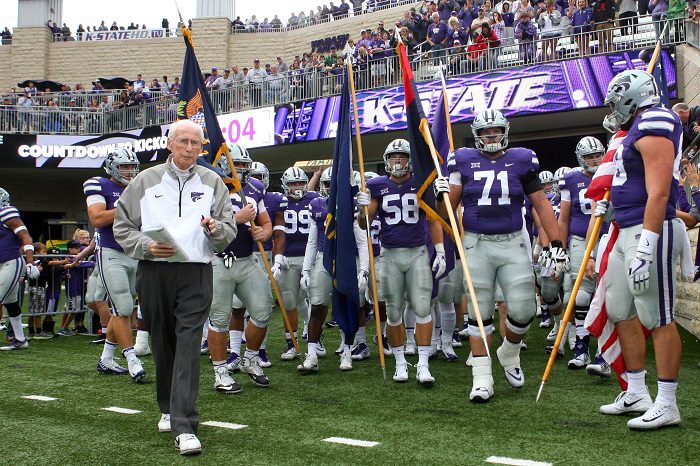 The 2018 season is slowly inching closer and it's time for fans to start dreaming about the crisp, fall air and watching their favorite teams on the gridiron in the Big 12 Conference. Teams have turned over and have plenty of fresh faces. For some programs that's a good thing, for others, not so much. But that's part of the beauty of college football.
Let's take a look at the Kansas State Wildcats, who might (??) be in the last season of Bill Snyder as head coach. We've said that before though. Here's what's on the docket for the Wildcats this fall.
Saturday, September 1st vs. South Dakota
Sure, it's an FCS opponent, but it's actually a darn good one. South Dakota reached the FCS Playoffs last season for the first time in program history, beating Nicholls State in the first round before falling to Sam Houston State. That being said, it'll still be a nice tune up for Week 2.
Saturday, September 8th vs. Mississippi State
Mississippi State is expected to be sneaky good this season. This will be much more difficult than the SEC game (Vanderbilt) that K-State scheduled for last season and should have won. After Alabama, Georgia and Auburn, its Mississippi State with the best odds to win the SEC. K-State fans should be having some nightmares as to what QB Nick Fitzgerald could do to their defense.
Saturday, September 15th vs. UTSA
UTSA isn't as good as last season, as star DE Marcus Davenport is off to the NFL and QB Dalton Sturm has graduated, but it's still a program that shouldn't be overlooked. This game comes between two huge games for K-State, but just ask Baylor what happened when they looked past the Roadrunners last season.
Saturday, September 22nd @ West Virginia
What a way for the Wildcats to kick off conference play. On the road, in arguably the toughest place to play in the Big 12, against a team that could win the conference. Oh, and these two teams have had their last four meetings decided by six points or less, include two one-point games. Two seasons ago it was the 17-16 classic in Morgantown. Sign me up for a repeat of that.
Saturday, September 29th vs. Texas
The tough stretch to open the season continues, as K-State caps off a busy first month with what could be a rejuvenated Longhorns team. The last six meetings between these two teams have resulted in alternating wins. After Texas pulled off the 40-34 win last season, is it K-State's turn now? The game is at home and the home team hasn't loss this match up since 2011.
Saturday, October 6th @ Baylor
K-State has won this game the past two seasons, but Baylor should be a different team than what the Big 12 saw in 2017. Charlie Brewer and his plethora of offensive weapons could give fits to a K-State secondary that still has lots of question marks after allowing the most passing yards per game in the Big 12 last season.
Saturday, October 13th vs. Oklahoma State
This was a shocking result last season when K-State went to Stillwater and pulled off the 45-40 win in what many considered the "coming-out party" for Skylar Thompson. It's also typically close in a Gundy vs. Snyder match up, with three of the past four meetings decided by six points or less.
Saturday, October 27th @ Oklahoma
Bedlam foes in back-to-back games? Not easy. The only good news here for K-State is that it's broken up by a bye week. This game could have major Big 12 championship game implications as we hit the home stretch of the season. Also good news for KSU is that OU is not coming off a bye week, instead having a tough game at TCU.
Saturday, November 3rd @ TCU
And just like that, it'll be K-State with a second-straight road game, this time in Fort Worth. This is the toughest two-game stretch of the season for the Wildcats and it will be a deciding one where we will find out of the Wildcats are contenders or pretenders. Since TCU joined the Big 12, these teams have split their six match ups.
Saturday, November 10th vs. Kansas
The Sunflower Showdown hasn't exactly lived up to the billing of a "Showdown." The Wildcats have won this game nine-straight times and KU has a total of four wins over KSU dating back to 1992. For K-State it's a welcomed breather after the previous two games.
Saturday, November 17th vs. Texas Tech
This is the softer part of the schedule for the Wildcats. Texas Tech isn't a team you can just walk all over, but considering what we expect the Red Raiders to be this season, K-State shouldn't have a ton of trouble at home. But never count out a desperate man, and that's what Kliff Kingsbury could be come late November. And considering KSU's last two wins have been by a touchdown or less… ya never know.
Saturday, November 24th @ Iowa State
Farmageddon! However it's been Bill Snyder who has the Cyclones' number dating back to 2007, which is the last time KSU lost this game. But they're getting closer with the last four decided by five points or less. Could this be the season the Cyclones get over the hump? And just imagine if their is a spot in the Big 12 title game on the line? Likely? No. Insane? It's not that either.