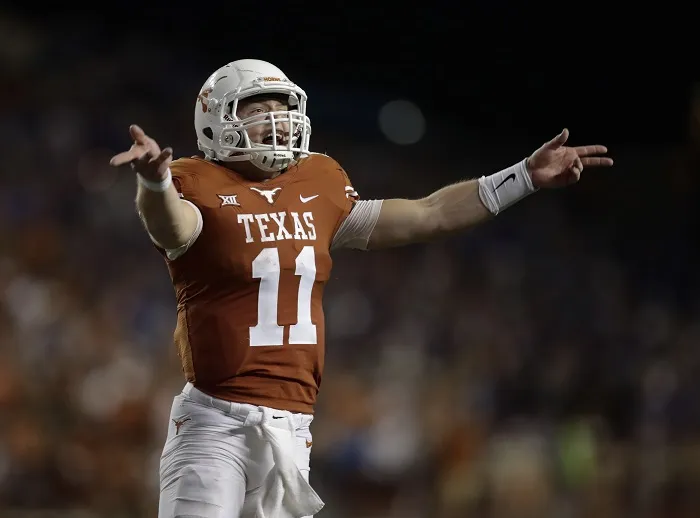 The 2018 season is slowly inching closer and it's time for fans to start dreaming about the crisp, fall air and watching their favorite teams on the gridiron in the Big 12 Conference. Teams have turned over and have plenty of fresh faces. For some programs that's a good thing, for others, not so much. But that's part of the beauty of college football.
Let's take a look at the Texas Longhorns schedule. Tom Herman heads into year 2 looking to improve from a mediocre 2017. Although Texas reached a bowl game last season for the first time since 2014, it certainly wasn't the bowl game the Longhorn faithful wanted to be in. Can Tom Herman live up to the high expectations in Austin?
Saturday, September 1st @ Maryland (FedEx Field in Landover, MD)
After the debacle last season in Austin, Texas looks to get revenge against Maryland. The defense gave up 51 points in the season opener last year which was by far the worst performance of the year for that unit. Since Maryland WR D.J. Moore is now with the Carolina Panthers, Texas won't have to worry about him torching the secondary once again. This is a must win for Texas without a doubt.
Saturday, September 8th vs Tulsa
This is the easiest non-conference game for Texas this season. The Golden Hurricane are coming off a disappointing 2-10 season in 2017. Talent wise this is a complete mismatch and anything under a 20-point victory for Texas would be head scratching.
Saturday, September 15th vs USC
After a crazy overtime loss in the Coliseum last season, can Texas get the big non-conference win this year? The Longhorns showed the fight needed to win the game but a late fumble by QB Sam Ehlinger proved to be costly. With Sam Darnold and a lot of key pieces for the Trojans gone, Texas should have a good shot pulling out a victory. The question is, can they?
Saturday, September 22nd vs TCU
Since TCU joined the Big 12 back in 2012, the Horned Frogs are 5-1 against the Longhorns. In fact, no other team in the Big 12 has beaten Texas more since 2012, than the TCU Horned Frogs. Not even Oklahoma! Here is a cringe worthy stat, TCU has outscored Texas 180 to 76 in the last 6 meetings (ouch!). While TCU will have another solid defense, there are plenty of questions surrounding the offense for the Horned Frogs. This should be a defensive battle that may come down to the last possession or the team who makes less mistakes.
Saturday, September 29th @ Kansas State
Manhattan, Kansas has been the Longhorns kryptonite. Since the round robin schedules back in 2012, Texas hasn't beaten Kansas State on the road and prior to that, 2002 was the last time they won in Manhattan, Kansas. This should be a hard-nosed, smashmouth football game. This may look like a game from the 1950's because there will be a lot of running the football. After a tough matchup with TCU, will Texas have enough in the tank to beat the Wildcats?
Saturday, October 6th vs Oklahoma (Cotton Bowl in Dallas, TX)
For Texas, there should be no "If they have enough left in the tank" for this game. If this game doesn't light a passion for you as a Texas player, something is wrong. With Baker Mayfield gone and a questionable defense for the Sooners, this could be the year where the Longhorns come out on top. The team that usually wins this game sets the tone early. This one is going to be a lot of fun to watch.
Saturday, October 13th vs Baylor
With USC, TCU, K-State and Oklahoma all in a 4 week stretch, Texas could be a bit worn down before the bye week. Baylor has a rising star in quarterback Charlie Brewer and if Texas isn't careful, they could find themselves in a shootout which as we know in the Big 12 can go either way. Since 2015, Texas has won every matchup so expect Baylor to really bring the fight in this game. This may be one of the under the radar type of games in the Big 12 this season.
Saturday, October 27th @ Oklahoma State
Do you want the good news or bad news for Texas here? The bad news is that Oklahoma State has beaten the Longhorns 3 years in a row. The good news is that Mason Rudolph and James Washington are gone for the Cowboys. With a new quarterback for OSU (Dru Brown or Spencer Sanders), this will best Texas best chance to knock off the Pokes in the last 4 years. Expect Mike Gundy to have a few tricks up his sleeve.
Saturday, November 3rd vs West Virginia
Texas didn't really get a full shot at WVU QB Will Grier since he left the game last season early with that horrific hand injury. Now Texas will have to face the high-flying Mountaineer offense at full force. This may be the best offense vs defense matchup of the entire season in the Big 12. Will the defense lock the WVU offense down or will Will Grier torch the Texas secondary? The good news for Texas is that WVU has some defensive issues especially against the run. Can Texas capitalize?
Saturday, November 10th @ Texas Tech
I am sure many Texas fans are still scratching their heads after the loss to Texas Tech last season. Too many costly mistakes and for Texas Tech, it most likely saved Kliff Kingsbury's job. While the defense for the Red Raiders is still improving, they have a TON of questions marks on offense. It's possible that we could see a low scoring defensive battle out in Lubbock.
Saturday, November 17th vs Iowa State
Last season, Texas didn't have to face Kyle Kempt, instead they had to go against former ISU QB Jacob Park who struggled mightily in that game. Even though Iowa State lost some defensive pieces and WR Allen Lazard, RB David Montgomery is one of the best players in the Big 12. If the Longhorns can hold him in check, Texas should take care of business.
Friday, November 23rd @ Kansas
The last time Kansas won a Big 12 game was, well, you know. To this day, some Texas fans still may have nightmares of that loss back in 2016 that officially ended any hope of Charlie Strong coming back for another year. Now under Tom Herman, I would have a hard time seeing Texas falling short to a team which they should handle easily.