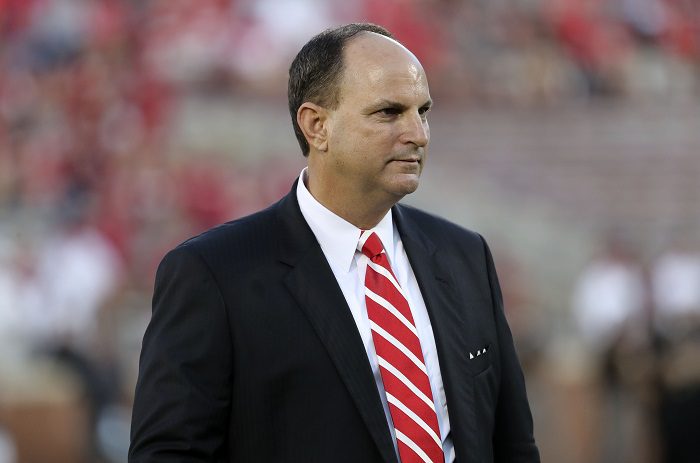 Some kickoff times have been announced for early-season Big 12 football games this fall. Despite the Big 12 rising up the ranks of the Power 5 conferences, the respect still is not completely back to where it was a decade ago. That is evident by some of the kickoff times, especially for the Oklahoma Sooners, the flagship program of the conference.
Athletic Director Joe Castiglione blasted the schedule for OU, saying this week, "I'm not happy about that at all and that's all I'm going to say."
OU's first three games kick off at 11 a.m., 12 p.m., and 11 a.m. against Florida Atlantic at home, UCLA at home, and in Ames against Iowa State. Castiglione has every right to be annoyed by this. OU has made the College Football Playoff two of the past three seasons and is getting two of three kick offs before noon central time to open the saeson. Oh, and the other one is exactly at noon.
As for the games, the storylines are fantastic. For a Power 5 vs. Conference USA game, you get Lane Kiffin against the mighty Sooners. The Owls won Conference USA last season and the Kiffin vs. Riley match up has lots of intrigue and many storylines to it, including what is likely our first look at Kyler Murray taking over the reigns from Baker Mayfield, the former Heisman winner and No. 1 overall pick. Then there's Chip Kelly as the new head coach at UCLA coming to Norman, no shortage of intrigue there. Plus, the Sooners looking for revenge against Iowa State (how often have we said that?) in Ames, which has become one of the most underrated atmospheres in the Big 12 Conference, if not all of college football.
Meantime, the rest of the Big 12 didn't get an overwhelming amount of respect either. The only primetime games in Week 1 are Nicholls State vs. Kansas State and Abilene Christian at Baylor. But both are on regional networks or ESPN3. Ole Miss vs. Texas Tech, not a must-watch, but a decent-enough game, get the "highly coveted" 11 a.m. slot.
In Week 2, the only primetime game for the Big 12 is Tulsa at Texas, and that's on the worthless Longhorn Network. It's only there to give that fledgling network a little bit of publicity and primetime programming.
Things pick up in Week 3, but it's still Oklahoma at Iowa State at 11 a.m. However, Texas vs. USC and TCU vs. Ohio State will both kick off at 7 p.m. But I'd love to know how much of that is USC/Ohio State vs. Texas/TCU. ESPN (ABC) has always had a "thing", to put it politely, for Ohio State (thanks, Herby), while Ohio State is the national brand in the other game that likely shoots TCU into primetime. Boise State at Oklahoma State gets a 2:30 slot, which frankly should be flip-flopped with OU-Iowa State.
Long and short, OU did get hosed here and the fan base, along with the University, should be annoyed to be getting three-straight kickoffs that are better suited for the Kansas Jayhawks than the Oklahoma Sooners. It tells me there is still some work to do when it comes to the Big 12 getting more respect nationwide. You think Ohio State, Michigan, Florida, Alabama and others would be getting this kind of treatment? Hint: I looked up all their schedules too, they aren't.