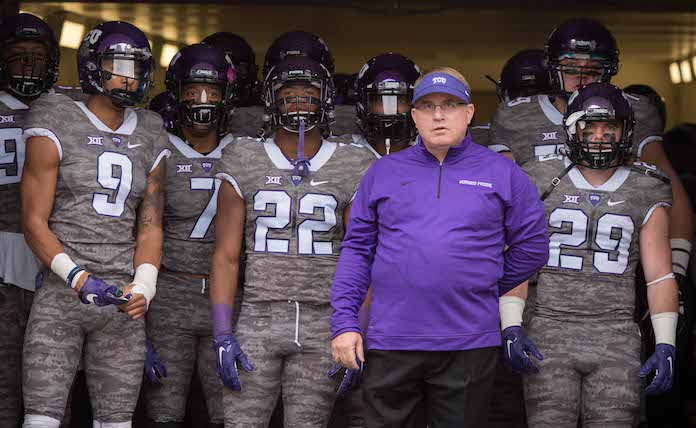 The 2018 season is slowly inching closer and it's time for fans to start dreaming about the crisp, fall air and watching their favorite teams on the gridiron in the Big 12 Conference. Teams have turned over and have plenty of fresh faces. For some programs that's a good thing, for others, not so much. But that's part of the beauty of college football.
Let's take a look at the TCU Horned Frogs. Gary Patterson loses lots of key seniors from last year's team, but can they keep it going and get back to Arlington this year? 
Saturday, September 1st vs. Southern
The Horned Frogs open up with an FCS opponent as the Jaguars are out of the SWAC and went 7-4 last season. Southern didn't play a Power 5 team last season, but did lose to UTSA 51-17 and Southern Miss 45-0. It'll be a nice cupcake for the Horned Frogs to open the season. 
Saturday, September 8th @ SMU
Since moving to the Big 12, the Horned Frogs have owned the Iron Skillet. TCU has won six in a row in the series, along with 10 of the past 11. But what makes this game more interesting than it might typically be is that SMU has a new head coach in Sonny Dykes, who spent last season as an assistant under Gary Patterson. SMU did have three NFL Draft picks this year, highlighted by second round WR Courtland Sutton, but in a big rivalry, the favorite should never overlook the game.
Saturday, September 15th vs. Ohio State (AT&T Stadium)
This game will be one of the premier non-conference games in college football this fall. It's kind of a home game for TCU, but not really. Frankly, I bet there will be more Ohio State fans than TCU fans at AT&T Stadium. But Gary Patterson will use that to his advantage as his guys play the underdog role heading into this one. This would also be an enormous opportunity for the Big 12 to get a big non-conference victory. 
Saturday, September 22nd @ Texas
There is no break for the Horned Frogs, who have to go to Austin right after playing Ohio State. This will be a fantastic Big 12 opener for these two teams to determine which one will have a leg up in early-season Big 12 race. But neither team will go into this game fresh, as Texas will be coming off its game against USC. Also, since joining the Big 12, TCU has dominated the Longhorns, going 5-1.
Saturday, September 29th vs. Iowa State
TCU wraps up the first month of the season with Matt Campbell and the Cyclones in Fort Worth and their first game in their home stadium since the opener. This is also a revenge game for the Horned Frogs, who were undefeated and ranked in the top 5 in the country when they went to Ames and fell 14-7 last season. It was a brilliant defensive performance by the Cyclones who will be hard pressed to duplicate that showing again. 
Thursday, October 11th vs. Texas Tech
The Horned Frogs don't have a true bye week. They have basically have two extended stretches with this Thursday night game against the Red Raiders squeezed in between. The Horned Frogs should be refreshed after a tough opening month to the season and when these two teams play, it's likely to be close. Since joining the Big 12, three of their six meetings have been decided by a field goal. 
Saturday, October 20th vs. Oklahoma
Another extended stretch and then it's a rematch of the 2017 Big 12 Championship game. Maybe the Horned Frogs will be able to turn the tide against an OU program that has won four in a row in this match up, with each win growing in size from 1 to 6 to 18 to 24 points last December. Unfortunately for TCU, OU will have had two full weeks off before this game get underway. 
Saturday, October 27th @ Kansas
Game, set, match. Oh wait, not so fast. Amazingly, the Jayhawks have given the Horned Frogs fits since they joined the Big 12 Conference. TCU has won all six meetings, but four of the six have been decided by 10 points or less, including the near scare of a 24-23 win in 2016. However, last season TCU didn't mess around in a 43-0 demolition of David Beaty's program. 
Saturday, November 3rd vs. Kansas State
The Horned Frogs begin the stretch run of the season taking on the Wildcats. These teams have split their meetings since TCU moved into the conference. I would not be shocked if this game has implications to see which team will have a chance to reach Arlington for the Big 12 Championship game. 
Saturday, November 10th @ West Virginia
Speaking of Big 12 Championship implications, going to Morgantown will surely be important for both programs if they want to be playing the first week in December. Last season's game was fantastic, with TCU pulling the win out late in the ball game at home. But now, it's a late-season match up in Morgantown as the weather starts to turn. This will be a very difficult atmosphere for the Horned Frogs (nevermind that whole "stopping Will Grier" part).  
Saturday, November 17th @ Baylor
It's become one of the best rivalries in the Big 12. These two teams and fan bases can't stand each other. TCU has won the past two meetings by a combined 63 points and will be desperate to get back in the win column against their rival. It's also possible that Baylor could be playing spoiler on TCU's Big 12 Championship chances, along with possibly trying to lock themselves into a bowl game. TCU barely holds the all-time edge at 54-52-7. 
Saturday, November 24th vs. Oklahoma State
Oklahoma State has a 4-2 edge over TCU since the Horned Frogs joined the Big 12, but none of the six meetings have been close, with all being decided by double digits. Maybe it's a play-in game for the Horned Frogs to reach the Big 12 Championship game the following week. But if history is any indication, it will be a blowout in one direction or another.