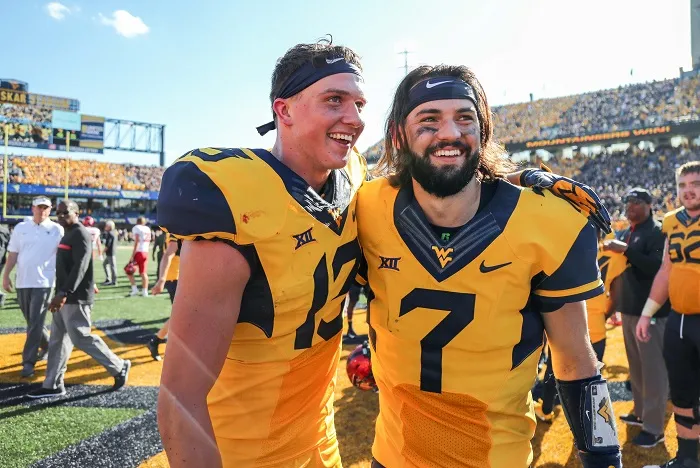 The 2018 season is slowly inching closer and it's time for fans to start dreaming about the crisp, fall air and watching their favorite teams on the gridiron in the Big 12 Conference. Teams have turned over and have plenty of fresh faces. For some programs that's a good thing, for others, not so much. But that's part of the beauty of college football.
Let's take a look at the West Virginia schedule. Dana Holgorsen enters his 8th season as the man in charge in Morgantown. Expectations couldn't be higher for the 2018 season because many folks around the country are expecting BIG things from this team. Could the Mountaineers win their first Big 12 football championship?
Saturday, September 1st vs. Tennessee (Bank of America Stadium in Charlotte)
Any time a Big 12 team plays a team from the SEC (AKA the Paul Clownbaum conference) it's a big deal. Why? Because other folks in the media act like the SEC is the best conference top to bottom. So, if another team in a different conference beats an SEC team it always helps national perception. The Volunteers are trying to pick up the pieces left from Butch Jones and new HC Jeremy Pruitt will have a tall task ahead. West Virginia has a chance to make a statement early in the year with plenty of eyeballs on this game.
Saturday, September 8th vs. Youngstown State
This is the snoozer game of the season for West Virginia. This is the only non-power five opponent for the 2018 season. The Mountaineers should easily take care of business here and move on. Something I completely forgot about is that former Nebraska coach Bo Pelini will enter his 4th season as the head coach of the Penguins.
Saturday, September 15th @ NC State
The Mountaineers return to North Carolina to take on a feisty Wolfpack team. NC State had a great defense last season, but a lot of those guys are now in the NFL. While the NC State defense may not be that great, their offense returns QB Ryan Finley and a talented group of wide receivers. If West Virginia isn't careful, this one could turn into a shootout. This has the makings to look more like a Big 12 game than a Big 12 vs ACC game. If the Mountaineers can play a little defense, they should be able to pull this one out that might be closer than expected.
Saturday, September 22nd @ Kansas State
Talk about a tough Big 12 opener! In 2017, the West Virginia defense ranked dead last in rushing yards allowed in the Big 12. They gave up over 200 yards per game on the ground which is bad. Expect that K-State offense to test the defensive front of the Mountaineers in this game. The good news for WVU is that K-State really struggled in the secondary last year and this team is certainly more than capable to test that back end for the Wildcats.
Saturday, September 29th @ Texas Tech
Going to Lubbock is always tricky. Although the Red Raider defense should be improved even more than last season, do they have what it takes to stop this high-powered offense of West Virginia? Also, Texas Tech has a TON of questions offensively to keep up. West Virginia fans should feel confident here.
Saturday, October 6th vs. Kansas
Even though West Virginia gave up over 350 rushing yards to Kansas last season, they still won the game by 22 points on the road. If they can survive that, then they should have no problem blowing out Kansas at home this season.
Saturday, October 13th @ Iowa State
This is easily either the toughest or second toughest road game for West Virginia. Traveling to Ames at Jack Trice is a tall task especially with the Cyclones trending in the right direction under Matt Campbell. Much like Kansas State, Iowa State will run the ball until they are blue in the face in this game with stud RB David Montgomery. If the Mountaineers keep him in check, I like their chances in this one.
Thursday, October 25th vs. Baylor
This one catches my eye a bit. To me, Charlie Brewer is the second-best quarterback in the Big 12. Personally, I would love to see a good shootout type game here, but I am sure many fans on both sides would rather just blow the other team out. This one might be more interesting than people think not to mention, it's a Thursday night game so plenty of eyeballs will be on this one (Sorry NFL).
Saturday, November 3rd @ Texas
This one may take the cake for the toughest road game of the season for West Virginia. Texas has probably the best defense in the entire Big 12 and even though the offense is a work in progress, they should be better. To me, this is the toughest matchup that the Mountaineers face this season. Could this game play a key role on who goes to the Big 12 title game?
Saturday, November 10th vs. TCU
After a tough trip to Austin, West Virginia will face another great defense. Expect this one to be a low scoring game where points and field position come at a premium. By this time in the season, we will know exactly what the TCU offense looks like. If TCU doesn't score 24 or more, I would have a hard time seeing them win this one on the road. Although, never count out a Gary Patterson coached football team.
Saturday, November 17th @ Oklahoma State
By now the Oklahoma State quarterback situation should be settled, maybe. It's possible freshman QB Spencer Sanders could be the guy at this point in the season for the Cowboys. I really believe that Oklahoma State will take a big step back this year with all the key guys they have to replace. The biggest question for Oklahoma State is their secondary on defense, which we all know West Virginia can take advantage of with Will Grier and all those receivers.
Friday, November 23rd vs. Oklahoma
Since joining the Big 12, there is one team in the conference that they haven't been able to beat. It's the Oklahoma Sooners. Now with Baker Mayfield gone and plenty of question marks on defense, is this the year the streak ends? This game has become very chippy over the last few years even though the Sooners have had some lopsided wins. Out of all the games on the West Virginia schedule, this one may be my favorite one to watch. This could maybe be the game of the year or it's possible that this will end up as a rematch the following week for the Big 12 title.