Big 12 News
MLB First-Year Player Draft: 2018 Big 12 Players Rounds 3-10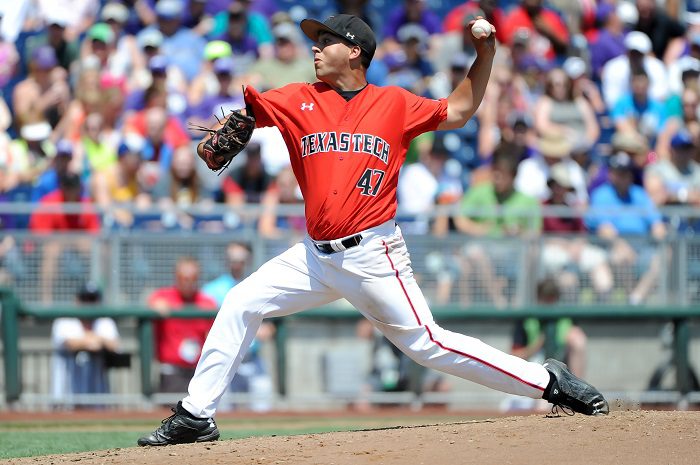 Round 3
Pick 79: Kody Clemens, Texas, 2B, Detroit Tigers
He is the best of the four Clemens boys, and it would be a major disappointment if he did not have a long MLB career. He leads the Longhorns in average (.346), home runs (21) and doubles (tied at 14). He's a power hitter who can hit for average, and has enough speed to steal six bases. Obviously, the arm strength comes with the genes. I don't feel he has quite enough speed to be a five-tool player, but he's still solid. He is a junior, and I think he'll sign. However, the Clemens family has such a passion for the Texas baseball program, it would not surprise me to see Clemens ditch the Tigers and stay in school. His two brothers who played at Texas both stayed for their senior season. However, neither produced the results Kody has.
Pick 100: Durbin Feltman, TCU, RHP, Boston Red Sox
I'm high on Feltman. I'm surprised he lasted 100 picks. I feel this was more due to the fact that he is a bullpen guy, and not a starter. In fact, if I were the Houston Astros, I would have selected him in the first round and would expect him to be ready by the time the postseason came around. That's just me though, and that's why I'm a writer instead of a scout. As a junior, he finished 18 appearances with an 0.74 ERA. He only allowed two runs over 24.1 innings in 18 appearances. He racked up an impressive 43 strikeouts, almost two per inning. His WHIP is less than 1.00 as he issued just six walks while allowing 12 hits. This guy is money. The Red Sox have their closer for the future. I think they got a steal here. The Astros lost out on this one. Feltman can do what their current bullpen cannot: hold onto a lead.
By the way, I'm not the only one who sees Feltman immediately making the jump to the big leagues. Apparently, he "overmatched Luken Baker" in front of a Red Sox scout.
Round 4
Pick 116: Sean Wymer, TCU, RHP, Toronto Blue Jays
Wymer was projected as a top 100 selection, but likely dropped due to TCU's poor play this season. Out of the bullpen his first two seasons, he was stellar. Wymer finished his sophomore year under a 3.00 ERA, and TCU finished 23-6 in games he appeared in. As a starter this year, Wymer still had a fine 3.65 ERA, which was actually lower in Big 12 Conference play. His 69:14 strikeout-to-walk ratio is outstanding. TCU may lose head coach Jim Schlossnagle and the Horned Frogs are heading into rebuilding mode with the losses of Luken Baker and Durbin Feltman. Evan Skoug was a major departure this year. If I'm Wymer, I'm leaving. Being drafted in the fourth round, I can't see any reason for him to stay.
Pick 123: Steven Gingery, Texas Tech, LHP, St. Louis Cardinals
The only reason Gingery is not a first round pick is because he was injured this season. MLB.com did have him projected at 69, and I'm pretty certain the injury was factored into that. His injury cost him thousands, if not millions of dollars. However, he was still drafted in the first five rounds. That's how reliable he is when he's healthy. Gingery was the 2017 National Pitcher of the Year, and Texas Tech's first ever unanimous All-American. He pitched more innings and racked up more strikeouts in 2017 than Chad Bettis did in 2010. Bettis, a second round pick, might be the ace of the Colorado Rockies if he didn't battle testicular cancer. If Gingery is better than Bettis, MLB beware. Barring health issues, this guy has the potential to be an ace at the MLB level. The only reason he returns is if he wants that million dollar first-round contract. I don't think he goes after it, but Texas Tech fans sure hope so.
Pick 131: Jake Irvin, Oklahoma, RHP, Washington Nationals
At 6-foot-6, scouts love Irvin's size. His size is a major reason he is a top five-round draft pick. He's a strikeout pitcher, who doesn't walk a lot of batters. He nearly struck out 100 more batters than he walked (115/28 K/BB). Irvin will be an MLB pitcher with the potential to be an ace. In fact, I think scouts will rush him up the ladder because they're drooling over that 6-foot-6 frame. The best thing for Irvin is to be patient and enjoy success in the minors for a few seasons. Learning a few tools in the minor leagues will make him an elite pitcher. As a junior, the only reason he stays is to score more money. With his two best hitters leaving in Kyler Murray and Steele Walker, I think he signs.
Round 8
Pick 252: Austin Hansen, Oklahoma, RHP, Houston Astros
Hansen is a junior, and should return to Oklahoma. He struggled in Big 12 play with a 5.27 ERA. He could be a starter next season, and move up the ranks. I see a lot of potential with Hansen. However, guys who have struggled against Big 12 competition typically do not last long in the minors. The goal is to climb the ladder, not be released at Single A. Right now, Hansen likely doesn't make it past High-A. If he stays another season, he could be in the rotation. Another season could improve his numbers and improve his pitching. I know being a top 10 round pick as a junior is tempting, but it would be ill-advised for Hansen to sign.
Round 9
Pick 262: Ryan Shetter, Texas Tech, RHP, Atlanta Braves
I expect Shetter to return to Tech next season. He's been in between the bullpen and the rotation. If he wants to prove to scouts he's a starter, he needs to return. If he's fine with being a career long reliever, then he's okay to sign. Returning for another year should improve his draft stock and get him paid more money. Much like Hansen, he's had success outside the conference. Overall, he's 5-0 with a 2.97 ERA. In Big 12 play, he's 1-0 with a 4.74 ERA. He also issued 11 walks compared to 24 strikeouts. In the pros, even the minors, that's not going to cut it. As talented as the Big 12 Conference is, the minors are even tougher.
Round 10
Pick 291: Jose Quezada, Texas Tech, RHP, San Diego Padres
Quezada is a senior, so he's automatically signing. He seriously improved his draft stock this year, bringing his ERA down from over 3.00 to under 2.00. That's impressive. He's seen his strikeout total drop, but maybe that's a good thing. The most efficient pitchers usually trust in their defense, and let them field. To make it to the show, he'll need to continue improving throughout his time in the minors. He's far from the MLB right now, but there's a fair chance he makes it.
Pick 306: Cade Harris, Oklahoma, 3B, Colorado Rockies
A small town boy from Leona, Texas, Harris became a regular starter for the Sooners in 2018. He's a junior, and doesn't need to sign right away. It's probably best if he stays. He will likely be the star player on the Sooners next season. However, if he signs, it's not the end of the world. Harris will likely make it to the MLB with a hard work ethic and continued improvement. I'm borderline on Harris as his decision hinges on whether he wants to be the star for Oklahoma next season or whether he wants to make the immediate jump.