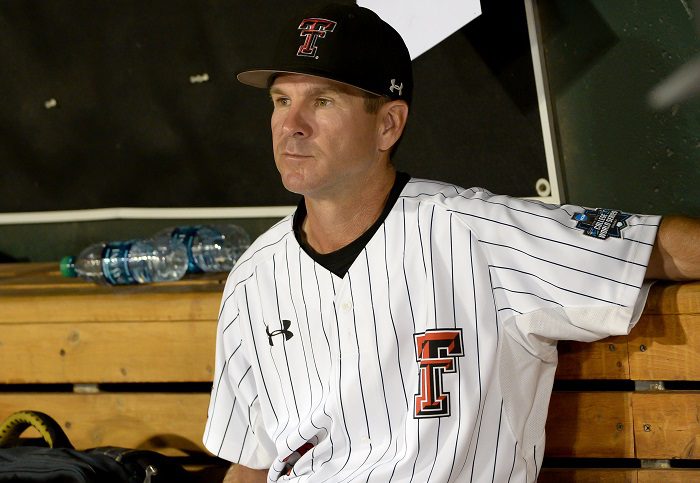 The Super Regionals are here. 16 teams remain and only eight will advance to Omaha. Texas and Texas Tech both swept through their regionals as the host. They lucked out as Duke and Tennessee Tech beat their regional hosts to provide Big 12 fans two of the eight Super Regionals hosting spots. The Red Raiders will face a overmatched Duke rotation. However, once the bullpens take over on the bump, the roles reverse. Tech will need to force Duke's hand early and often, but they certainly have the offense to do that. Most Longhorn fans probably do not know much about Tennessee Tech. This is one of those teams that many take lightly. If the Longhorns take Tennessee Tech lightly, they'll be staying in Austin for the Summer. The Golden Eagles are one of the most complete teams, and probably should've been a regional host. This team had eight players drafted in the MLB First-Year Player Draft, but Texas is the home team and should be able to take care of business. I like both Big 12 teams to advance to Omaha. Every team at this point is a stellar team, and there is a reason these teams have made it this far. Sit back, relax and enjoy the best 16 teams battling it out for a trip to Omaha and a chance to pursue a National Championship.
Duke (44-16 at No.9 Texas Tech (42-17)
Game 1: 2 p.m. CT Saturday on ESPNU
Game 2: 5 p.m. CT Sunday on ESPNU
Game 3: 3 p.m. CT Monday on ESPN2 (If Necessary)
Home Radio: 97.3 FM, TuneIn Radio (FREE, search Texas Tech)
There is one simple key to this game: pitching.
This series will be about bullpen management, and how effective each pitcher is. Duke's rotation is downright awful. All three starters have over a 5.00 ERA. However, the Blue Devils features eight relief pitchers with ERAs under 5.00 and at least 10 appearances. The bullpen has been so stellar, the team's ERA is 3.91. Tech has an explosive offense, scoring 499 runs in 59 games. It would be ideal for Tech to force Duke starters out by the third inning, and force the bullpen to throw as many pitches as possible. Duke's offense, while solid, cannot keep up with Tech's on their best nights. The Blue Devils are not a power hitting team. They get on base and use an aggressive running game to manufacture their offense. Out of 105 attempts, Duke was able to steal 88 bags. Five starters have double-digit stolen bases. The only who doesn't have a stolen base, is their one power hitter. Griffin Conine, the son of World Series Champion Jeff Conine, has 18 home runs this season. He is the only player with double-digit home runs on this team.
The Red Raiders handled their regional with ease. As soon as Tech scored against Louisville, the Cardinals could not find an answer to Tech's high octane offense. The Red Raiders manufactured 21 runs in two games against Louisvillle, and ended the Cardinals 16-game regional winning streak. That streak was started in 2012.
If the Tech bats remain hot, the Red Raiders should move on in two games. If the Tech offense cools off, this series will become more interesting than Red Raider fans will hope for.
Duke Players to watch: Griffin Conine (52nd overall pick in MLB First-Year Player Draft, .278 avg., 18 HR, 14 doubles, 52 runs, 52 RBIs); Joey Loperfido (.308 avg., 6 HR, 10 doubles, 16 stolen bases); Jimmy Herron (98th overall pick in the MLB First-Year Player Draft, 22 stolen bases, .298 avg., 18 doubles, 5 HR, 59 runs, 33 RBIs); Chris Proctor (18th round pick in MLB First-Year Player Draft, .291 avg., 11 stolen bases, 42 runs, 10 doubles, 4 HR, 3 triples)
Texas Tech Players to watch: Zach Rheams (Lubbock Regional MVP, 3 HRs in Lubbock Regional, 4-for-4 vs. Louisville in Lubbock Regional Championship); Grant Little (74th overall pick in MLB First-Year Player Draft, .380 avg., 12 HR, 22 doubles, 9 stolen bases, 61 runs, 70 RBIs); Josh Jung (..384 avg., 12 HR, 6 triples, 16 doubles, 77 RBIs, 68 runs); Gabe Holt (.340 avg., 13 doubles, 5 HR, 28 stolen bases, 64 runs, 37 RBIs)