Big 12 News
St. Louis Cardinals Sign Luken Baker at Bargain Price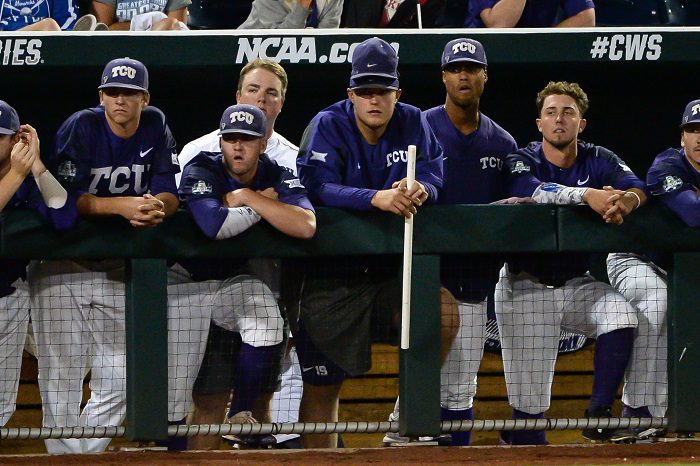 It's official.
TCU slugger Luken Baker is leaving to go pro. The St. Louis Cardinals are gaining Baker's services for what could be one of the greatest bargains of all-time.
Baker, who was destined to be a top-10 overall pick if not No.1 overall, has been hampered by two season ending injuries in the past two years. After a stellar campaign his freshman season, being named a unanimous all-american, he was well on his way to possibly being likened to names such as Babe Ruth, Mickey Mantle, and Ted Williams. As a freshman, he hit .379 with 11 home runs. He scored 59 runs and batted in 63 more that season. Not only was he a slugger, but an excellent pitcher too. He finished the season 3-1 with a 1.70 ERA that same year.
Thanks to his two injuries, both at separate places on the body, the Cardinals signed Baker for less than $1 million. The first injury came during a collision at first base against Oklahoma. An errant throw pulled Baker into the baseline where a base runner ran full speed into his elbow, extending the arm. It is one of the most excruciating injuries ever witnessed. In 2018, he broke his leg sliding into the second base against UT Arlington.
Being hampered by injuries without a paycheck, it was hard to imagine Baker returning for his senior season. After reports surfaced that Jim Schlossnagle could be leaving for Mississippi State, it was inevitable that Baker would be signing.
Coming out of high school, Baker was the 2015 National Gatorade Player of the Year and was invited to the ESPY awards. He would have been an early round draft pick, but told MLB teams that he would attend TCU. The hometown Houston Astros still selected him in the 37th round.
If Baker remains healthy, and performs up to his potential, he could be a first-ballot Hall of Famer. This is one of the most talented baseball players ever to grace the diamond.
The Cardinals drafted Baker 75th overall as a compensatory pick in the second round.
**Sign up here for our HCS weekly e-mails for a chance to win FREE Heartland College Sports and Big 12 team gear!!**