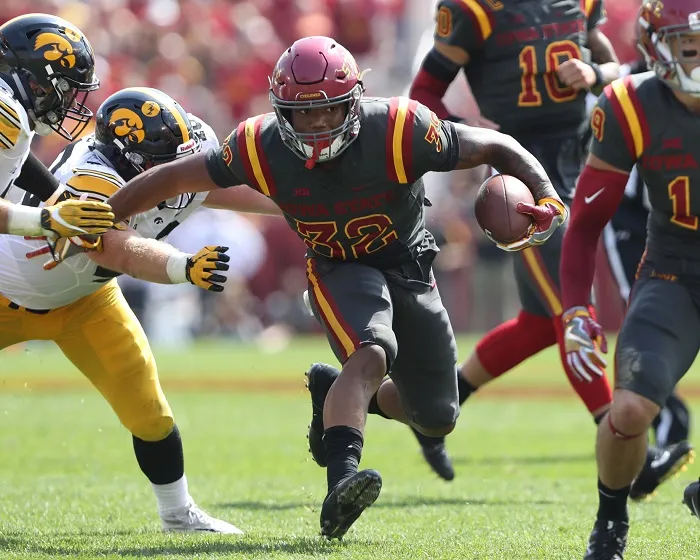 We are within 100 days until we kick off the 2018 college football season. Well, it's 80 to be exact, but who's counting? The Big 12 Conference has a slew of great non-conference games that will get fans juiced up for the conference schedule, which begins as early as mid-September for some teams. Heartland College Sports' Pete Mundo and Derek Duke will be taking you through the top 10 non-conference games on the Big 12 football schedule, ranking from No. 10 down to No. 1. Let's get to it!
If you missed others in our countdown:
No. 10: Texas @ Maryland
No. 9: West Virginia vs. Tennessee
No. 8: Oklahoma State vs. Boise State
No. 7: Oklahoma vs. UCLA
No. 6: Texas Tech vs. Ole Miss
No. 5: West Virginia @ NC State
9/8/18 @ 4 PM CT: Iowa State @ Iowa (Kinnick Stadium in Iowa City, IA)
You have to love a good old-fashioned rivalry game! The Cy-Hawk baby! The Hawkeyes have beaten the Cyclones three straight times, but will this be the year head coach Matt Campbell wins his first Cy-Hawk trophy? For Iowa State, how will the offense look with quarterback Kyle Kempt as the full-time starter? Can he continue his outstanding play even without Allen Lazard? While RB David Montgomery is one of the best in the Big 12, can the offensive line improve this season? Don't forget the loss of Mr. Do It All middle linebacker Joel Lanning who was a fan favorite on defense. It's been awhile since expectations were this high heading into the season for the Cyclones.
Head coach Kirk Ferentz is entering his 20th season as the head ball coach for the Hawkeyes. It all starts with QB Nate Stanley who had a very up a down season in 2017. While his play was a bit sporadic, RB Akrum Wadley's wasn't. But now that Akrum Wadley has graduated, Iowa doesn't have any true proven backs in this pro-style offense and they also must replace some guys up front. Not to mention that the best receiving threat is a tight end in Noah Fant which is unheard of these days in college football. Defensively, Iowa must replace all 3 linebacker spots including former star LB Josey Jewell. The strong spot on the defense will be on the edge with their defensive end group while their secondary will be average after losing Josh Jackson to the NFL. Overall, this team is expected to finish around second or third in the Big Ten West.
This is always a fun game to watch even if you are not a fan of either team. In fact, this may be the only true rivalry game in the Big 12 non-conference slate. The fact that Iowa State is an up and coming program will only make this more interesting over the years because it seems like Iowa has been the premier program in the state success wise. But with Matt Campbell leading the charge for the Cyclones, I don't think it will be a matter of if Iowa State can be the flagship program of the state but a matter of when. Lock in your couch or favorite chair because this one is going to be a game you don't want to miss.
**Sign up here for our HCS weekly e-mails for a chance to win FREE Heartland College Sports and Big 12 team gear!!**