Big 12 News
College World Series: Texas Tech vs. Florida Preview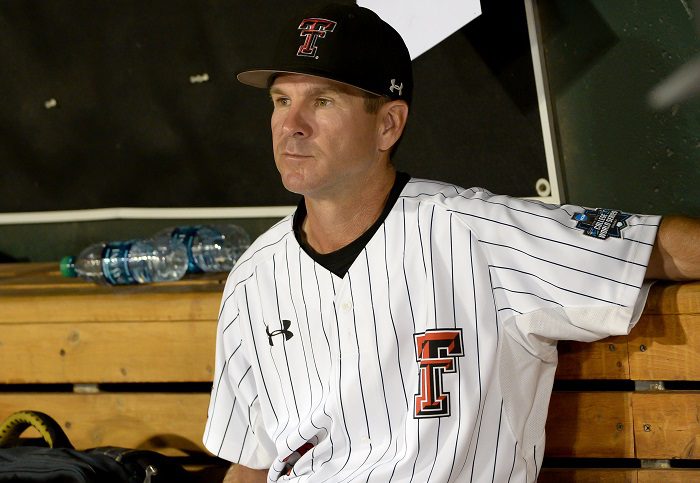 The road has ended and eight teams have made it to Omaha without crashing and burning. Texas and Texas Tech will represent the Big 12 Conference at TD Ameritrade Park at the College World Series. They are in the same bracket, which has a Southwest Conference flavor. Arkansas has taken one of the smoother paths on the rocky, winding highway to the College World Series.
For those who are not familiar with college baseball, eight teams are in the field. Two brackets have divided the field into four team, double elimination battlegrounds. Whoever survives the bracket will play in the National Championship, a best of three game series. Only one team will take home the trophy and fly the pennant. Will
it be a Big 12 team? Stay tuned as we preview each game featuring a Big 12 Conference team.
No.9 Texas Tech (44-18) vs. No.1 Florida (47-19)
College World Series Game 4, 6 p.m.
Television: ESPN2
Texas Tech Radio: 97.3 in Lubbock, TuneIn Radio app globally (search Texas Tech)
Probables
Texas Tech: Sr. LHP Dylan Dusek: 3-0, 2.03 ERA, 31.0 IP, 28 H, 11 BB, 30 K, .239 b/avg.
Florida: Jr. RHP Brady Singer: 12-1, 2.30 ERA, 101.1 IP, 68 H, 21 BB, 107 K, .187 b/avg.
Closers
Texas Tech: Ty Harpenau: 4 saves, 3.38 ERA, 7-2, 25 appearances, 53.1 IP, 40 H, 24 BB, 51 K
Florida: Michael Byrne: 15 saves, 1.59 ERA, 3-1, 34 appearances, 56.2 IP, 41 H, 5 BB, 60 K
Texas Tech players to watch: Josh Jung (.390 avg., 12 HR, 17 doubles, 6 triples, 68 runs, 78 RBIs); Grant Little (.372 avg., 12 HR, 24 doubles, 3 triples, 61 runs, 73 RBIs); Gabe Holt (.352 avg., 6 HR, 13 doubles, 3 triples, 68 runs, 41 RBIs, 29 stolen bases); Zach Rheams (.348 avg., 17 HR, 10 doubles, 39 runs, 54 RBIs)
Florida Players to watch: Jonathan India (.354 avg., 20 HR, 12 doubles, 3 triples, 63 runs, 48 RBIs, 12 stolen bases); JJ Schwarz (.325 avg., 12 HR, 16 doubles, 2 triples, 50 runs, 46 RBIs); Austin Langworthy (.294 avg., 4 HR, 10 doubles, 2 triples, 32 runs, 28 RBIs); Wil Dalton (.268 avg., 19 HR, 17 doubles, 1 triple, 58 runs, 60 RBIs)
This easily could've been the best college baseball game of the year. Of course, it can still be. However, the loss of Steven Gingery certainly places a damper on the hype. Had Gingery been available, the nation would have seen two of the nation's best offenses going up against the 2017 NCBWA National Pitcher of the Year and the 2018 Dick Howser Trophy for best college baseball player of the year. Okay, we've had our funeral. This still provides for an interesting matchup. Texas Tech has one of the nation's most explosive offenses. The Red Raiders finished the regular season. second in on-base percentage, 12th in home runs, and sixth in walks nationally. Tech is the best power five conference team in slugging percentage and runs scored.
The question now is: Will they get to Brady Singer? It's not often Tech's offense is stifled. The Red Raiders have only been shutout twice in their 62 games. They've scored 513 runs, which averages to more than 8 runs per game.
What's so different from this game and most other games is that Florida has the offense to keep pace with Tech. Florida has hit 15 more homers than Tech (who thrives off the long ball), Sure, their average and runs per game do not match Tech. The key is if Singer can slow down Tech's offense, which for at least six innings, he probably will.
It's going to be a game of pace. Who gets on the board first? Tech is going to use Dylan Dusek, who is battling blister problems. He hasn't lasted more than two innings in either of his starts. We can expect Ryan Shetter to come into the game quickly. While this combo has worked well for Tech against New Mexico State and Duke, it's highly questionable.
Pitching depth is what separates Tech from pretender status to contender status. They have not won their first game in either College World Series appearance. Tech does own the only series victory, defeating Florida 3-2 in a 2016 College World Series elimination game. Will they take down the defending national champions again? If they can, they'll be four victories from their first national championship trophy.  
**Sign up here for our HCS weekly e-mails for a chance to win FREE Heartland College Sports and Big 12 team gear!!**