Big 12 News
College World Series: Texas vs. Arkansas Preview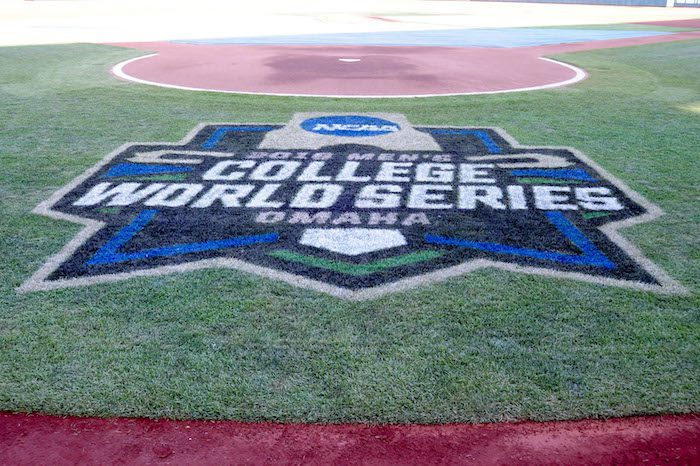 The road has ended and eight teams have made it to Omaha without crashing and burning. Texas and Texas Tech will represent the Big 12 Conference at TD Ameritrade Park at the College World Series. They are in the same bracket, which has a Southwest Conference flavor. Arkansas has taken one of the smoother paths on the rocky, winding highway to the College World Series.
For those who are not familiar with college baseball, eight teams are in the field. Two brackets have divided the field into four team, double elimination battlegrounds. Whoever survives the bracket will play in the National Championship, a best of three game series. Only one team will take home the trophy and fly the pennant. Will it be a Big 12 team? Stay tuned as we preview each game featuring a Big 12 Conference team.
No.13 Texas (42-11) vs. No.5 Arkansas (44-19)
College World Series Game 3
Television: ESPN
Texas Radio: 104.9 The Horn in Austin
Probables
Texas: Jr. RHP Nolan Kingham: 8-4, 4.34 ERA, 95.1 IP, 117 H, 23 BB, 77 K, 10 HR, .301 b/avg.
Arkansas: Jr. RHP Blaine Knight: 12-0, 2.84 ERA, 101.1 IP, 85 H, 23 BB, 92 K, 18 HR, .226 b/avg.
Closers
Texas: Andy McGuire: 7 saves, 2.01 ERA, 1-2, 27 appearances, 31.1 IP, 22 H, 13 BB, 28 K
Arkansas: Soph. LHP Matt Cronin 12 saves, 2.98 ERA, 2-1, 21 appearances, 42.1 IP, 20 H, 12 BB, 52 K
Texas players to watch: Kody Clemens (NCAA Tournament: .500 avg., 5 HR, .607 obp., 3 doubles, 11 RBI, 5 R, 6 BB); D.J. Petrinsky (NCAA Tournament: .316 avg., 3 HR, .500 obp., 7 BB, 6 RBI, 5 R); David Hamilton (.294 avg., 31 stolen bases, 5 HR, 6 triples, 7 doubles, 44 runs); Zach Zubia (.277 avg., 11 HR, 13 doubles, 30 runs, 44 RBIs)
Arkansas Players to watch: Casey Matin (.344 avg., 13 HR, 46 RBI, 12 doubles, 8 stolen bases); Carson Shaddy (.341 avg., 13 HR, 12 doubles, 2 triples); Heston Kjerstad (.340 avg., 14 HR, 14 doubles, 18 HBP,); Eric Cole (.329 avg., 14 HR, 13 doubles)

When the Southwest Conference is brought up, the first rivalry that tends to enter minds is Texas vs. Arkansas. Well, here we go again. The hatred is still there and Twitter has become a battleground for each side to have their say before the battle.
Not only will a fierce rivalry renew, but an unbeaten record will go down. Arkansas' Blaine Knight is 12-0. The Razorbacks also hold a 2-0 record against the Longhorns this season. Granted, that was two midweek games and thus Arkansas did not see the pitchers in Texas' rotation. The record most Longhorns fans will love to point out is the 3-0 record Texas has against Arkansas in the College World Series. If history has any bearing, the Longhorns will walk all over Arkansas as it holds a 74-35 all-time record against the Razorbacks.
While the past normally has no bearing on a game, this one is different. Texas is 33-12 since the passing of former manager Augie Garrido. He passed away the day before Big 12 play started, and the Longhorns won the Big 12 Regular Season Championship. Garrido is the angel in the dugout, and Texas is thriving.
For those who do not believe in angels, and prefer the scientific theory of statistical analysis: Arkansas is the clear favorite. The Razorbacks have an average nearly 30 points higher, blasted 32 more homers, and have scored nearly 80 more runs.
Texas has been defying odds all season long. Will they defy them once more?
**Sign up here for our HCS weekly e-mails for a chance to win FREE Heartland College Sports and Big 12 team gear!!**