Oklahoma Sooners
Big 12 Football Mailbag: One Strength of Every Team, Big 12 Officials and More!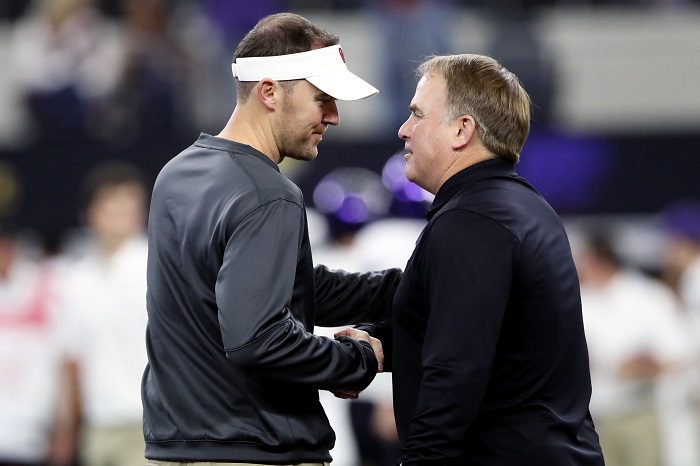 It's that time of year where football is scarce across Big 12 country. If you're like me, you need a football fix and quick. This mailbag is for all you football junkies out there who root for a Big 12 school who not only have questions about your team, but other teams in the conference as well. So, join me, grab a cold brew or your favorite drink and relax as I answer all your Big 12 questions in my mailbag. For those interested, I will send out a tweet (@Derekduke25) every Monday at noon until last call (No, not 2 AM) at 8 PM CT for you to send in your questions to be answered every Tuesday right here at Heartland College Sports.
I will pick the best question for each mailbag and label it as my question of the week. The winner gets a free HCS Koozie to keep your beer cold (Unless you like it warm, but that's just plain wrong). It was busy question day which tells me that this mailbag is working harder than me at my day job. Unlike the "Big 12 blog" over at ESPN (I say that loosely because one story a week is a tragedy), we here at HCS are determined to give you the best Big 12 coverage on the planet. I want to thank each one of you who submitted a question this week and for those reading, I am glad you could join me. I am enjoying a late-night mixed drink myself and let's get this party started!
There are probably some that don't give a rats you know what about how my weekend was. If you do care or even if you don't, I am going to tell you anyways. Had to work this weekend at my "real job" which was about as exciting as watching grass grow in the hot sun. Afterwards I was able to run by the liquor store to grab a few things to whip up some cocktails as I watched some college baseball. My weekend wrapped up on Sunday as I went to Raising Cane's for lunch which is always delicious. As for the rest of the day? More cocktails and baseball. Also, to all you fathers out there, hope you had a great Father's Day.
@jonkev50 asks: Is the Big 12 championship game really that important to the playoff hopes of the winner since it is a rematch?
Duke: Since, you are asking about just the winner of this game, my answer is yes. I touched on this last year on my Tuesday periscopes during the season because I had a lot of questions regarding this topic. Look at Oklahoma this past season. For much of the playoff ranking shows, the Sooners were ranked 4th just about every single week and it seemed like whoever got a decent win was thrown right in front of the Sooners. The problem is the national perception of the Big 12. I feel like the committee respects this conference as much as team from the Sun Belt or something. So, to me, it will always help the winner of the game. The loser however gets probably screwed out of a NY6 bowl game.
@jbobitt asks: Will the Big 12 ever get serious on cracking down on the horrible officiating that goes on every week during football season? It's a joke and I think the powers that be are fine with it being comical.
Duke: I think maybe some of the higher ups think the horrific officiating (at times) is adding comical value to those watching even though it pisses one fan base or the other off. Look, at some point every team in this conference has had to deal with bad officiating. Trust me, I watch a TON of Big 12 football and see some bad calls. Not only are they bad at times, but if I shaved my face that morning before the game, by the time they are done with the call or reviewing the replay I have to shave again already. My problem is if the replays are going to take an eternity to make a decision, at least get the damn thing right. Is that too hard to ask? Maybe so.
@RPTexan asks: What is the main strength for each Big 12 team? You can only pick one position for each team and you can't count coaching.
Duke: I could write a ridiculously long answer for this question but by the middle of it some people may be asleep. So, I am going to keep it short and simple and put this in a list form. If you have any questions or comments about the list, let me know on twitter (@Derekduke25).
Oklahoma: Running Back
Oklahoma State: Running Back
Kansas: Linebacker
Kansas State: Offensive Line
Iowa State: Defensive Line
West Virginia: Wide Receiver
TCU: Defensive Line
Texas Tech: Linebacker
Baylor: Wide Receiver
Texas: Secondary
@ALBtris asks: Most important out of conference game in the Big 12?
Duke: Instead of giving you just the best game, how about we give you the top 10 non-conference games in the Big 12 this season? Hmm, if only there was a place to find information like that. Ah, look no further than the same website you are currently reading this on. Here's the full list of games! Enjoy!
@mundodelovoide asks: What do you think about the statement "This is Lincoln Riley's first true year as a head coach?"
Duke: I think it is silly. We are talking about a coach who won a Big 12 title and went to the CFB Playoff. Also, his team went into Columbus, Ohio and beat the Buckeyes. It's not like he took over midseason because he started back in the summer of 2017. That's pretty much all I can really say about this topic.
@OklahomaOutlaw5 asks: Any chance that Rodney Anderson and Trey Sermon both go for over 1,000 yards?
Duke: I think there is a good chance we could see that happen. The only thing stopping that is how the coaching staff decides to split up the carries. Rodney Anderson is the clear-cut number one option who will rush for over 1,000 yards with ease. Don't forget Trey Sermon rushed for over 700 yards as a true freshman. But like I mentioned earlier, it will depend on how they split the carries between these two along with redshirt freshman Kennedy Brooks and true freshman T.J. Pledger. If Pledger redshirts, I think there is a good chance we could see two 1,000-yard rushers this season.
@Doc_Texas asks: Do you think the Big 12 schools are secretly rooting for Texas to be good? If Texas rises, so does the prestige of the conference.
Duke: I am sure some of the guys in suits around the Big 12 would like for Texas to come back but I would bet coaches around the league don't give a flying you know what about how good Texas is or isn't. Because if Texas is bad, other schools have a chance to beat up on the Longhorns not only on the field, but on the recruiting trail as well to a certain degree. Of course, Texas is going to get the guys they want because just look at how bad they have been over the last couple of years, yet they still recruit at a high level. As for coaches, I am sure they love beating up on the Longhorns as much as they can.
As much as other fan bases hate to hear it, Texas being good is a positive for the rest of the conference. Why? Because it will put more eyeballs on the Big 12 and fill up some empty seats in the stands. Texas is a blueblood program and when blueblood programs play up to their standards, it usually means more money and more national respect for that conference. Not to mention, if your team is able to beat a "good" Texas team, it will likely bump your school up a few extra spots. That could be crucial come bowl season.
**Sign up here for our HCS weekly e-mails for a chance to win FREE Heartland College Sports and Big 12 team gear!!**