Oklahoma Sooners
Lincoln Riley Extension Signals Confidence From Oklahoma Hierarchy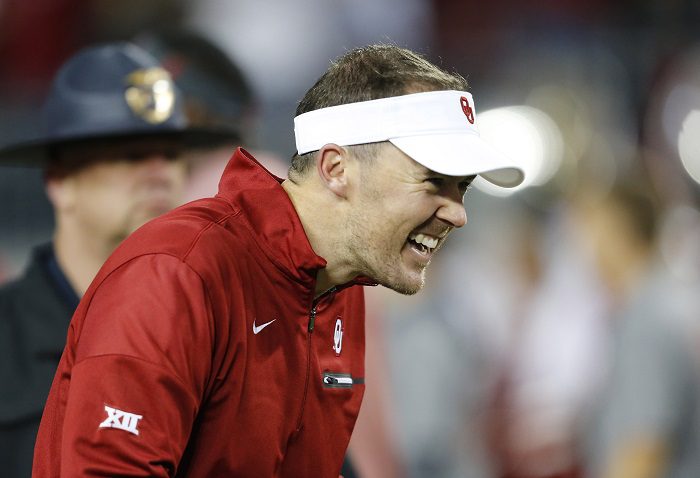 As if there was ever a doubt, the University of Oklahoma is not expecting a Baker Mayfield hangover from Lincoln Riley.
On Tuesday, the University announced a five-year extension for Riley worth $25 million. The $5 million per year puts Riley into the upper echelon of college football coaches, and right around the top 10 in the country. He will be third in the Big 12 behind Texas' Tom Herman ($5.5 million) and TCU's Gary Patterson ($5.1 million).
There has been some debate, including in our Big 12 football mailbag this week, as to whether or not this should be considered Riley's true "first season" as head coach because it's his first without Baker Mayfield at quarterback. But Riley proved to be an outstanding offensive mind dating back to his time at East Carolina University, which carried over to his time with the Sooners. Yes, Baker Mayfield, the eventual No. 1 pick in the 2018 NFL Draft, was a big part of that, but Riley's history proves that Mayfield was not the reason for his success.
As for his ability as a head coach, yes, winning helps, but that was not driven by Mayfield. His ability to carry a team through the season, be a leader, bounce back from a brutal early-season loss like Iowa State, to run the table, win the Big 12 Conference and make the College Football Playoff, proved he has the poise to lead a major college football program. How Lincoln Riley performed last season (sans some questionable second half play calling against Georgia) is exactly the reason Bob Stoops decided to finally retire and why David Boren and Joe Castiglione were more than open to sliding Riley into the head chair.
While there are few, if any, jobs better than being the head football coach at OU, showing Riley that kind of love at this point in his career, and he did prove himself as well as any OU fan could've hoped, is a sign that the relationship is just as strong as we believed it to be. Riley was making $3 million last season, which pushed nearly $3.5 million after earned bonuses, but if you're going to treat him like a top coach in the sport, it was time to pay him like a top coach in the sport.
Oklahoma did that and the program should be generously rewarded on its end with more Big 12 Championships, College Football Playoff appearances and maybe a National Title or two to go along with it.
**Sign up here for our HCS weekly e-mails for a chance to win FREE Heartland College Sports and Big 12 team gear!!**