Big 12 News
Matt Campbell Has $7 Million Buyout If He Leaves After 2018 Season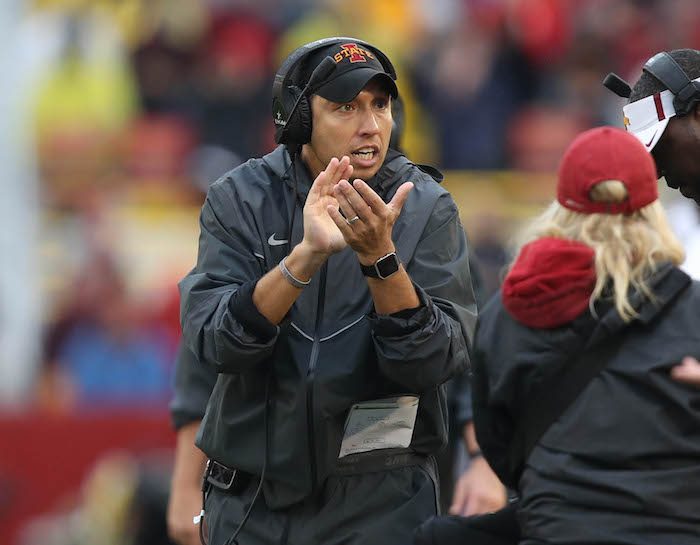 The good news for Iowa State fans is this: Matt Campbell is likely to hang around through the 2019 season, at least.
A new report from the Des Moines Register says that Campbell has a buyout of $7 million if he leaves after the 2018 season. Through the end of the contract in 2023, the buyout for Campbell drops by $1 million each year.

Campbell signed a six-year extension in late November, keeping with his commitments of staying loyal to Iowa State, which he always insisted would be the case, but some fans, naturally, were skeptical of.
Campbell makes $3.5 million this season, which is a big raise from the $2.1 million he was making under his previous contract. The total package of the contract is $22.5 million.
At $3.5 million, Campbell's salary would have ranked in the Top 30 of the country this season, right around West Virginia's Dana Holgorsen and Texas Tech's Kliff Kingsbury, according to USA Today's list. The salary moves Campbell into 6th in the Big 12, just behind Holgorsen and Kingsbury, but ahead of Bill Snyder ($3.2 million).
Iowa State finished the season 8-5, only their second season since 2005 with at least seven wins and their first bowl win (over Memphis) since 2009 when they beat Minnesota in the Insight Bowl.
**Sign up here for our HCS weekly e-mails for a chance to win FREE Heartland College Sports and Big 12 team gear!!**