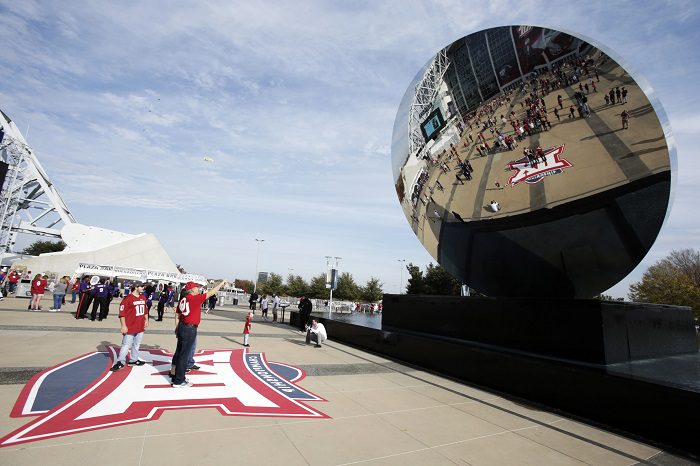 As we get closer to kicking off the 2018 college football season, teams from around the country are dreaming as to how they can either meet expectations (Alabama, Oklahoma), exceed them (Kansas State, Boston College) or absolutely shock the world (Baylor, Minnesota). But June is the time for every program and every fan to dream of hoisting that conference championship on the first Saturday in early December.
So let's look at the Big 12 conference and expand on how every team can have that magical season.
Baylor Bears
Baylor is coming off a one-win season in Matt Rhule's inaugural campaign, but there are reasons to believe a big turnaround is in store. If Charlie Brewer turns into one of the top QB's in the conference, then that is a great first step for this team. They get Oklahoma in late September, which might be the best time to play OU, because it is the week before the Red River Rivalry. They have a bye week before a tough match up in Morgantown, giving the Bears extra time to prep for the road trip and closing the season with TCU at home and Texas Tech at a neutral sight means no true road games after November 10th (Iowa State).
Iowa State Cyclones
The Cyclones open up Big 12 play with the Oklahoma Sooners at home. Sure OU will be looking for revenge, but the program also might be working out some post-Baker Mayfield kinks at this point of the season. They also don't need to make trips to Morgantown or Lubbock, two of the longest road trips the Cyclones have to take each season. Also, ISU gets five home games and four road games in conference play, with one of those road games at Kansas. That's a pretty good set up for the Cyclones.
Kansas Jayhawks
They can't win it. Start dreaming about hoops season shortly after Labor Day.
Kansas State
Does Alex Delton or Skylar Thompson become the best dual-threat QB in the conference? If so, watch out. Also, shoring up the secondary is key. The Wildcats get a road trip to Morgantown out of the way in mid-September, which is ideal, and a bye week precedes the toughest stretch of the season with road match ups at Oklahoma and TCU. Thankfully, those games are followed up by a lay up home game against Kansas.
Oklahoma Sooners
Well, they are the favorites. Kyler Murray enjoys football so much he's postponing his multi-million dollar baseball career to quarterback the Sooners. He won't be distracted and is clearly on a mission to prove his worth at the position. A bye week following the Red River Rivalry will be very welcomed, as the week after features a road match up at TCU. Another nice benefit for OU is that they are one of a handful of Big 12 teams that doesn't have to play any back-to-back road games.
Oklahoma State Cowboys
The Cowboys are turning over some key positions, but they open up conference play with a chance to get a confidence boost starting with Texas Tech and Kansas. Confidence will be key for a young OSU team and frankly, the front half of the schedule is much easier than the back end which wraps up with a road game at Oklahoma, vs. West Virginia and at TCU. A hot start to the season will need to finish strong as there is no rest for the weary down the home stretch of November.
Texas Longhorns
The Longhorns are looking for that Year 2 bump from Tom Herman, whose program lost a ton of close games last season. TCU, K-State and OU is not the easiest start to the season, but if they can go 2-1 over that stretch in what should be a wide-open year in the Big 12, then there will still be plenty of reason to believe this program can get back to winning Big 12 titles. Texas has a fairly soft back end of the schedule with Texas Tech, Iowa State and Kansas to close out the season, so taking care of business early will be crucial for the program to get back to relevancy.
TCU Horned Frogs
What is the progression like for QB Shawn Robinson? That's as important as any question this program has, along with of course replacing veterans on defense. TCU has to open the conference schedule at Texas which follows a brutal non-conference game against Ohio State. But their bye week comes early, which will be much needed after Ohio State, Texas and Iowa State. They come out of the bye week with Texas Tech on a Thursday, which is actually good for TCU because then they get another mini-bye week before Oklahoma at home. From there, a key stretch will be back-to-back road games to Morgantown and then against their biggest rival, Baylor.
Texas Tech Red Raiders
Tech needs to open up with a solid road win at Oklahoma State to even have a chance in the conference. Building some momentum and some confidence is key for a program heading into a must-win season for Kliff Kingsbury. Then it's WVU at home, which is the longest road trip the Mountaineers have to make every other season. Texas Tech carries that into a bye week and if the Red Raiders are 2-0, with then a Thursday night game against TCU and a home match up against Kansas, the snowball can keep rolling and building in what would be a shockingly impressive season. The November stretch is tough with Oklahoma, Texas and Kansas State in three-straight weeks. So any chance to make noise has to start very early in the season.
West Virginia Mountaineers
Speaking of tough late-season stretches, that's what the Mountaineers have as well. So the early stretch of Kansas State, Texas Tech, Kansas and Iowa State must kick off with a 4-0, or 3-1 at worst, start. WVU closes the season with Texas, TCU, Oklahoma State and OU. So to reach the Big 12 Championship Game and then winning the whole thing will require a 3-1 stretch over the month of November. If not, it'll be a letdown for Dana Holgorsen who has the best quarterback in the conference this season.
**Sign up here for our HCS weekly e-mails for a chance to win FREE Heartland College Sports and Big 12 team gear!!**