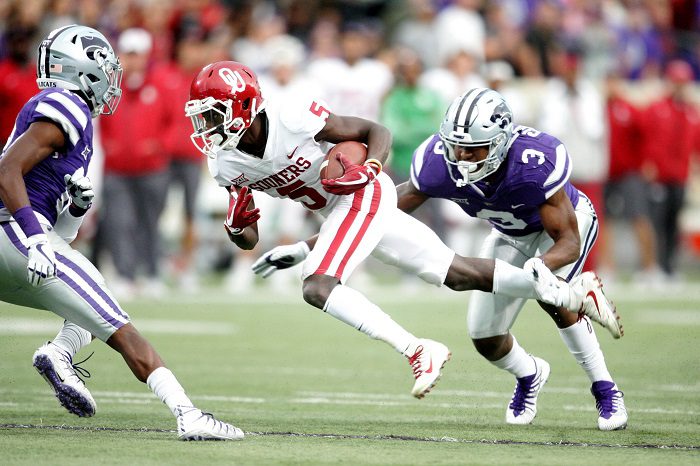 Each fall brings a new crop of players in college football. There are the popular returning names and stars that we know, but there are up and comers, transfers, and others who don't have that name recognition of others. So as we get closer to Big 12 media days and the college football season, Pete Mundo and Derek Duke have put together a list of the top 25 players in the Big 12 Conference for the 2018 season. Sure this will likely not be the list by season's end, but as of right now, this is what we predict to be the case heading into the season.
If you missed previous postings, here are Nos. 25-21. 
And then we have Nos. 20-16. 
No. 15: Texas Tech LB Dakota Allen
There is no doubt in my mind that Dakota Allen is the heart and soul of this Red Raider defense. After his early troubles, Dakota left Tech and went to East Mississippi Community College otherwise known as "Last Chance U". But, after returning to Lubbock, his play has been nothing less than spectacular. He led the team with 102 tackles last season as well as earning second team all-Big 12 honors. Expect him to be that guy around the ball a lot again this season for the Red Raiders.
No. 14: Oklahoma OT Bobby Evans
No Orlando Brown at left tackle? No problem! Bobby Evans has started 26 straight games at right tackle, but it appears that he will be sliding over to the left side to protect Kyler Murray's blind side. Evans was a second team all-Big 12 selection last season and will be on the first team ballot this season. To me, he is the best offensive lineman on the Sooners roster and one of the best in the Big 12.
No. 13: Oklahoma WR Marquise Brown
Marquise "Hollywood" Brown busted onto the scene last year that was completely unexpected by most people including myself. But boy, once he turned it on he was a difficult man to stop. Marquise posses the ability to score literally anytime he touches the football and most likely is the fastest man on the field no matter the opponent. Last season he caught 57 passes for 1,095 yards and 7 touchdowns. For all you math wizards, that's an average of 19.2 yards per catch which ranked 18th nationally. Just hope that he doesn't run by your defense or else it's lights out.
No. 12: Baylor WR Denzel Mims
After finishing 1-11, there wasn't much to smile about in Waco. However, there were a few bright spots last season for Baylor even though all the pieces didn't necessarily add up. WR Denzel Mims was a shining star last season for Baylor. He hauled in 61 catches for 1,087 yards and 8 touchdowns earning second team all-big 12 honors. There is no question that Denzel is the best playmaker on Baylor's roster and one of the best in the Big 12. I expect another big year from Denzel Mims.
No. 11: Kansas DT Daniel Wise
Another player in the top 25 that comes from a 1-11 football team last season. While his team may not always look good, Daniel Wise is a man amongst boys in the trenches. He was top 5 in sacks (7) and tackles for loss (16) last season as well as being named a first team all-Big 12 defensive lineman. He posted these numbers playing defensive tackle which isn't exactly an easy position to put up eye popping numbers. Daniel is the best defensive tackle in the Big 12 and after turning down the NFL and coming back for his final year, expect another big season for him again this year.
**Sign up here for our HCS weekly e-mails for a chance to win FREE Heartland College Sports and Big 12 team gear!!**