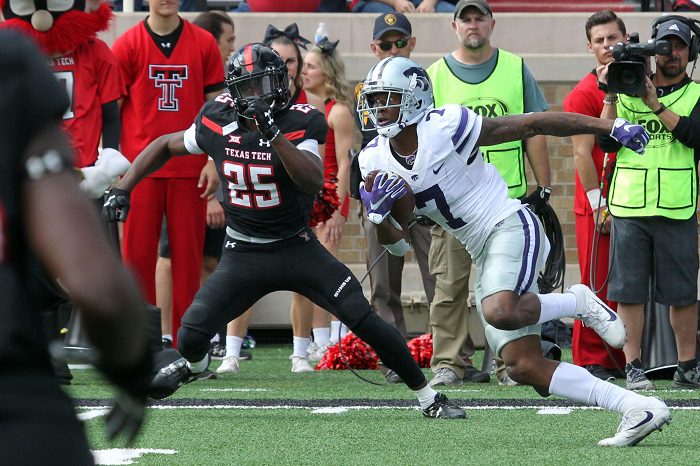 You see it every single season. Everyone has someone penciled in as the star of the show or the headliner of the defense or offense so to speak for a team. Sure, those guys will get plenty of publicity year-round, but this article isn't about those guys. This article is about the guys you don't know. The guys who are very solid players but may not be household names in the Big 12 just yet. Look, you're probably going to know your favorite team like the back of your head. So there probably aren't any surprises on this list when it comes to your favorite team. But what this article will do is give you some insight on some of the guys around the Big 12 who don't get a ton of love. So, it's time to yank the spotlight away from the stars and shine it on those who deserve some praise because frankly, they just don't get it enough. Without waiting any longer, here is one underrated player from each Big 12 team. Enjoy!
Baylor Bears: CB Grayland Arnold
There weren't a whole lot of bright spots during Baylor's 1-11 season last year but that doesn't mean there weren't any. After missing the first 3 games due to injury, Grayland finally got back on track becoming one of the best cover guys for the Bears. In just 9 games, he finished with 35 tackles, 7 PBUs along with an interception. Now fully healthy, Grayland Arnold looks to be one of the leaders in the Bears secondary and I expect him to take a big step forward this season.
Iowa State Cyclones: NT Ray Lima
Ray Lima must be one of the ultimate hidden gems in the Big 12. How often do we talk about interior defensive lineman? I couldn't pass him up when putting together this list. The Cyclones use a 3 man front on the defensive line and you know why they can do that? Just watch this Iowa State defense. You will see Ray Lima eating up double teams and giving fits to offensive lineman. While Ray takes up space in the middle, it frees up those linebackers to go make those tackles. Without a doubt, Ray is one of the best interior defensive linemen in the conference.
Kansas Jayhawks: RB Khalil Herbert
After only getting a total of 3 carries in his first two games, Khalil Herbert finally got an opportunity to shine. In his third and fourth games of the season (@Ohio & vs WVU), Khalil carried the ball 55 times rushing for a total of 428 yards and 4 touchdowns. For those who don't know, Herbert rushed for 291 yards against the Mountaineers which was the third highest rushing performance in a game for the entire 2017 season. Unfortunately, a hamstring injury slowed him down for the rest of the year as he didn't surpass 12 carries in a single game for the reminder of the season. Now Khlalil looks to be the premier back in an offense searching for playmakers.
Kansas State Wildcats: WR Isaiah Zuber
The Wildcat receiving core wasn't all that deep last season and now that Bryon Pringle has moved on to the NFL, Isaiah Zuber looks to be the leader of an inexperienced group. Isaiah led the team in receptions last season (51) and had 510 receiving yards along with 4 touchdowns. He may not be the flashiest player, but he is certainly more than capable of getting the job done. Isaiah will likely be the number one option in the passing game no matter who is throwing the football for the Wildcats.
Oklahoma Sooners: LT Bobby Evans
I am not sure how many of you are familiar with Big 12 offensive lineman, but Bobby Evans is one of the best in the conference and maybe in the entire country. After starting 26 games at RT, Bobby will slide over to the left side to protect Kyler Murray's blind side. It's not often we talk about offensive lineman, but Bobby Evans gets overshadowed on his own team sometimes when we talk about the Sooners. In case you didn't know, he is on my first team All-Big 12 team heading into the season.
Oklahoma State: WR Tyron Johnson
Those who follow the site, know I do a weekly mailbag. On Monday I had a question about some guys who weren't in our top 25 Big 12 players of 2018 list who could possibly get in at the end of the season. One of those guys was Tryon Johnson and this is what I had to say. "This is a guy that NOBODY is talking about. I get it, he didn't do much last season but go back and watch the Bedlam game. Who know who Mason Rudolph threw to on fourth down with the game on the line? It was Tyron Johnson. This guy is a freak athlete and I truly believe that he will emerge as the number one target no matter who starts at quarterback for the Cowboys."
TCU: DT Ross Blacklock
There is no doubt that Ben Banogu is the premier player but don't sleep on DT Ross Blacklock. He started all 14 games as a redshirt freshman last season and earned Big 12 Co-Defensive Freshman of the Year honors. He finished the 2017 season with 27 total tackles and 6.5 tackles for loss. While he may not be a stat machine, he anchors the middle of the defensive line for the Horned Frogs. Look for a big year ahead for Ross Blacklock.
Texas Longhorns: LB Gary Johnson
No Malik Jefferson? No problem! Gary was the nation's top JUCO prospect at linebacker a year ago and he certainly showed why last season. He has some crazy speed and has a knack for finding the football. I know that Texas fans know who he is, but I felt like he really got overlooked last season around the conference. This will be the year that Gary will be the star of the Texas defense.
Texas Tech Red Raiders: LB Jordyn Brooks
Much like Gary Johnson at Texas, Jordyn Brooks gets overshadowed a bit by one of his own teammates at the same position group. The only difference is that Dakota Allen is still there playing alongside of Jordyn. Make no mistake, Jordyn is a damn good football player. He was third on the team in tackles (89) and in quarterback hurries (7) last season. Jordyn has a nose for finding the football and will likely have another great season at linebacker.
West Virginia Mountaineers: LT Yodny Cajuste
Here is a guy who started 13 games at LT last season for West Virginia. He would have started the entire 2016 season too if he didn't get injured early that year. Yodny is one of the most talented lineman in the Big 12 and he made it on my first team All-Big 12 preseason ballot. Offensive lineman hardly get any credit but Will Grier is in good hands when Yodny is protecting his blindside.
**Sign up here for our HCS weekly e-mails for a chance to win FREE Heartland College Sports and Big 12 team gear!!**