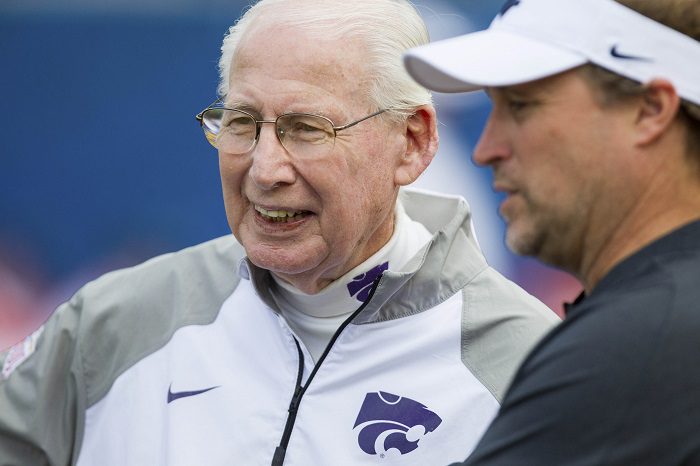 As football season creeps closer and closer, it seems like everyone is counting down the days until their team kicks off the season. Unfortunately, it is still just July but there is one last big event before the season begins which is Big 12 media days. I know this isn't going to exactly fix my football cravings either, but it will have to do for right now because let's face it, this is all we have right now. For the second straight year media days will be held at the star in Frisco or "The house that Jerry built". It's a new season and a fresh start for the coaches but these are the biggest headlines heading into Big 12 media days.
Two Quarterbacks?
When the list of names came out for who each team was bringing I was shocked. There will be a total of five quarterbacks coming to media days but wait, only four teams are bringing a quarterback? If my calculations are correct (I'm not math wizard by the way) that means somebody is bringing two quarterbacks. Wait, it's Bill Snyder? What? Yes, you read that correctly. It appears that Kansas State will be bringing both Skylar Thompson and Alex Delton. What could go wrong right? It is very un-Bill Snyder like but maybe he has a ton of confidence in them handling the media questions. At the end of the day, these are two guys competing for one spot so how will these two handle all the questions? I am confident that Bill Snyder will handle it just fine.
Will This Be the Year Bill Snyder Calls It Quits?
Speaking of Kansas State, there is a bigger question to be asked. I know we could ask this question almost every year now but is this the final year for Bill Snyder at Kansas State? This man built this program from the ground up, came back out of retirement and fixed it again. He is Kansas State football. Now, entering his 27th season as the Wildcat head coach, could this be the final run for the Purple Wizard? I sure hope not for the sake of the Big 12.
No Baker No Problem?
Last summer Bob Stoops retired and named 33-year-old Lincoln Riley as the new head coach of the Oklahoma Sooners. I am sure there were plenty of questions about how a young head coach would handle the pressure coaching at a blueblood program with sky high expectations. Lincoln Riley answered those questions with his brilliant play calling on offense as his team won a Big 12 title and made an appearance in the college football playoff. Now, some may say Heisman trophy winning quarterback Baker Mayfield had a lot to do with that and he certainly did, but people are probably wondering, how will he handle this season without a guy like Baker Mayfield at quarterback? When Lincoln Riley first got to Oklahoma as an offensive coordinator, Baker Mayfield was his guy. Now that this will be his first season without him, what will this team look like? How good will Kyler Murray be? What about keeping Mike Stoops to turn around the defense? As expected, the Sooners appear to be heavy favorites to win the Big 12 for a fourth straight season but can Oklahoma keep this dominance in conference play rolling?
Win or Go Home
Can you feel the heat? Because Kansas head coach David Beaty and Texas Tech head coach Kliff Kingsbury should be feeling some serious pressure this season. For David Beaty, he is entering his fourth season as the Jayhawks head coach and has a current overall record of 3-33 and a Big 12 record of 1-26. Now if that doesn't make your eyes hurt then I am not sure what will. Maybe some tabasco sauce in your eye may feel worse if you're a Kansas football fan? I am not sure but what I do now is that if this program doesn't start winning a few games, how long will Kansas decide to stick it out with Beaty? I don't know about you, but can you take away any positives from last season? Kansas wasn't even competitive in Big 12 games last year and it was flat out embarrassing. With a new AD in Jeff Long, the clock must be ticking for David Beaty.
As for Kliff Kingsbury, he is in a similar situation. He is entering his sixth year as the man in charge in Lubbock and has an overall record of 30-33 and a 16-29 Big 12 record. Since taking over, he has never had a winning conference record in any of his previous five seasons as well as missing out on a bowl game twice. You can make an argument that Kliff may not be the Texas Tech head coach right now if his team didn't beat Texas in the final week of the season to become bowl eligible. I said this on the radio show with Pete, this program has become stale since Mike Leach left town. It appears that the ceiling under Kliff Kingsbury is reaching a bowl game. How does that make Red Raider fans feel? 2018 is a make or break year for Kliff.
The Year of the Mountaineer?
We have had plenty of discussions here at HCS about this football program. I think we have all agreed that under Dana Holgorsen West Virginia may not be able to consistently compete for a Big 12 title every single year. Could they compete for a conference title every few years or so where they have a decent shot? Absolutely. This MUST be that year for this program. Before the 2016 season, there were a TON of question marks surrounding Dana Holgorsen's job status. What happened? His team won 10 games that year. After a disappointing 2017, the pressure is back on especially for this specific team. Why? Because he has the best quarterback in the Big 12 and maybe even the entire country with Will Grier. The offense will be high flying, but will the defense prevent this team from reaching a Big 12 title game? This must be that year where West Virginia takes the next step.
**Sign up here for our HCS weekly e-mails for a chance to win FREE Heartland College Sports and Big 12 team gear!!**