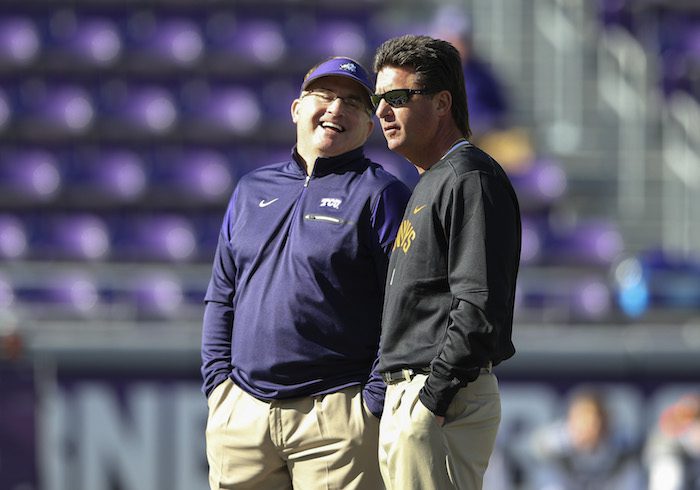 Big 12 Media Days takes place tomorrow and Tuesday in Frisco, TX!  Heartland College Sports will be there for both days of coverage. With all ten coaches taking the podium in the morning and then participating in breakout sessions in the afternoon, there will be plenty of questions to be asked. So here is one question we plan on asking each one of the Big 12 coaches over the next two days.
Matt Rhule, Baylor Bears: "Where has Charlie Brewer seen the most improvement in his game this offseason?"
I believe Brewer has the potential to be one of the top two quarterbacks in the Big 12 this fall. If that's the case, where was his growth and why will my prediction not look foolish come October?
Matt Campbell, Iowa State: "Who has stepped up as the leader(s) on this defense following the loss of Joel Lanning?"
Lanning wasn't just one of the most effective linebackers in the Big 12 Conference, he was the heart and soul of the Iowa State defense and roster. The Iowa State defense should be very good once again, but who is the emotional and mental leader?
David Beaty, Kansas: "How many games do you feel to have to win to keep your job in 2019?"
I hate to ask these questions, but they have to be brought up. A new AD, three wins in three years. Beaty is on the hot seat and while he will likely dance around the question, it should be brought up.
Bill Snyder, Kansas State: "Who is your quarterback?"
Snyder won't tell us, but I'll be laughing at his very Bill Snyder-esque response! Considering both quarterbacks, Skylar Thompson and Alex Delton are going to be at media days, this should create some interesting stories and drama.
Lincoln Riley, Oklahoma: "How will your balance between running and passing change this season?"
When you lose a Heisman winner and insert a QB who hasn't played the position with any type of consistency since high school, will that change the playbook? Especially considering the wealth of running backs this team has, utilizing them should not be hard. And once again, this team is expected to win the Big 12, so expectations will be high.
Mike Gundy, Oklahoma State: "What differences have you seen this offseason with the addition of Jim Knowles as your new defensive coordinator?"
Glenn Spencer is gone. While Oklahoma State won 10 games each of the past three seasons, the defense held it back from winning a Big 12 title. So with the former Duke DC in town, why will he be any different?
Tom Herman, Texas: "How much playing time do you plan to give your true freshmen defensive backs?"
Herman recruited the best crop of defensive backs ever put together in a single recruiting class. As Todd Orlando continues to utilize several DBs in his system, how much playing time does he plan to give to the true freshman in town?
Gary Patterson, TCU: "With the loss of so many seniors (20+), where does your on-field leadership come from this fall?"
Patterson had a great group of seniors that helped this team reach the Big 12 Championship game last season. GP has recruited Top 25 classes on a consistent level since joining the Big 12, so the talent will be there, but who takes over the leadership role on both sides of the ball?
Kliff Kingsbury, Texas Tech: "How much confidence has your administration given you with your job security?"
We asked this of Kingsbury last season and it's a fair question. Many believe he's kept his job thanks to the stunning win over Texas to end last season which sent TTU to a bowl game. But it feels like we're playing the same game over again heading into 2019 that we were in 2018.
Dana Holgorsen, West Virginia: "Is this a 'Big 12 Championship or bust season' in Morgantown?"
I'd be curious to hear Holgorsen's answer to this. I hope he says, "based on the talent we have coming back, yes, yes it is." I'm not sure he will do that though, as it's not really his style. But if the defense can hold it's own, this team has to find itself playing in Arlington in early December.
**Sign up here for our HCS weekly e-mails for a chance to win FREE Heartland College Sports and Big 12 team gear!!**