Big 12 News
Ten Most Interesting Things Bob Bowlsby Said at Big 12 Media Days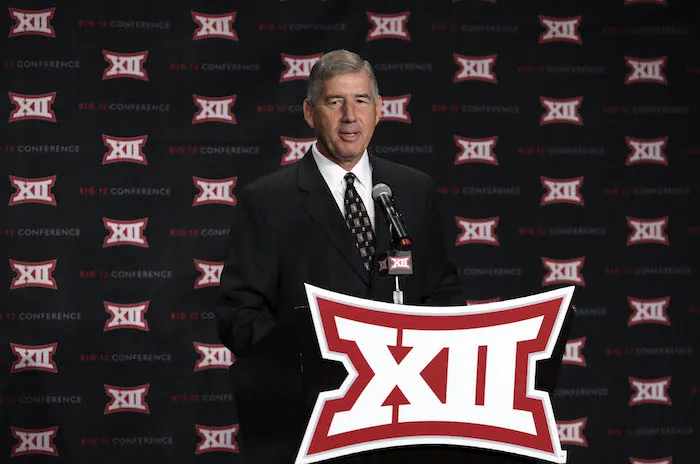 Big 12 Commissioner Bob Bowlsby spent more than 30 minutes with the Big 12 media on Monday morning to talk about the conference and a host of other topics related to football and college sports. Here are the 10 most interesting things he talked about.
1. College Football Playoff expansion. Bowlsby told reporters that he felt the College Football Playoff had accomplished its aspirations, aside from pairing the two best teams, of course. He said proponents of the playoff wanted to create a quality postseason, preserve the great games that occur in October and November and strengthen the September schedule. Bowlsby feels the CFP has done all of that, pointing to the fact that the Big 12 is playing 37 percent of its non-conference games against teams in Power 5 conferences.
But will the playoff expand at some point? Bowlsby hears the chatter, and it's not just from the outside, either. It's from athletic directors, conference commissioners and school presidents, too.
"I really feel like we've accomplished all of those things, so I think we have to be a little bit careful moving away from it," Bowlsby said. "Having said that, our league has been in twice and left out twice, and any form of expanded playoff would likely enhance our opportunity to get in."
Bowlsby doesn't see the CFP moving away from four teams anytime soon.
2. The Big 12 Championship game and rematches. Bowlsby addressed the league's conference championship game and the yearly rematch it provides due to the league's round-robin schedule (last year Oklahoma beat TCU in the title game, one month after defeating TCU in Norman). Bowlsby pointed out that in the title game era there have been 41 conference title game rematches, including 7 of 9 last year. Let's fact check that, shall we?
ACC: Clemson vs. Miami (FL). Did not play in regular season.
American: Memphis vs. UCF. Did not play in regular season.
Big 12: TCU vs. Oklahoma. Played in regular season.
Big Ten: Ohio State vs. Wisconsin. Did not play in regular season.
Conference USA: North Texas vs. Florida Atlantic. Played in regular season.
MAC: Akron vs. Toledo. Played in regular season.
Mountain West: Boise State vs. Fresno State. Played in regular season.
Pac-12: USC vs. Stanford. Played in regular season.
SEC: Georgia vs. Auburn. Played in regular season.
So Bowlsby wasn't totally accurate, but 6 of 9 is pretty close. So we'll give him a pass.
Based on that, Bowlsby isn't too concerned about the yearly rematch.
3. Big money, big money, no whammies, no whammies! Legalized sports gambling is here (kind of) and Bowlsby is taking a wait-and-see approach to how it might impact the Big 12 for a logical reason. The Supreme Court ruling allows each state to determine how it might legalize sports gambling and Bowlsby, just like everyone else, has no idea how each Big 12 state might implement the ruling. Until then, the league isn't going to take a position on one of the real hot button issues in college athletics.
"What do we end up with if a couple of our states in the Big 12 footprint have legalized gambling and three others don't?" Bowlsby said. "What do you end up with if some say you can bet on professional sports but you can't bet on high school and college sports? It's just taking a while to settle in and frankly I don't know how it's going to turn out."
4. Speaking of hot button issues … Bowlsby referenced legal cases, including the Donald De La Haye case, as ones that could have a seismic effect on how college players might be able to control their likeness when it comes to merchandising and marketing. De La Haye is embroiled in a battle with the NCAA and UCF over his scholarship, which was rescinded last year after De La Haye refused to remove videos from his YouTube channel, where he had built a large following based on football and non-football content. De La Haye won in court last week, as a Florida judge ruled that his suit could continue. The case could be decided this fall.
Bowlsby is keeping tabs on the case, and others, and knows the ramifications could be far-reaching.
"I don't think it's going to be over soon, but I think name, image and likeness is at the heart of what's going on with that empowerment, and, you know, I could capably make a case on either side of it," Bowlsby said. "Certainly all of us have some prerogative on our name, image and likeness. All of us have some prerogative to activate around that. On the other hand, the logistics and the practical aspects of it are pretty difficult to fathom. We aren't going to have to wait very long, because I think the trial in the Ninth Circuit will be over probably by mid-fall."
5. Early signing Day. Bowlsby seems pleased, overall, with the feedback he heard from student-athletes and parents related to the first Early Signing Day last December. Bowlsby said the data indicated approximately 70 percent of recruits wanted to sign early and the number of recruits that signed in the early signing period last December backed that up. He admitted some coaches weren't happy about the new recruiting schedule and that some adjustments could eventually be made. But, overall, the signing period worked the way it was envisioned.
"The Football Oversight Committee is looking at the recruiting calendar and how it all fits together," Bowlsby said. "It's been decades since we've had really a full and robust discussion of what the recruiting calendar ought to look like in football and I think over the next year that will be a high priority for football oversight. Whether it changes dramatically is yet to be determined."
6. High visibility. Bowlsby pointed out that the Big 12 was the only conference with a participant in the College Football Playoff, the Men's Final Four, the College World Series and the Women's College World Series. Additionally, Oklahoma produced a first-round pick in the NFL Draft (Baker Mayfield), the NBA Draft (Trae Young) and the MLB Draft (Kyler Murray). Additionally, all of Texas' varsity sports made the postseason.
7. The facilities arms race. Every school is adding new facilities these days. Texas just refurbished their football facilities and Kansas is embarking on a huge facilities improvement package that includes its football stadium. But when is it too much too much? Bowlsby isn't sure. He's been on both sides of this, as a conference commissioner and as an athletic director at Stanford.
"I always tried to strike it when I was on campus (at Stanford) between things that make you better and things that make you more comfortable, and you always ought to invest in things that make you better, not just easier and more comfortable as you need to develop recruiting, student-athletes, and things that help you plan for the game," Bowlsby said. "No question there is a robust arms race on, and I don't see it slowing down anytime soon because that's not the nature of the competition we're engaged in."
8. The lesser of two evils when it comes to gameday drinking: Recently Oklahoma State approved the sales of alcohol during Cowboys games. With more and more college teams approving alcohol sales during games, Bowlsby was asked about the issues that come with it.
"From a personal standpoint, I do think that probably it's selling alcohol in the stadium is probably superior to having pass outs at halftime where everybody goes out and power drinks for the length of the halftime," Bowlsby said. "I think that from a game management standpoint it's better managed with a controlled environment inside but reasonable people can disagree on it."
Bowlsby said the Big 12 has no official position on the issue.
9. Baylor's status in the Big 12: CBSSports.com's Dennis Dodd reported on Sunday that a "prominent source" at Baylor said the school was concerned about the team's membership in the Big 12 as the football program's sexual assault scandal unfolded. Bowlsby was asked whether the program's status was ever in question or is still in question, and he really didn't provide much beyond the Big 12's current verification of the Pepper-Hamilton report, which is ongoing. Bowlsby said he hopes the Big 12 will complete that verification process in the "not too distant future. He said the league will issue a report when it's complete.
Bowlsby said he has no indication on the direction or the completion of the NCAA's investigation of Baylor.
"We'll know what happens at the end," Bowlsby said.
10. Big 12 Expansion: It came up, but only because Bowlsby said he THOUGHT it was going to come up.
"Actually, I thought you were going to ask the Big 12 expansion question," Bowlsby said. "I still had it on my list as somebody is going to ask me that."
Bowlsby then went on to talk about College Football Playoff expansion.
And one more. For the next two years, 2019 and 2020, the Big 12 Media Days will be held at AT&T Stadium. The Big 12 Championship game will be held at AT&T Stadium through the 2021 season.
**Sign up here for our HCS weekly e-mails for a chance to win FREE Heartland College Sports and Big 12 team gear!!**